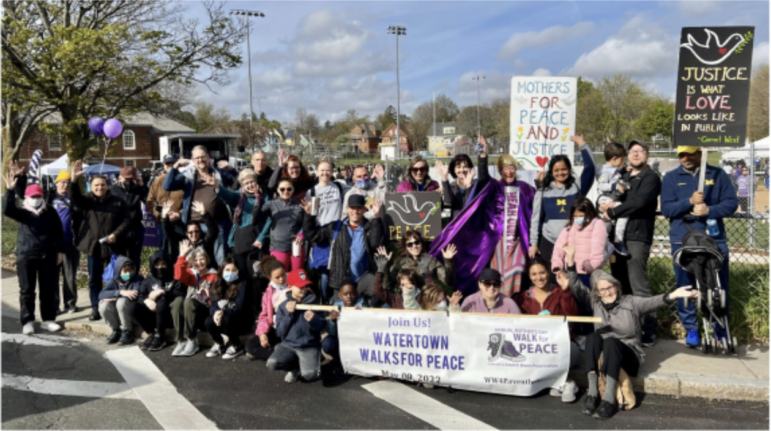 The following announcement was provided by Watertown Walks for Peace:
On Sunday, May 14, Watertown residents will join together with residents from Boston and surrounding communities in the annual Mother's Day Walk for Peace in Dorchester. This year will be the 27th annual event, as well as Watertown's ninth consecutive year participating in the event to support the families of victims of gun violence. The theme for this year is "Cultivating Cycles of Peace".
Watertown Residents and Friends at the 2022 annual Mother's Day Walk for Peace
Why We Walk. In addition to expressing solidarity with families who have lost loved ones to gun violence and to showing a commitment to ending gun violence, this annual event raises awareness and funds for the Louis D. Brown Peace Institute. The Peace Institute's mission is "to serve as a center of healing, teaching, and learning for families and communities impacted by murder, trauma, grief, and loss." Watertown Walks for Peace has set a fundraising goal of $4,000 to support the programs and services of the Louis D. Brown Peace Institute.
The Louis D. Brown Peace Institute was created almost 30 years ago by Chaplain Clementina Chery, the mother of Louis Brown, who was killed at age 15, in 1993. The Peace Institute, with a vision to create and sustain an environment where all families can live in peace and all people are valued, has earned a reputation as an innovative leader for peace.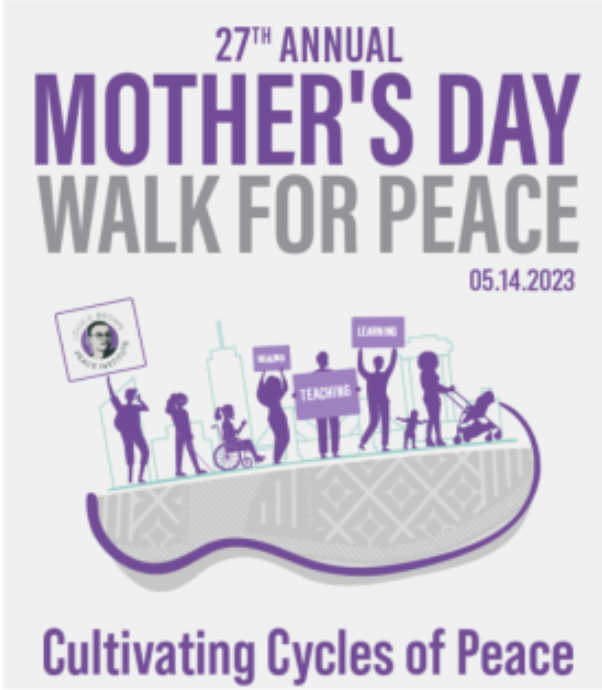 How to Participate- All are welcome!
WALK with the Watertown Walks for Peace Walking Team.
This year's walk begins and ends at Town Field Park in Dorchester and is shorter in length than past years at just over 4 miles. Sign up to travel by bus to Dorchester from First Parish in Watertown. Transportation is free, thanks to our generous sponsors. The bus will leave around 7:15 am and return to Watertown around 10:45 am. If you'd prefer to travel on your own, head to Town Field Park, 1565 Dorchester Ave, Boston, MA.
DONATE to the Louis D. Brown Peace institute.
Please make your contribution through the Watertown Walks for Peace link to help us reach – or exceed – our goal of $4,000 in donations for 2023. Any and all donations are welcome!
Watertown Walks for Peace is sponsored by Watertown Citizens for Peace, Justice, and the Environment, Progressive Watertown, First Parish of Watertown; World in Watertown, Church of the Good Shepherd, and Belmont Watertown United Methodist Church