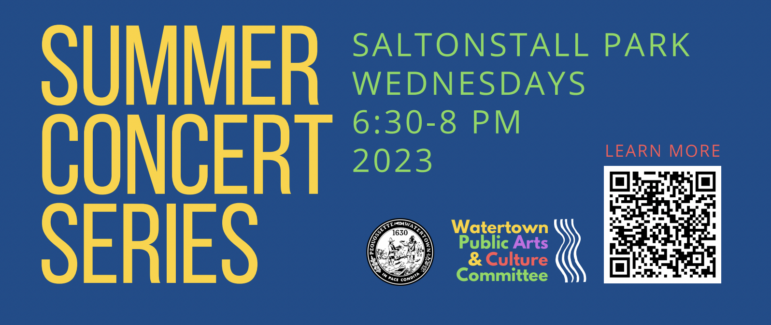 The following announcement was provided by the City of Watertown:
The Summer Concert Series offers free performances at Saltonstall Park, 149 Main Street, Watertown. The concerts take place immediately following the Watertown Farmer's Market, from 6:30-8 PM.
You are encouraged to bring chairs and blankets. Brought to you by the City of Watertown, Public Arts & Culture with help from the Department of Public Works.
Along with the concert, enjoy "Music at the Market" featuring local musicians on Wednesdays from 3-5 PM.
See performances by David Rivera Bozon (6/28), Dan Zoen (7/12), Jon Waterman (7/26), Molly Pinto Madigan and HYE Fusion (8/9), Phil Berman (8/23), Lenka Zbruz (9/6), Casey LJ (9/20), Ruth Rappaport (10/4), and Matt Hanna (10/18).
See the full Summer Concert Series below:
June 21: 90-Mile Portage
Jamie Kallestad and Ben Cosgrove began performing as 90-Mile Portage in order to catch a break from their day jobs: Jamie is a singer/songwriter (jamiekallestad.com) and Ben is a nationally
touring pianist/composer (bencosgrove.com). The collaboration was born in 2011 with a handful of recording experiments conducted via email. The duo has since released an EP of original and traditional folk songs and toured across New England and the Midwest.
June 28: Southern Rail
Southern Rail rolls into Saltonstall Park with their exuberant blend of upbeat bluegrass and irrepressible good humor. This promises to be a delightful concert, featuring lush harmonies, as well as sparkling banjo, guitar, mandolin and bass. Two of the band's members (guitarist Jim Muller and bassist Sharon Horovitch have recently been inducted into the S New England Bluegrass Hall of Fame. Pack a picnic and bring the family for a memorable summer evening!
July 5, 4:30-6 PM: Six Is Nine
Peter "Joe Pete" Wetherbee is a Watertown guitarist and singer known for roots-based rock 'n' roll jams. His trio Six Is Nine performs a winning mix of rockabilly, country, blues, rock 'n' roll (1950s–1970s and more), Louisiana Cajun/zydeco/R&B, plus a handful of like-minded originals. If you like rock 'n' roll and its roots, if you like to have fun and get in the groove, then you are pretty much gare-on-teed to dig Joe Pete's trio Six Is Nine.
July 5, 6:30-8 PM: Lightning Rising
Lightning Rising performs a variety of crowd-friendly music from classic rock and soft rock hits. The band features Watertown-based performers, Dawn and David Scaltreto on keys and bass, neighbor John Copeland on guitar and Drummer David Donnelly. All four are vocalists and provide sophisticated backing vocals on all songs.
July 12: Beantown Buckaroos
The Beantown Buckaroos cook up classic Western Swing and Country music, with a dash of Tex Mex and Cajun for picante. With five vocalists and six instruments—including fiddle, pedal steel and accordion—the Bucks deliver just the right mix of tight harmonies, driving rhythms, and great repertoire to get your feet moving and put a smile on your face.
July 19: The Sandy Ridge Boys
The Sandy Ridge Boys with Sofia Chiarandini play traditional, straight-ahead bluegrass, along with interesting twists on some familiar old favorites. With the standard assemblage of instruments, featuring banjo, fiddle, guitar, mandolin, and bass, they recreate the sounds of Flatt & Scruggs, The Stanley Brothers, Jimmy Martin, and even Chuck Berry, as well as many of the contemporary bluegrass bands playing today.
July 26: The Rico Barr Band Featuring the JJR Horns
Rico Barr Band featuring the JJR Horns is New England's Premier Party Band. Although the Band was nominated as Swing Band of The Year by the National Swing Awards, their repertoire includes much more. They perform selections from the Jazz and Rock decades including Motown and R&B, as well as Latin.
August 2: Classic Groove
Motown, R&B soul with rock and jazz influences.
August 9: Ezekiel's Wheels Klezmer Band
An internationally celebrated klezmer band. "They make you happy to watch them." – Ken Gould
August 16: Ruth and Ben String Band
Appalachian-style by Ruth Rappaport and Ben Wetherbee.
August 23, Kids' Night! Perfect Crime Band with The Puppeteers Cooperative
Killer Classic Rock with rich, layered vocals, authentic, vintage organ, guitar chops, and a selection of the very best music of the 60s, 70s, 80s, and beyond. The Puppeteers Cooperative provide a lending library of human-sized puppets in which both adults and children can dance and play and organize short parades. They are especially fun with music.
August 30: The Love Dogs
The Love Dogs are a high energy sextet specializing in original, classic and New Orleans style Rhythm & Blues, Swing, and early Rock 'n' Roll. We put on an energetic family-friendly show with a 6-piece band featuring upbeat humorous songs great for both dancing and singing along. One of the highlights of our show is leading a procession of the crowd around the park with a New Orleans brass band parade.
Have questions or want to perform? The Public Arts & Culture Planner oversees the Summer Concert Series. Interested performers should fill out the online Summer Concert Series Performer Application.
There is also the opportunity to perform at the Watertown Farmers Market earlier in the day. Contact Liz Helfer at ehelfer@watertown-ma.gov.