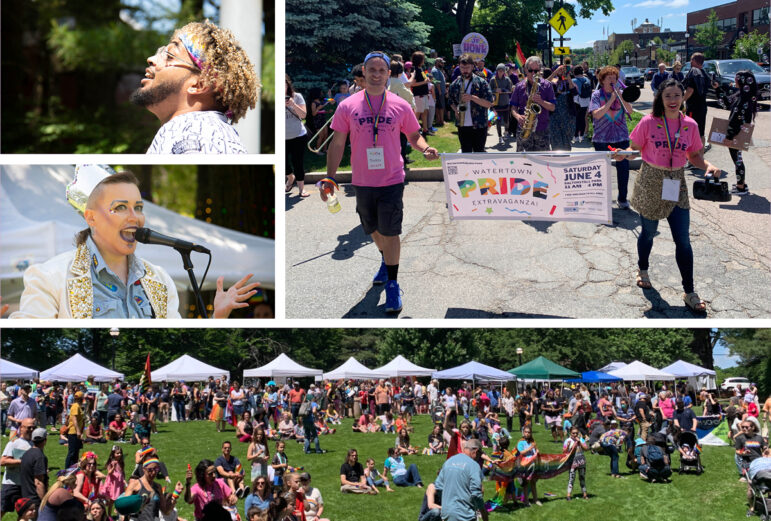 The following information was provided by the Watertown Library:
"Be yourself, change the world!" That's the theme of the Watertown Pride Extravaganza, which returns for a second year on Saturday, June 3rd. 
Jointly hosted by the Watertown Free Public Library (WFPL) and the City of Watertown, this free, all-ages event has grown since its inception in 2022. This year, attendees can look forward to live music, dancing, acrobatics, food trucks, crafts, and fun for all ages, plus, a unique chance to connect and learn from LGBTQIA+ organizations and advocacy groups in Watertown.
"All of Watertown is welcome to the Extravaganza, to celebrate the strength that such diversity brings to our community" says WFPL Teen Services Supervisor and Pride team co-leader Carey Conkey-Finn. "Aside from all that, it is the party of the year!"
Want to take part in the day's festivities? On the morning of June 3, attendees are invited to dress up and rally on the Library's front lawn, 123 Main Street, beginning at 10:45 a.m. At 11 a.m. sharp, the activist brass band JP Honk will lead the crowd from the Library to the main stage at Saltonstall Park. This short parade route will follow the sidewalk from the Library past City Hall. All ages are welcome to join in or watch.
Over in Saltonstall Park, the party begins with an acrobatics show by Kirkos Circus Up followed by welcome addresses from Watertown poet Kalyani J. Devajyoti and spiritual leadership coach Taj Smith. JP Honk will lead the crowd in rousing brass fanfares, Darren Hairston will get people moving with Zumba dance breaks, Geri Barney and Maria Hendricks of the New Repertory Theatre will present an original piece dedicated to mothers of 2 Spirit children, and the Watertown School of Rock will close out the day.
Out on the lawn, the Pride Marketplace will host booths for local organizations that support LGBTQIA+ rights, including youth-run groups from the Watertown Public Schools. Staff and volunteers from the Library's Hatch Makerspace will run a tie-dye workshop to help you create a radiant rainbow bandana to take home. New this year, popular food trucks will be stationed on Thaxter Street, right next to Watertown City Hall.
"Pride is a time to honor where we've been and build a joyful future where everyone has the freedom to be their true self," says WFPL Programming Librarian and Pride team co-leader Allie Fry. "What better way to start the month than with a citywide celebration!"
If you need a little help with your Pride outfit this year, don't worry, WFPL is hosting a "Design Your Own Pride Gear" event on Thursday, May 25! Drop in between 5 and 8 p.m. to decorate a T-shirt, bedazzle a hat, make a mask, or color a flag — while supplies last.
So, mark your calendar Watertown! The Pride Extravaganza takes place from 11 a.m. to 4 p.m. on Saturday, June 3, in Saltonstall Park, Watertown, adjacent to City Hall. The park is wheelchair accessible. The Watertown Commission on Disability is funding American Sign Language interpreters on the mainstage and a braille festival program. 
This event is hosted by the Watertown Free Public Library and the City of Watertown with support from the Mass Cultural Council, the Watertown Cultural Council, the Boston Pride Community Fund, the Watertown Savings Bank, the Library Building Committee, and the Watertown Commission on Disability. For more information visit //watertownlib.org/pride
About WFPL
The Watertown Free Public Library provides access to a wide variety of popular materials, resources, services, and programs that fulfill the informational, cultural, and recreational needs of Watertown and surrounding communities. Our Library works to create an environment that attracts and welcomes users of all ages and abilities. watertownlib.org