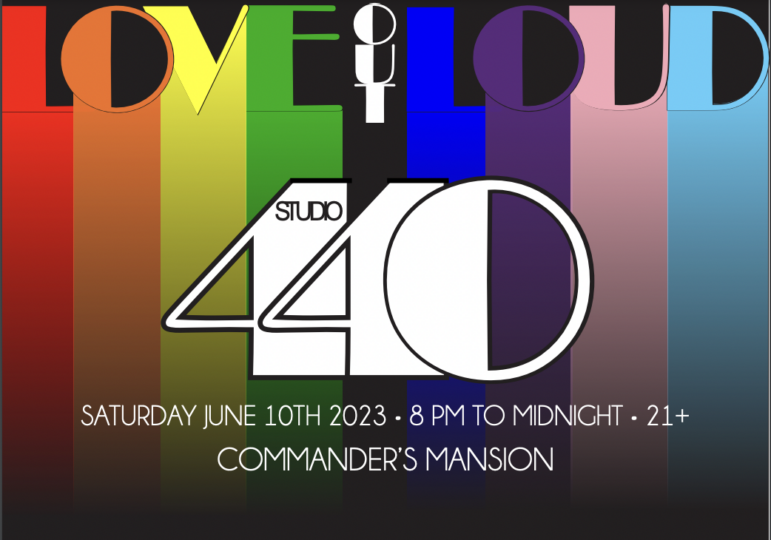 (NOTE: On June 5, the organizers announced the event has been cancelled)
We are bringing the disco here to Watertown!
Grab your platform dancing shoes and your sequins for the first annual Love Out Loud: Studio 440 pride a 21+ celebration at the Commander's Mansion on June 10, 2023, from 8 PM to Midnight Studio 440 will include …
Step & Repeat: Brought to you by Belmont Printing Co. and Natalie Nigito Photography!
Entertainment: No disco would be complete without the Queen of Disco herself, Lakia Mondale, performing and emceeing for the night!
Dancing: Get ready to boogie down with DJ Milli representing DJ El Sid!
Drinks: Knock back a few groovy cocktails at our cash bar thanks to our partners at Gordon's Fine Wines & Liquors! If that isn't your vibe, boogie over to the mocktail bar brought to you by Ritcey East! Drink tickets may be purchased at the event, no cash.
Food: Got the munchies – don't miss our "after school snacks" menu includes sliders, fluffernutter bites, a rainbow dessert bar and much more! Vegetarian/vegan option will be available.
Best Dressed Contest: At the end of the night, the Queen herself will be selecting the best dressed partygoer who will be awarded a grand prize, thanks to Residence Inn by Marriott Boston Watertown!
Tickets can be purchased here online: Love Out Loud tickets
Sponsorship opportunities are still available!
Contact us 617-926-7755 – info@CommandersMansion.com
Commander's Mansion 440 Talcott Ave., Watertown, MA 02472