By Bill McEvoy
In honor of Memorial Day, local historian Bill McEvoy has compiled histories of some of the Civil War clergy who are buried at Mount Auburn Cemetery. This is part seven of 15.
Reverend William Augustus Start was born on March 1, 1837, in Camden, Maine. He died, on March 4, 1897, in Boston Massachusetts, from multiple injuries caused by a gas explosion at the intersection of Tremont and Boylston Streets.
He was a passenger on a horse-drawn trolley. The explosion came from below the Streets where the new underground electric trolley tunnel was being constructed.
Revered Start enlisted as a Private in Company B, of the 58th regiment Massachusetts volunteer infantry, on February 17th, 1864. His home of record was listed as North Bridgewater, Massachusetts.
He was commissioned as a chaplain on April 18th, 1864, and discharged on March 6, 1865.
His regiment was engaged in the battles of the Wilderness, Spotsylvania. Courthouse, Cold Harbor, the first assault on Petersburg, the seizure of Petersburg, and Poplar Springs. The Regiment was also involved in the accidental mine explosion while burrowing under the position held by the Confederates at Petersburg.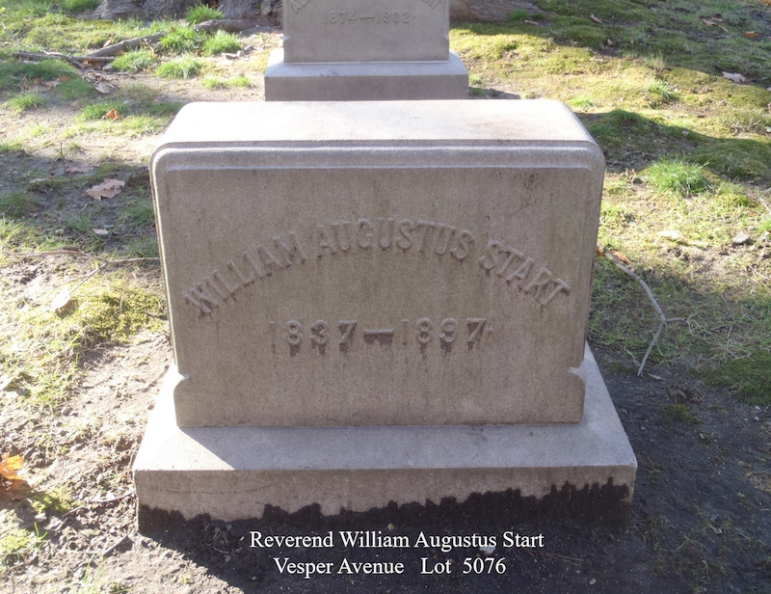 He was ordained in 1862, as a Unitarian Universalist minister. He served in the Massachusetts communities of, North Bridgewater, Marlboro, Melrose, and Mansfield.
Reverend Start was a graduate, of the class of 1862, at Tufts College. He was later granted a Master of Arts from Tufts.
From 1876 to 1894, he was the secretary of Secretary Massachusetts Universalist Convention.
He then became the bursar of Tufts College. At the time of the explosion, he was traveling to Tufts College's medical school at Copley Square.
Find the gravesites of the Civil War Clergy by entering their name here: https://www.remembermyjourney.com/Search/Cemetery/325/Map Bill McEvoy can be reached at billmcev@aol.com