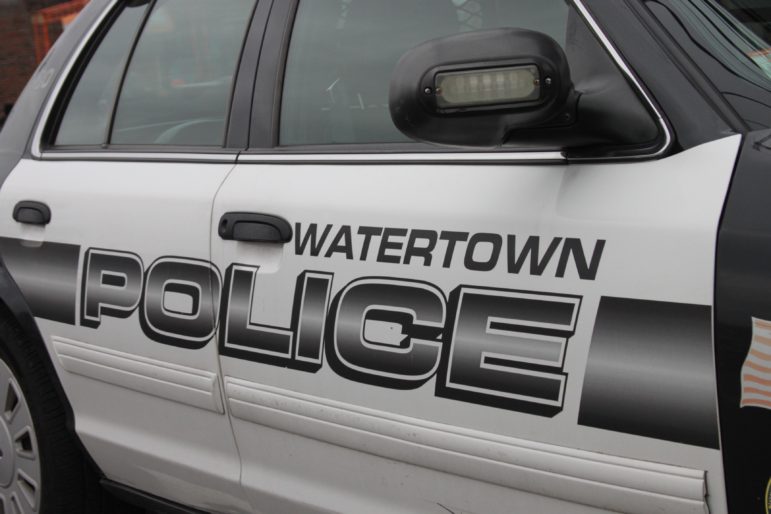 The following information was provided by the Watertown Police Department.
Arrests
May 18, 5:57 p.m.: Officers patrolling on Arsenal Street near Greenough Boulevard spotted a man they knew to have a warrant for his arrest. Michael Halner, 40, of Watertown, was placed under arrest on the warrant out of Waltham District Court for two counts of threats to commit a crime.
May 19, 3:18 p.m.: A shoplifter at Target left the store. Store security gave Police a description and officers located him at a bus stop on Arsenal Street. The man walked past the registers with a large tote bag which made a clanking sound as he walked. Security footage showed him putting four bottles of wine into the bag. The man admitted to taking the bottles, which cost $271.76. Police also discovered he had an active warrant from Boston District Court for possession of a Class B drug. Michael Broden, 43, homeless, was arrested for shoplifting by concealing merchandise and the warrant.
Incidents
May 15, 11:28 a.m.: A resident reported a case of identity theft. He received notification from Bank of America that a credit card had been opened in his name using his date of birth, Social Security Number and address. The person opened the account in a branch in California and transferred in $840 from the resident's account. BofA closed the account and refunded the money.
May 15, 10:40 p.m.: A man placed his electric scooter outside Central Rock Gym at Arsenal Yards. It was locked to the bike rack with a cable lock at about 7:30 p.m. At about 1o:20 p.m. the man came out and the scooter was missing. The man estimated the value of the Apollo Air scooter at $900.
May 16, 1:10 p.m.: Police were called to Target after a man was seen taking multiple pairs of shorts and left without paying. The suspect was located in front of Dunkin' on Arsenal Street. He admitted to taking the shorts, which he had in his backpack. They were worth $274.89. The 31-year-old man from Boston was summoned to Waltham District Court for shoplifting by concealing merchandise.
May 17, 3:57 p.m.: A resident came to the Police Station to report a fraudulent bank account had been opened in his name. The man received a debit card in the mail for a new account which he had not opened. The man closed the account, but before he could someone took out money at multiple ATMs in New York. The money was deposited and withdrawn from the account in New York.
May 19, 5:44 p.m.: A package was taken from a building on Warren Street. The resident ordered $51.39 in food items from Walmart and it was delivered at 1:55 p.m. on April 27, but it was not there when the resident went to retrieve it.
May 19, 11 p.m.: Officers patrolling in Arsenal Yards were flagged down by a person who said his electric bicycle had been stolen. The bike had been locked to the bike rack outside Frank Pepe's Pizza. The man said it was taken between 5 p.m. and 11 p.m. The CycleOn e-bike is valued at $1,500.
May 20, 8:11 p.m.: Two men walked into Target and took clothing and speakers worth $307.90. One man was described as a white male with a thin build, wearing a blue Adidas jacket with white stripes. The second suspect is described as a white male, with a thin build and a beard, who wore a dark hooded sweatshirt and khaki pants.
May 21, 8:37 a.m.: Police responded to Roche Bros. after it was discovered that a counterfeit bill had been used at the store. A man came in at 7:50 p.m. on the 20th and bought two items that cost $11.28 using a $100 bill. He got the change and left. Later the store determined it was counterfeit. The suspect is described as Black male, 5-foot-11, 180 pounds, wearing black sneakers, khaki shorts, a black jacket, and a black baseball hat.
May 21, 2:25 p.m. Target security detained a woman who was seen not scanning items while going through the self-checkout area. The home goods and clothing totaled $235.65. A 50-year-old woman from Watertown was summoned to Waltham District Court for shoplifting.