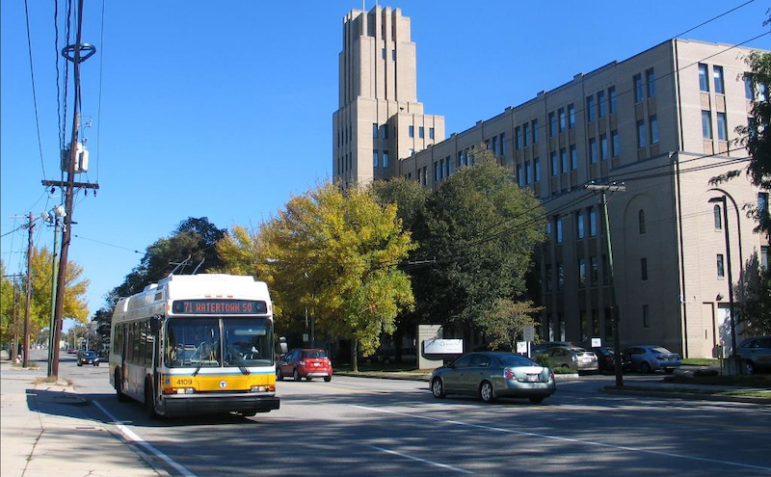 The following information was provided by the City of Watertown:
The Mount Auburn Street Complete Streets Project Team is pleased to announce that the final roadway design plans have been submitted to MassDOT. These designs include construction-related details such as traffic signal layouts, utility upgrades/modifications, and site grading to ensure the roadway and sidewalk improvements match existing conditions at the limits of work.
The project remains on schedule to go out to bid later this year, allowing construction to begin in early 2024. The project team continues to coordinate with MassDOT on the project schedule for the next steps.
Join us at an Open House on the
Mount Auburn Street Final Design
Date: Tuesday, June 20
Time: 4:00 PM to 7:00 PM
Location: Perkins School for the Blind, Grousbeck Center
55 Beechwood Ave., Watertown
Parking available in lot off Beechwood Ave; follow signs for event parking
Watertown Department of Public Works invites you to attend an interactive Open House on the final design for Mount Auburn Street. Stop by any time between 4:00 PM and 7:00 PM to review the final roadway design plans for the corridor and discuss your questions with members of the team and City staff. You can also share your input on the landscaping and streetscape concepts for the placemaking areas throughout the corridor. The project team will share examples of proposed site amenities, such as benches and bicycle parking, as well as plantings to be installed.
We will post recorded presentations outlining the final roadway design and the landscaping concepts, as well as updated plans, on the project website in advance of the Open House. These can be viewed at home and will also be on display during the Open House. They will be announced with a separate email in the coming weeks.
Please download a meeting flyer and help us spread the word.
Other Project Updates
National Grid continues to replace the gas main that runs down the center of Mount Auburn Street. This work is taking place in advance of future Mount Auburn Street road reconstruction. National Grid has encountered some unexpected conditions and has provided an updated timeframe for completion of the work:
Taylor Street to Walnut Street: Estimated completion in mid-June 2023.
School Street to Arlington Street: Estimated completion in October 2023.
Arlington Street to Cambridge line: Estimated completion in October 2023.
Work between Walnut Street and School Street has not begun yet. It is anticipated to begin in October 2023 and last through January 2024. We understand that this work has been impactful and appreciate residents' and businesses' patience as construction continues. Please contact National Grid with questions regarding the work at 508-760-7533.
The City has begun a water and sewer upgrade project for the Mount Auburn Street corridor. The water and sewer mains on the street have been inspected and are generally in good condition. The project seeks to improve reliance and resiliency by replacing and/or installing new water valves at various locations that allow the City to turn the water mains on and off. Limited repairs on the sewer mains will also be performed.
Learn more about the design on our website, www.mountauburnstreet.com.