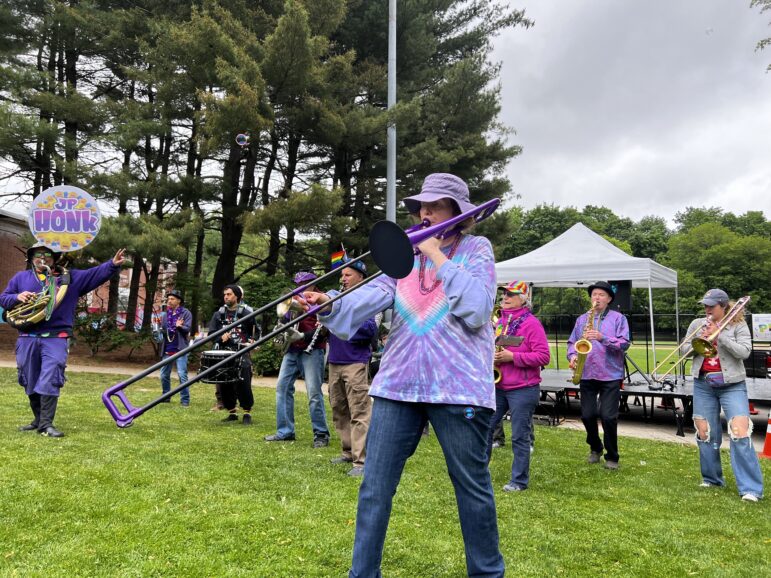 Set against a gray, rainy sky, the rainbows of Watertown's 2023 Pride festivities looked especially bright on Saturday. Families, folks, and four-legged friends of all shapes, sizes, and identities gathered on Saltonstall Park to mark the second year in a row that that space had hosted the celebration.
"It's perfect," said Carey Conkey-Finn, Teen Services Supervisor at Watertown Free Public Library and Pride team co-leader. "We got some extra tents in a pinch. And clearly the community is not afraid of a little rain! Someone once said you need the clouds to see the rainbows."
In a way, the weather was a metaphor for the mood at Pride: everyone carried on defiantly, despite the less-than-friendly environment. "For our trans kids, it means a lot to do this," said Conkey-Finn, who works with teens on a daily basis and said Pride is very near and dear to her heart. "Pride is for everyone, and this event shows the cultural strength of Watertown. We want to model supporting kids by showing what the city offers."
Stalls at the fair included Zines, yarn crafts, a stand from the Watertown Fire Department, rainbow flags to sign, and of course sausages and ice cream to munch on. Standing at strategic points around the park were representatives from the non-profit Free Mom Hugs (and one from Free Dad Hugs), offering, you guessed it, hugs to all willing passers-by.
Andrea, a mom from Cambridge, and Kelly, a mom from Medford, said they're attending Pride events all over the area all month. Kelly said that part of what brings her out was an experience with a family friend. "Her kid transitioned, and now his mom no longer speaks to him," she said. "It's just sad to see."
"We want to show love and acceptance. Family love should be unconditional," Andrea said, who added that she has two daughters. "And who doesn't need a hug, sometimes."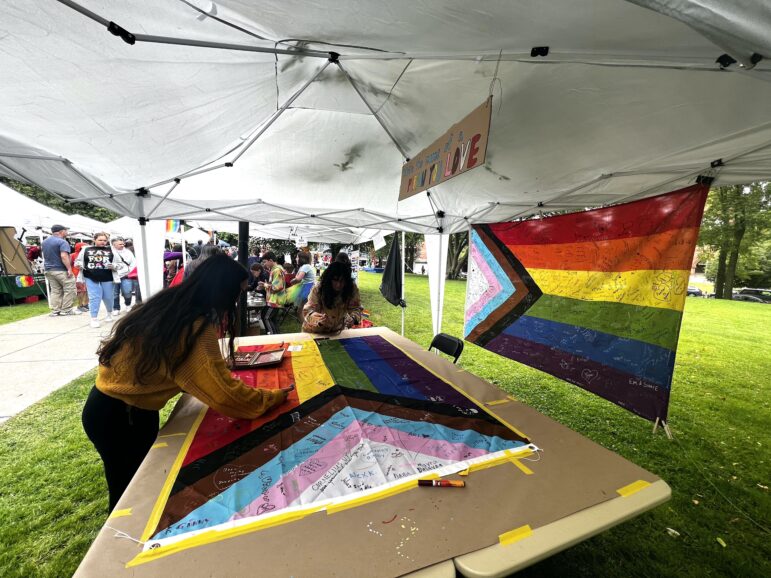 The main event of Pride featured performances from Kirkos, a youth community circus troupe, and rousing set from band JP Honk, as well as poetry from Taj Smith.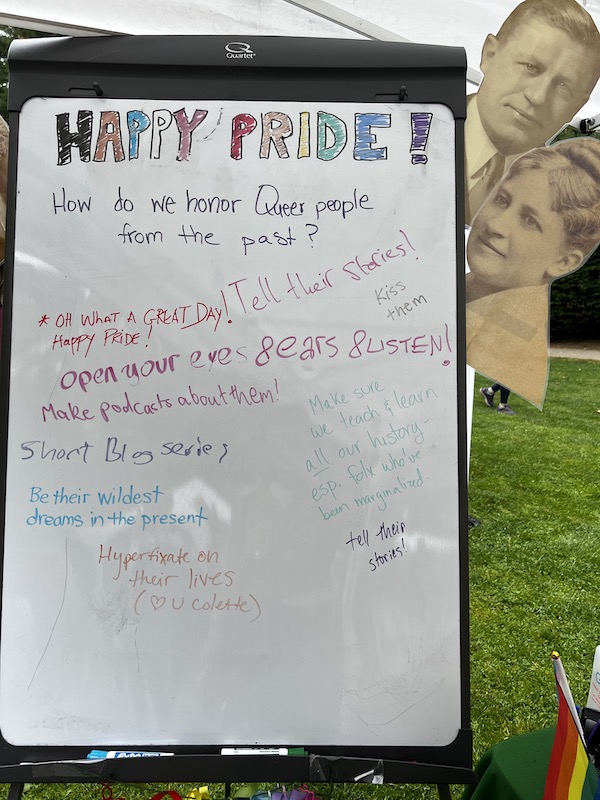 Allister and Jayden Jamison, two drag kings MCing the events happening on the stage at Saltonstall, said that this year, Pride has felt "complicated."
"I'm performing more, I've got more Pride work, I've made it a priority," Allister said. "But it's a weird moment. I think for queer people who are older … and also for those who are younger! … It's important to show up for those people."
"This is the first Pride where I'll be carrying mace with me," Jamison admitted. "We have to be more vigilant. But it's still important to show up [to Pride]. If I go down, I want to go down as me."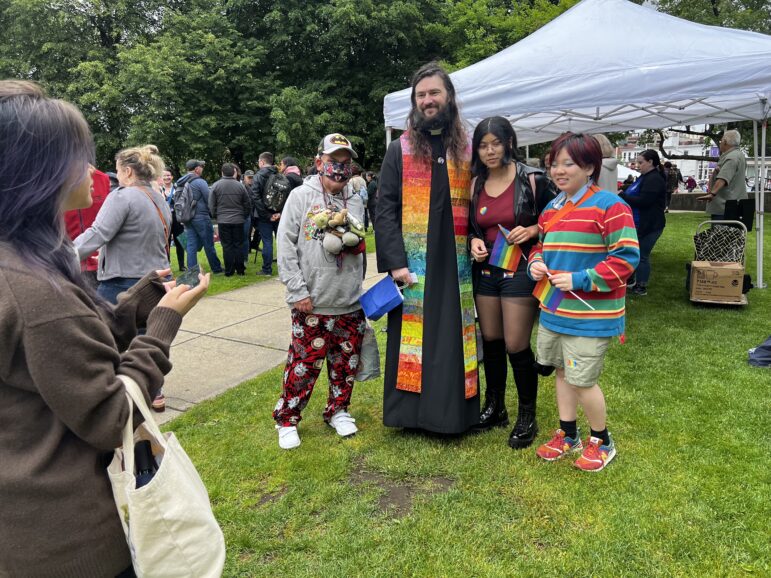 Perambulating among the revelers was Church of the Good Shepherd's Reverend Andrew Goldhor, distinguishable with his towering height and long black robes, festooned with a rainbow-colored stole.
"I'm here because I want to show people that they were made in the image of God," he told Watertown News. "Our church has done a lot of harm in the name of God and Jesus, and I want to be out here as a sign of God's love. We have a lot of queer parishioners, and they are beloved."