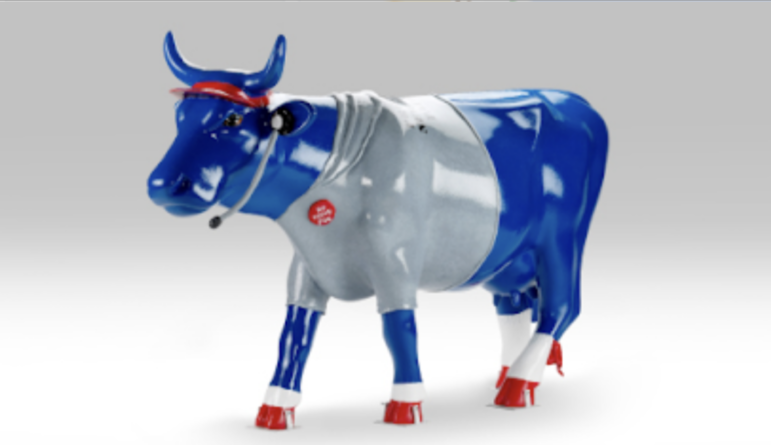 The following information was provided by the Jimmy Fund:
Local residents and artists, Carol Leonesio and Dawn Evans Scaltreto, have painted and transformed life-size cow sculptures as part of CowParade New England presented by Herb Chambers, a one-of-a-kind public art installation and fundraiser designed to recognize the Jimmy Fund 75th anniversary, benefiting Dana-Farber Cancer Institute's lifesaving mission.
The cows, Miss Moosachusetts, Bill Belicow, A Wicked Good Bruins Game, A Great Day at Fenway, The Eliot and Space Penguins, are on display from June 24 through September 4. CowParade will be located throughout Greater Boston, including herds sponsored by presenting sponsor Herb Chambers, Coca-Cola, fairlife, HomeGoods, OOFOS, Bond Brothers, Bonhams Skinner and Jordan's Furniture, the Boston Common Pasture Sponsor. A full pasture map will be available this spring at CowParadeNewEngland.org/PastureMap. Select cows will be auctioned off in August to benefit the Jimmy Fund which supports cancer research and care at Dana-Farber Cancer Institute.
CowParade New England features 75 unique cows, decorated by local artists throughout the region, which will be placed at landmarks throughout Greater Boston to recognize 75 years of progress and impact made possible by the Jimmy Fund community. This event is the 105th for CowParade, which is the largest and most successful public art event in the world and is for people of all ages.
Carol has exposed to the arts through her family and has been a professional artist for over 25 years. She participated in CowParade when it came to Boston in 2006 and is honored to be creating a cow this year. Her design, Miss Moosachusetts, is inspired by vintage postcards and represents all of Massachusetts, including 14 counties, 351 cities and scenes from Boston.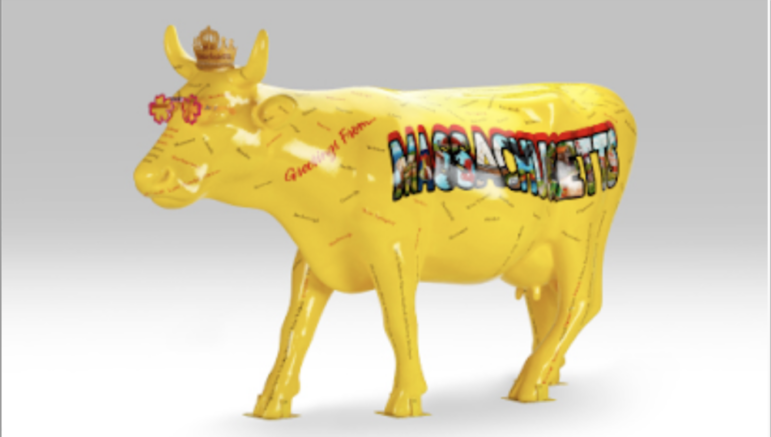 Dawn Evans Scaltreto is a professional fine artist and also participated in CowParade Boston in 2006. Dawn loves creating public art and feels it is rewarding to support Dana-Farber and the Jimmy Fund with the five cows she is creating for this year's CowParade New England. Her cows include Bill Belicow at Ace Ticket as tribute to Bill Belichick, A Wicked Good Bruins Game at Portal Park of TD Garden, A Great Day at Fenway at Hotel Commonwealth, The Eliot at Boston Common and Space Penguins at Park Plaza Hotel.
"We're thrilled to have so many talented and diverse local artists in Greater Boston and throughout New England participating in CowParade New England," said Suzanne Fountain, vice president of the Jimmy Fund. "CowParade is a beautiful way to bring our community together to celebrate 75 years of the Jimmy Fund and look ahead to continue raising funds to bring us one step closer to a world without cancer."
All proceeds also benefit The Dana-Farber Campaign, the Institute's ongoing and ambitious, multi-year fundraising effort to prevent, treat, and defy cancer by accelerating revolutionary science, extraordinary care, and exceptional expertise. For more information on CowParade, please visit cowparadenewengland.org.
About the Jimmy Fund
The Jimmy Fund, celebrating its 75th anniversary in 2023, is comprised of community-based fundraising events and other programs that, solely and directly, benefit Dana-Farber Cancer Institute's lifesaving mission to provide compassionate patient care and groundbreaking cancer research for children and adults. The Jimmy Fund is an official charity of the Boston Red Sox, the Massachusetts Chiefs of Police Association, the Pan-Mass Challenge, and the Variety Children's Charity of New England. Since 1948, the generosity of millions of people has helped the Jimmy Fund save countless lives and reduce the burden of cancer for patients and families worldwide. Follow the Jimmy Fund on Facebook, Twitter and Instagram: @TheJimmyFund.
About CowParade
CowParade is the largest and most successful public art event in the world. CowParade events have been staged in 80+ cities worldwide since 1999 including Boston, Brussels, Buenos Aires, Chicago, Dublin, Houston, Istanbul, New York City, London, Mexico City, Milan, New York City, Paris, Rio, Sao Paulo, Tapei and Tokyo.
About Herb Chambers
Herb Chambers purchased his first automobile dealership in 1985, and has grown his company into the largest automobile dealership group in New England. Today, The Herb Chambers Companies are comprised of 60 automotive dealerships throughout Massachusetts and Rhode Island. The Automotive Family has over 2,000 employees and annual sales over $2.7 billion. There are over 17,000 automobile dealers in the United States and The Herb Chambers Companies is one of the top 20 largest privately-owned dealership groups. For more information and a list of dealerships and locations, please visit www.herbchambers.com.