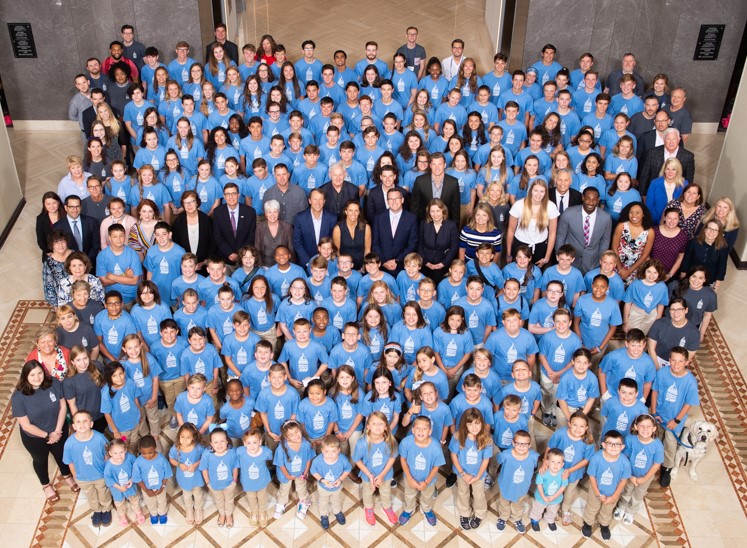 The following information was provided by JDRF:
Kate Putnam, age 14 of Watertown, MA, was chosen by JDRF, the leading global organization funding type 1 diabetes (T1D) research, to join a delegation of her peers and celebrity advocates in Washington, D.C., this summer at JDRF 2023 Children's Congress from July 9-11.
Kate will join more than 160 other youth from across the country to meet with their Members of Congress and other key decisionmakers to inform them of the critical role they can play in supporting the T1D community. 
Throughout the event, these youth — ages 4 to 17 — will participate in leadership and character-building programming, interact with T1D role models, and engage in a number of activities on the Hill, including attending a Senate hearing to share personal testimonies that highlight the challenges of living with T1D and the need for continued Federal funding through the Special Diabetes Program, or SDP (www.jdrf.org/get-involved/advocacy/special-diabetes-program). 
"When it comes to my experience with type 1, I have been extremely lucky to get the care and support that I need, but I still deal with a high degree of stress. I know people who don't get the care that I do; and they constantly struggle to not fall under the weight of the requirements for caring for themselves, and not getting any rest from those duties. While care for those with T1D has gotten so much better over the past 20 years, there is so much to still be done. Congress holds the power to improve the way of life for our entire community," said Kate, who was diagnosed in August 2013 when she was 4.
Joining the U.S. Delegates will be five International Delegates traveling from Australia, Canada, Israel, the Netherlands, and the United Kingdom. Together, the Delegates will help to convey to the Federal Government that T1D is a global issue that requires a global response.
"Every day these youth and their parents face the burden of type 1 diabetes and—by sharing their stories—they become powerful advocates in the fight to end this disease," said Lauren Shields, Associate Executive Director, JDRF Greater New England. "Children's Congress empowers the T1D youth community to speak with a unified voice to urge Federal leaders to help us achieve affordable insulin and to continue funding the Special Diabetes Program."
Serving as Chair for JDRF 2023 Children's Congress will be Natalie Stanback of Lewisville, Texas whose daughter, Nadia, 11, was diagnosed with T1D at age 3. In addition to Stanback's volunteer engagement at the Northern Texas and Oklahoma Chapter she is also a devoted advocate and has served in panel discussions and roundtables addressing the importance of achieving affordable insulin for all who need it. As Chair of the event, she will help engage, support, and energize all these Delegates and their families as they participate in our programs and prepare for their advocacy efforts up on Capitol Hill.
For a video of highlights from JDRF 2019 Children's Congress, please visit https://cc.jdrf.org.
About JDRF Children's Congress
The JDRF Children's Congress T1D advocacy program was inspired by a boy from Massachusetts named Tommy Solo. One day, at age 9, he asked his mother, "Why can't kids go to Washington and tell their Representatives about what it is like to have type 1 diabetes and let them know that we want scientists to find a cure?" His mom and other JDRF volunteers agreed and, in 1999, the first-ever JDRF Children's Congress took place in Washington, D.C.
Since then, 11 successful Children's Congresses have been held, one every other year, and more than 1,000 kids with T1D have served as Delegates. JDRF Children's Congress has been essential to securing continued government funding of T1D research and to raise awareness of the daily burden of Americans living with this serious autoimmune disease.
Delegates form lifelong friendships, meet T1D role models, develop leadership skills, and leave Children's Congress empowered to use their voices for the change that will improve their lives and the lives of all people affected by T1D.
To learn more about JDRF Children's Congress and the Delegates, please visit https://cc.jdrf.org.
About JDRF
JDRF's mission is to accelerate life-changing breakthroughs to cure, prevent and treat T1D and its complications. To accomplish this, JDRF has invested more than $2.5 billion in research funding since our inception. We are an organization built on a grassroots model of people connecting in their local communities, collaborating regionally and globally for efficiency and broader fundraising impact, and uniting on a global stage to pool resources, passion, and energy. We collaborate with academic institutions, policymakers, and corporate and industry partners to develop and deliver a pipeline of innovative therapies to people living with T1D. Our staff and volunteers throughout the United States and our five international affiliates are dedicated to advocacy, community engagement, and our vision of a world without T1D. For more information, please visit www.jdrf.org or follow us on Twitter (@JDRF), Facebook (@myjdrf), and Instagram (@jdrfhq).
JDRF Greater New England proudly serves constituents in Maine, eastern and central Massachusetts, New Hampshire, Rhode Island, and Vermont. To learn more about the chapter, visit www.jdrf.org/greaternewengland or follow us on Twitter (@JDRFGNE), Facebook (@jdrfgreaternewengland), and Instagram (@jdrfgreaternewengland).