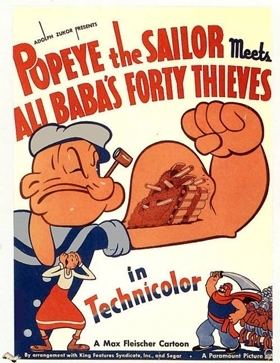 The following information was provided by Fred Grandinetti:
To celebrate the 90th anniversary of Popeye the Sailor's animated cartoon debut in July 2023 Drawing With Fred will be airing Popeye the Sailor Meets Ali Baba's Forty Thieves.
The Watertown Cable Access TV show, created by Watertown resident Fred Grandinetti, will show the special color cartoon produced in 1937 by The Fleischer Studios for Paramount Pictures.
"It is twice as long as a regular short subject featuring multi-dimensional backgrounds," said Grandinetti, who added that it was the second Popeye cartoon to be made in color, after 1936's Popeye the Sailor Meets Sindbad the Sailor.
The episode of Drawing With Fred will begin airing on July 10, and will run for two weeks on WCA-TV's Public Channel (RCN Channel 3, Comcast Channel 9), and online (click here).
Since his animated cartoon debut in 1933 Popeye has gone on to be featured in approximately 500 cartoons for both theater and television screens.
Drawing With Fred has been airing on The Watertown Cable Access channel for 30 years.