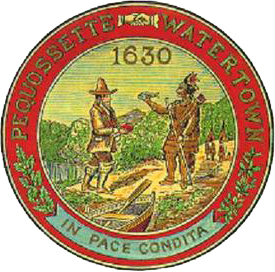 The City of Watertown has $10.5 million in American Rescue Plan Act (ARPA) funds that can be spent on a variety of areas as part of Pandemic recovery. The City Council requested proposals for use of the money and received 32 applications from City departments, community organizations, individuals, or a combination of those.
The requests total nearly $24 million in funds, and include areas such as affordable housing, food pantries, and social workers.
The City has several applications, including multiple for water infrastructure projects. The Watertown Library seeks to build another study/work room. The Fire Department wants to add more ambulance service, and one from the City Clerk's office seeks a machine to address and stamp mail-in ballots. The Watertown Public Schools have also requested money to pay for the solar panels in the high school project.
Food insecurity projects include funds for the SNAP program at the Farmers Market, the Community Fridge, and a few for the Watertown Food Pantry, some of which may be in competition. One calls for creating a kitchen along with the pantry at the current location, the Belmont-Watertown United Methodist Church on Mt. Auburn Street, while the City's Senior Services Department has proposed moving the Pantry to a City-owned building.
Wayside Youth & Family Network seeks to expand the Social Services Resource Specialist program. Right Turn in conjunction with the Watertown Cares Network want to run a public health informational campaign aimed at substance use disorder. Metro West Collaborative Development is proposing a program with one-time cash payment for people facing economic emergencies.
The Watertown Housing Authority proposed upgrading the kitchens and floors in 32 units of one of its buildings, while Metro West Collaborative Development has requested funds to replace the roof of four condos that have been deeded as affordable housing. Also, Marshall Place Apartments seeks money to install an elevator in a building that provides affordable senior housing.
The City seeks funds to help develop a Cultural District, to create public art in commercial areas, and to hire a grant development manager.
The Watertown Boys & Girls Club seeks to expand childcare programming. Watertown Cable seeks to expand the number of public buildings from which it can broadcast live, the Mosesian Center for the Arts seeks to increase accessibility to its Main Stage, and multiple groups joined together to propose a study of City supported local transit for people without cars.
Other proposals include a college application coach, integrating the Chinese American community into town, interpretation help, and creating pesticide free zone signs.
Below are brief summaries of the proposals, in alphabetical order. Click on the title of the project to see the application on the City of Watertown's website.
Additional Private Workspace – Library
Proposal Type: City Department – Watertown Free Public Library
Project Summary: We would like to add a new study room for private workspace in the library. The way people use the library has changed during covid. With more people working from home and without offices to go to every day, we have found more people spending prolonged time in the library. Some people are here all day using their computers, attending zoom meetings, and taking business calls. One recent Sunday afternoon all the workspace on the second floor was occupied, including private study space.
Amount of ARPA Funds Requested: $25,000
Minimum Funds Needed: $18,000
Bigelow Ave. Water Main Replacement Program
Proposal Type: City Department – Department of Public Works
Project Summary: This project seeks to replace aging water distribution pipes within the City of Watertown located along Bigelow Avenue and surrounding streets. To prevent contamination and improve both water quality and pressure in the Bigelow Avenue neighborhood the City would like to replace approximately 2,500 linear feet of 6" cast iron water main with 8" ductile iron main. In addition to the main replacements, any service lines containing lead goosenecks off these mains will be replaced in conjunction with this project.
Amount of ARPA Funds Requested: $3,000,000
Minimum Funds Needed: $2,500,000
College Applications Coach
Proposal Type: Individual
Project Summary: We present a compelling project proposal aimed at utilizing ARPA funds to support and guide high school students in Watertown through the college application process. The College Applications Coach program aims to provide personalized assistance, mentorship, and resources to students, ensuring they have the necessary guidance and support to successfully navigate the college admissions journey. Below, you will find the requested information and further details about the project.
Amount of ARPA Funds Requested: $60,000
Minimum Funds Needed: $20,000
Cottage Street Water Main Resident Engineering and Construction Services
Proposal Type: City Department – Department of Public Works
Project Summary: This project seeks to replace aging water distribution pipes within the City of Watertown located along Cottage Street and surrounding streets. To prevent contamination and improve both water quality and pressure in the Cottage Street neighborhood the City would like to replace approximately 1,300 linear feet of 6" unlined, cast iron water main with new 8" cement lined, ductile iron water main. In addition to the main replacements, any service lines containing lead goosenecks off these mains will be replaced in conjunction with this project.
Amount of ARPA Funds Requested: $2,000,000
Minimum Funds Needed: $2,000,00
Cultural District Matching Funds
Proposal Type: City Department – Department of Community Development & Planning
Project Summary: As the city moves towards a Cultural District designation, propelled by several cultural organizations and the Public Arts & Culture arm of the Department of Community Development & Planning, the city is invited to invest in this key strategy to revitalize Watertown Square and the Main Street corridor. A Cultural District is a state designation that highlights areas with "a density of cultural facilities, activities, and assets. It is an easy to navigate, [and a] compact area that acts as a hub of cultural, artistic, and economic activity and offers a place-based identity [for] collaborative community initiatives." A city match from ARPA funds would address several startup costs associated with a Cultural District designation. These include a standalone website with strong calendar integration, wayfinding signage specific to the district and satellite partners, and support of cultural programs occurring withing the district.
Amount of ARPA Funds Requested: $30,000
Minimum Funds Needed: $10,000
Elevator Modernization for Affordable Senior Housing – Marshall Place
Proposal Type: Organization – Marshall Place Apartments/Cascap Inc.
Project Summary: Installation of new elevator equipment and cab at Marshall Place: Affordable, permanent housing for Seniors of limited means. Marshall Place has a long history of providing affordable housing for Watertown elders, having been converted from a historic home to the Watertown Home for Old Folks (WHOF) in 1908. In 2000, we were fortunate to partner with Watertown Community Housing to renovate and maintain this property as affordable housing, reconfiguring the retirement home into eleven one-bedroom units. The Marshall Home Fund, created by the acquisition of Marshall Place, has also continued the work of the WHOF to assist elders in Watertown and is located at Marshall Place.
Amount of ARPA Funds Requested: $91,788
Minimum Funds Needed: $84,428
Expansion of Childcare Programming – Space, Safety & Security, and Staffing – New Foundations
Proposal Type: Organization – Watertown Boys & Girls Club
Project Summary: Renovate, update, expand basement level to serve up to 75 children K-3 in a licensed childcare program. In order to comply with the State of Massachusetts EEC Licensing requirements, we will be required to complete a number of costly renovations. In addition to making the space meet the licensing requirements, this construction will also address the building's much needed safety issues such as installing a fire suppression system and constructing a secure entry way. Additionally, these renovations will allow us to meet ADA requirements by making our building accessible to all.
Amount of ARPA Funds Requested: $1,815,000
Minimum Funds Needed: $1,815,000
Food Security Center Building Renovation
Proposal Type: Organization – Belmont-Watertown United Methodist Church (BWUMC)
Project Summary: Renovation of the lower level space at 80 Mt. Auburn Street used by the food pantry. Renovation would mean improved accessibility and safety, with significant opportunities to grow community programing in the future. The BWUMC Board of Trustees is requesting $250,000 in ARPA funding from the City of Watertown to assist with the renovation of the basement level hall and kitchen. Both the hall and the kitchen are currently used by the Watertown Food Pantry. The purpose of the renovation is to create a fully accessible and functional space and location for the support of food security in Watertown. Included in this effort will be new delivery and storage space for the Food Pantry and a community kitchen equipped for serving and nutritional education programs.
Amount of ARPA Funds Requested: $250,000
Minimum Funds Needed: $250,000
Grant Development Manager
Proposal Type: City Department – Finance
Project Summary: Create a Grants Development Manager position that will be responsible for development and submission of grant proposals and applications to external funders, including federal and state agencies and foundations. The City Manager is proposing to create a Grants Development Manager position that will be responsible for development and submission of grant proposals and applications to external funders, including federal and state agencies and foundations. The Grants Development Manager will identify and assess funding opportunities; collaborate with staff to develop projects and initiatives that align with the City's mission and goals and that reflect a prudent use of staff time and municipal resources; and collaborate with staff to develop all narrative, budget, and supplemental components for grant proposals.
Amount of ARPA Funds Requested: $344,945
Minimum Funds Needed: $148,593
Hybrid Capability for City Buildings
Proposal Type: Organization – Watertown Cable Access Corp
Project Summary: The proposal is to increase broadcast and hybrid capabilities of public meetings, including upgrades to two City Hall rooms and the purchase of two portable cart systems to allow for live coverage and remote access in other locations such as schools, municipal buildings, and other public venues.
Amount of ARPA Funds Requested: $169,995
Minimum Funds Needed: $169,995
Integration of the growing Chinese American community in Watertown
Proposal Type: Organization – Chinese American Association of Watertown (CAAW)
Project Summary: Most of nearby towns/cities have their own Chinese American Association to help integration and understanding of the culture. As Watertown is having an increasing population of Chinese Americans, it is becoming more and more important for us to have our own association to bridge the culture gap.
Amount of ARPA Funds Requested: $13,000
Minimum Funds Needed: $10,000
Interpretation Services
Proposal Type: Individual
Project Summary: Requests $10,000 be appropriated for Language Access services available for City Departments needing safe and reliable communication with people with limited or no English proficiency. $10, 000 is estimated to be sufficient for interpretive services needed for 2 years. But, a minimum – from communication with Community Interpretation Services (CIS) and one municipality (Somerville) – $10,000 can be reasonably expected to adequately meet Watertown's needs for 1-2 years.
Amount of ARPA Funds Requested: $10,000
Minimum Funds Needed: $10,000
Lead Gooseneck Removal
Proposal Type: City Department – Department of Public Works
Project Summary: The DPW is actively working to remove all remaining lead piping, in the form of lead service goosenecks, from our community. The Massachusetts Water Resources Authority (MWRA) has recommended that when replacing a lead gooseneck, the entire service, i.e., the
gooseneck and downstream piping within the right of way, be completely removed. The City currently has approximately 500 lead goosenecks, and therefore services lines, that need to be removed from our distribution system. The DPW would like to replace all lead goosenecks and downstream service lines within the next five years.
Amount of ARPA Funds Requested: $600,000
Minimum Funds Needed: $100,000
McSherry Gardens Improvements
Proposal Type: Organization – Watertown Housing Authority
Project Summary: If awarded ARPA, the Watertown Housing Authority is seeking to upgrade the kitchens and floors for 32 one-bedroom households at McSherry Gardens. McSherry Gardens is a senior public housing development constructed in the 1960s. This project would be the first
interior modernization improvement to the units in 60 years. Attached project narrative has further detail.
Amount of ARPA Funds Requested: $1,769,308.10
Minimum Funds Needed: $1,645,868
Mosesian Arts Mainstage Accessibility Improvements
Proposal Type: Organization – The Dorothy and Charles Mosesian Center for the Arts
Project Summary: Mosesian Arts aims to complete additional facility improvements recommended in a Universal Participation study conducted in 2019 through Mass Cultural Council. With proposed facility improvements, MCA will continue to serve the Watertown community by addressing several accessibility and safety upgrades in our Main Stage Theater.
Amount of ARPA Funds Requested: $200,000
Minimum Funds Needed: $175,000
Public Art in Commercial Centers
Proposal Type: City Department – Department of Community Development & Planning
Project Summary: Three permanent public art projects that promote outdoor visitation and opportunities for the creative economy are proposed for to promote community and financial health. These include: a custom bike rack in Coolidge Square, Box Wraps in the Historic District, and Sculpture at the Mansion.
Amount of ARPA Funds Requested: $60,000
Minimum Funds Needed: $12,000
PV Array for Watertown High School
Proposal Type: City Department – School Building Committee
Project Summary: The project will cover the cost of installing solar panels on the roof of the new Watertown High School project. This was an add-alternate to the high school project, and it will ensure that we open on the first day as a LEED-Platinum, net-zero school.
Amount of ARPA Funds Requested: $4,462,000
Minimum Funds Needed: $1,000,000
Quimby Affordable Condos Preservation
Proposal Type: Organization – Metro West Collaborative Development
Project Summary: Replace roofs and other common areas in order to preserve long-term affordability of these four deed-restricted affordable housing units. This project involves replacing the roofs and making other common area improvements at 28-34 Quimby Street in order to preserve the long-term affordability of these four deed-restricted affordable housing units. Additionally, one unit will be more fully renovated (kitchen, windows, siding) and resold to an income eligible household via a lottery later this year.
Amount of ARPA Funds Requested: $334,203
Minimum Funds Needed: $334,203
Request for Ballot Address System
Proposal Type: City Department – City Clerk/Elections
Project Summary: Purchase of Ballot Address/Process System. Purchase of a High Speed Monochrome Inkjet Address Printer and Omation 306 Envelopener with High Speed Inket Printer. This system will greatly streamline and improve the current vote-by-mail process of printing multiple peel and stick labels and hand stamping each ballot when received back in our office
Amount of ARPA Funds Requested: $26,335.67
Minimum Funds Needed: $26,335.67
Request for Funds For the Folino Family on Behalf of Lisa J. Folino
Proposal Type: Individual
Project Summary: As a longtime resident of our town /and newly named City of Watertown, I am requesting that a amount of approximately $100,000.00 be awarded to the Folino Family who have been residents of Watertown for a wonderfully long (66) sixty six years for funds to benefit solely and on behalf of their totally disabled elder daughter Lisa J. Folino who became totally disabled as a result of a tragedy occurring on March 17th, 2015, who fortunately is a long haul Covid Survivor as well.
Amount of ARPA Funds Requested: $100,000
Minimum Funds Needed: $100,000
Sewer Phase 4 Rehabilitation
Proposal Type: City Department – Department of Public Works
Project Summary: This project will replace antiquated sewer pipes within the City which are deteriorating or broken to reduce or eliminate inflow and infiltration. These pipes are in poor condition, allowing water to infiltrate into the pipes through open joints, cracks, breaks and root intrusion which can lead to clogging of the sewer. Additionally, sewage leaches through broken pipes into adjacent storm drains resulting in higher bacteria counts from downstream rivers and streams.
Amount of ARPA Funds Requested: $2,800,000
Minimum Funds Needed: $2,500,000
Watertown Social Services Resource Specialist Program Expansion
Proposal Type: Organization – Wayside Youth & Family Support Network Multi-Service Center
Project Summary: This proposal requests to expand the capacity of the Social Service Resource Specialist (SSRS) Program, which will increase the program's ability to provide more ongoing support services for residents dealing with complex issues such as mental health, unstable housing, and homelessness. This increased, ongoing, labor-intensive support will enhance the likelihood that sustainable change will be achieved. A full-time Master's-level Clinician will be hired to increase the SSRS Program's capacity to address these and other chronic and long-term needs.
Amount of ARPA Funds Requested: $317,578
Minimum Funds Needed: $158,789
Staffing for Basic Life Support Ambulance
Proposal Type: City Department – Watertown Fire Department
Project Summary: The Watertown Fire Department is requesting American Rescue Plan Act funds to staff a Basic Life Support Ambulance to supplement our existing Advanced Life Support Ambulance. The proposed funds would be used to cover the overtime costs associated with the minimum staffing increase to operate the BLS ambulance 24/7.
Amount of ARPA Funds Requested: $3,569,052
Stormwater Tree Trenches
Proposal Type: City Department – Department of Public Works
Project Summary: This green infrastructure project will support the installation of 50 stormwater tree trenches. The stormwater tree trenches will be designed to reduce and treat stormwater runoff and recharge groundwater. In Watertown, phosphorus is a pollutant of concern for the Charles River. By filtering and infiltrating runoff, phosphorus loading to the River will be reduced.
Amount of ARPA Funds Requested: $1,000,000
Minimum Funds Needed: $500,000
Study for City supported Local Transit
Proposal Type: Organization – Watertown Faces Climate Change, Watertown for All Ages, Watertown Environment and Energy Efficiency Committee
Project Summary: We are proposing a CITY SUPPORTED LOCAL TRANSIT STUDY to determine the best options for connecting people to where they want to go locally without a personal car.
Amount of ARPA Funds Requested: $67,500
Minimum Funds Needed: $75,000
Support for Early Childhood Education
Proposal Type: Individual
Project Summary: Provide support to the essential workers in early childhood education
Amount of ARPA Funds Requested: [Blank]
Minimum Funds Needed: [Blank]
Sustaining Watertown Community Fridge
Proposal Type: Organization – Watertown Community Fridge
Project Summary: The Watertown Community Fridge is seeking funding to continue purchasing fresh healthy food for the community as well as providing a secure, safe & well maintained refridgerator and pantry space.
Amount of ARPA Funds Requested: $60,000
Minimum Funds Needed: $30,000
Watertown Cares
Proposal Type: Organization – Right Turn in Conjunction with the Watertown Cares Network
Project Summary: Right Turn in conjunction with the Watertown Cares Network will execute a three-year, multi-facted public health informational campaign. The program will fund a part-time position embedded with Right Turn. The campaign will focus on three community-wide goals; 1. Prevention of substance use disorder with a focus on school-aged residents and other vulnerable individuals; 2. Reduce the stigma of substance use disorder and accompanying mental health disorders; 3. Communication to all effected community members clarifying what resources are available locally and how to access them.
Amount of ARPA Funds Requested: $297,332.50
Minimum Funds Needed: $297,332.50
Watertown Direct Assistance Program
Proposal Type: Organization – Metro West Collaborative Development, Inc.
Project Summary: Metro West CD is proposing a direct assistance program for low-income residents in the form of a one-time "cash" payment to stabilize the economic insecurity they are experiencing. Metro West CD proposes to provide one-time direct "cash" assistance to low income households, earning no more than 60% of the Area Median Income (AMI).
Amount of ARPA Funds Requested: $250,000
Minimum Funds Needed: $250,000
Watertown Farmers' Market Food Assistance Program
Proposal Type: City Department – Community Development and Planning
Project Summary: This request is for funds to support the Watertown Farmers' Market (WFM) Supplemental Nutrition Assistance Program (SNAP) Match Program, which provides free and more affordable food to eligible customers who shop at the market. In addition to the match, funds would cover a stipend for a Food Access Working Group Coordinator to assist with ongoing outreach and educational efforts to address food insecurity in the community. The WFM SNAP Match Program was established several years ago, and has increased significantly in the past three years, with our match totals more than doubling each year. This funding will help address food insecurity for some of our most vulnerable residents including older adults, young children, and Veterans.
Amount of ARPA Funds Requested: $35,000
Minimum Funds Needed: $20,000
Watertown Food Pantry
Proposal Type: City Department – Senior Services
Project Summary: The project will involve the relocation of the city food pantry from the Methodist church to a city building. The new location will be more accessible and will enable the food pantry to serve more individuals and families. These renovations will ensure that the new location is safe, accessible, and efficient for the food pantry staff and volunteers. Some of the renovations include new floors, shelves, handicap ramp, increase of doorway to warehouse sized door of 8' wide 9' high, installation of a hand sink, bathroom, tearing down of the wall to create storage area, new electrical wiring estimated at $152,000 to complete.
Amount of ARPA Funds Requested: $200,000
Minimum Funds Needed: $152,000
Watertown Pesticide Free Zones Signs
Proposal Type: Individual
Project Summary: The Watertown Pesticide Free Zone Sign Project seeks to educate the public and create pesticide free zones in the City of Watertown. This is a voluntary project that the public would do to promote a healthier community. The 2023 Spring Organic Landscaping Series at the Watertown Free Public Library from March 2023 to June 2023, has taught us about what organic landscaping is, how using pesticides affects our health, our children's health, the waste water and practical ways to not use pesticides and its costs.
Amount of ARPA Funds Requested: $15,000
Minimum Funds Needed: $12,000