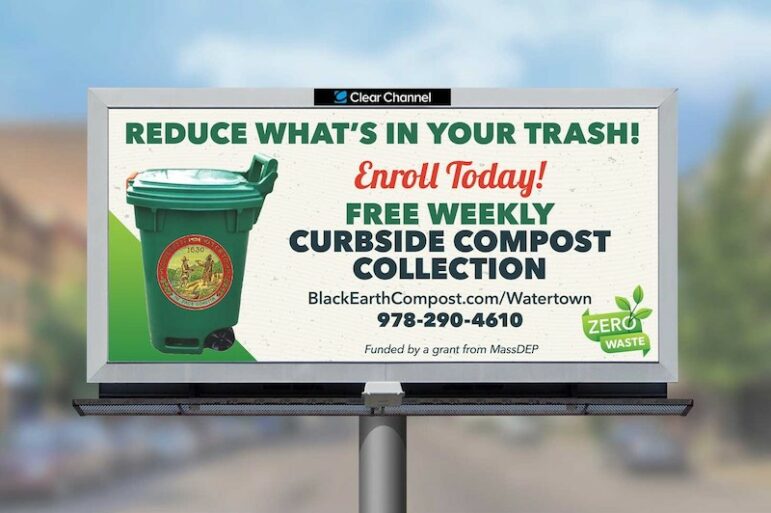 The following piece was written by Watertown Recycling and Sustainability Coordinator Anya Pforzheimer:
Why might I want to try composting?
A few reasons to give the free Watertown compost pickup program a try:
• I keep running out of space in my trash every week.
o This is a great reason to give it a try.
o Recent research has shown that nearly 1/3 of the materials that we are throwing away in household trash could be composted.
o Removing the food from your trash leaves space for other materials that we cannot recycle or compost.
• I want to help do my part to address the increase in rat activity.
o Also a good reason to start!
o The compost bins have snapping lids that prevent animals from getting into them. This type of lid also creates a smell barrier, which means that rats are not aware that there is food nearby.
o Taking food scraps out of the trash bins, which are not smell-proof or rodent proof, means that the rats are likely to move away from your house, since they cannot access any food.
• I hate when my trash bag smells.
o SAME HERE!!
o Since all the food scraps are in a locked bin that I can keep safely outside on my porch, my trash bin is typically only filled with plastic wrapping and containers that are non-recyclable, like bubble wrap, cling film, and plastic bags.
o My trash bag is clean and does not stink up my kitchen, which means I don't need to tie it up and take it out as often during the week.
• I want to do my part to prevent waste.
o Love that!
o Organic materials like food are part of a larger nutrient system. When we throw away our food and it goes to landfill or incineration, we stop that cycle.
o When organic materials are burned or put in a landfill, we lose all the nutrients that they contained, which means our soil is less rich and our future food is not as nutrient dense. Composting helps to return those nutrients to the soil, which in turn creates healthier food for us to grow and eat.
• I heard something about methane and food waste.
o Yep — and it's a big deal!
o Food and other organic materials that decompose in landfills, without oxygen, create methane, which is a potent greenhouse gas.
o When these materials are composted, air is mixed in as part of the process to ensure that methane is not created.
o Diverting food scraps away from landfill is a great way to combat climate change.
Residents get a 13-gallon bin and a free starter roll of compostable liners. Sign up today:
www.blackearthcompost.com/watertown/
— From your friendly neighborhood recycling coordinator