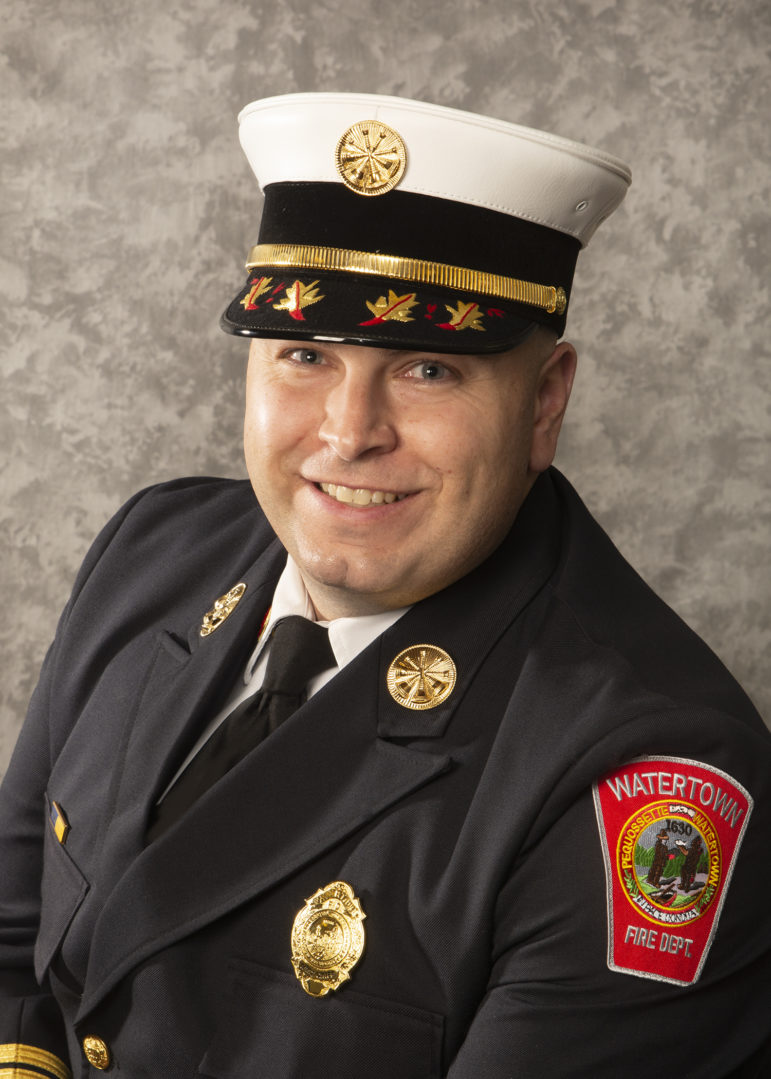 The following announcement was provided by the City of Watertown:
City Manager George J. Proakis is pleased to announce the appointment Ryan Nicholson as the new Fire Chief for the City of Watertown. Chief Nicholson brings 17 years of experience to the Watertown Fire Department. As Chief, he will oversee approximately 90 sworn and civilian staff, providing fire and emergency response services spanning four groups with an annual operating budget of approximately $13 million.
Chief Nicholson joined the Watertown Fire Department in March 2006 and began his career with two and half years on the ambulance, where he learned valuable lessons on treating patients in our community. As a firefighter, he also spent time on the engine, ladder, and as a deputy's aide. Nicholson was promoted to Lieutenant in 2011 and served as the department's Training/Officer/EMS coordinator. He was appointed Captain in 2013 and later took on the role of Fire Inspector, where he made many positive impacts on the community, both in terms of his involvement with ongoing development in the city and working to make the most at-risk populations in our community safer. He reinstated the S.A.F.E. program in all our elementary schools to provide life and safety education to our students. He also developed a smoke and carbon monoxide alarm installation program for seniors and made monthly visits to the senior center. As a Captain, Nicholson also served as the Staff Service Officer before being promoted to Deputy Chief in 2019 and then Assistant Chief in 2020. Nicholson has served as Provisional Chief for the last year and he is now officially the eighth permanent Fire Chief in the history of the Watertown Fire Department.
Nicholson holds a Bachelor of Science in Criminal Justice from Northeastern University along with an Associate's Degree in Fire Science from Middlesex Community College. He earned his Master's Degree in Public Administration from Anna Maria College in 2018. Nicholson serves on multiple committees in Watertown, including the Traffic Commission and Cunniff School Site Council. He earned his Fire Chief Credentialing from the Massachusetts Fire Service Commission and other certifications including Chief Fire Officer from UMass, Incident Safety Officer from the Federal Emergency Management Agency, and Remote Pilot Certificate from the Federal Aviation Administration. Nicholson looks forward to building on the positive relationship the department has with the community and continuing to provide excellent emergency services to the citizens and visitors of the City of Watertown.
Ryan and his wife, Jen, both graduated from Watertown High School in 2003. They have two children, William and Emma, who attend the Cunniff Elementary School.
"Chief Nicholson is a true professional and community-oriented manager, who I know will take us to the next level of professionalism and service to our community," said Proakis. "I have confidence that Chief Nicholson will lead with distinction, fostering a strong culture of service and honor, professionalism and accountability, and diversity and inclusion in our Fire Department."