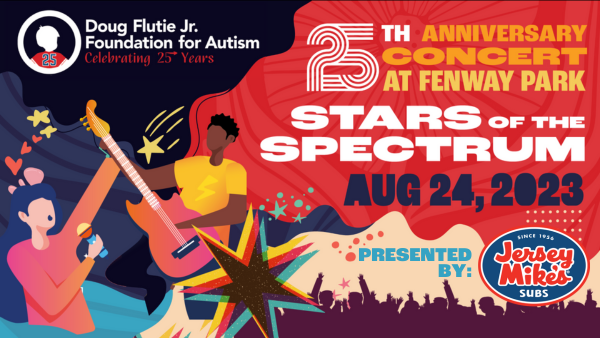 The following announcement was provided by the Doug Flutie Jr. Foundation for Autism:
The Doug Flutie Jr. Foundation For Autism, a leading non-profit in the autism community, is excited to host leading artists in the autism community at the "STARS of the Spectrum" Concert on August 24th.
Rock out to incredible performances by Autism Advocates from the Flutie Foundation including America's Got Talent winner Kodi Lee; rapper C-Quig; vocalist Cierra June; songwriter and multi-instrumentalist Jake Velazquez and his sister and aspiring actress, dancer, and singer, Sky Velazquez; singer Adin Boyer from American Idol Season 21; Big Brother alumni Britini D'Angelo; singer-songwriter Gabrielle Swi; Flutie Foundation's virtual choir Spectrum of Sound – including member Noah Ferraresso of Watertown; neuro-diverse theater company Epic Players; and inclusive choir group SSC Community Voices
This inclusive one-of-a-kind concert invites guests to come together to honor the Flutie Foundation's continued mission of helping people and families affected by autism live life to the fullest, and all families affected by autism will receive free entry to the event. Ring in this milestone anniversary and celebrate the Flutie Foundation's collective impact in the autism community at the largest concert in the nation by autism for autism.
The Flutie Foundation's 25th Anniversary "STARS of the Spectrum" Concert will be held at Fenway Park on August 24th from 6:00PM-10:30PM. For more information or for tickets, please visit https://givebutter.com/c/FlutieStarsConcert.
About the Flutie Foundation
Former NFL Quarterback, Doug Flutie, and his wife Laurie started the Doug Flutie, Jr. Flutie Foundation for Autism in 1998 after their son, Dougie, was diagnosed with autism at the age of three. Their personal experience of raising a son on the autism spectrum inspired them to help others on an equally long and challenging journey. Over its 25-year history, the Flutie Foundation has distributed over $15 million to schools and organizations who provide clinical therapies, respite services, recreational programs, social skills training, job supports and more for people affected by autism. The Flutie Foundation also provides education technology tools, adaptive camp scholarships, safety equipment, and direct family support through its partnerships and special initiatives.