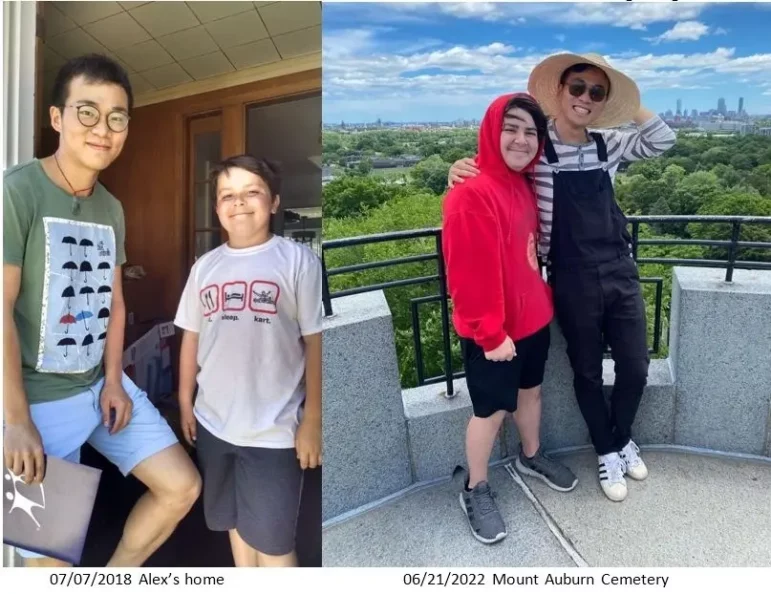 The following information came from Big Brothers Big Sisters of Eastern Massachusetts:
Big Brothers Big Sisters of Eastern Massachusetts (BBBSEM) has named Xin Peng, 29, of Watertown, as one of the agency's 2023 Big Brothers of the Year. He is one of nearly 4,000 volunteers, referred to as Bigs, for the nonprofit who are committed to developing caring and life-altering one-to-one mentoring relationships with children.
Peng was matched with his mentee, or Little, Alex Braga , in July 2018. Braga's parents enrolled him in the nonprofit's signature community-based program, for which adult mentors, referred to as Bigs, are paired with youth and meet for two to three hours, a couple times a month on outings of their choice, in order to provide him with the one-to-one attention he deserved as they were focused on caring for his younger brother with autism transition to a residential program. At the time, the 9-year-old was shy and hesitant to try new things.
"Surprisingly, poised might be the best word to describe 9 year old Alex when I first met him. He was quiet, seemingly friendly but kept a good distance all the time. I still remember Ann sharing with me that Alex does not like close physical contact with others, including his grandma, and that got proven during our first outing in the city, he let my hand go immediately once we got through the crowd. I didn't want to intrude on this young person's space and boundaries, so for a while it was mostly me sharing my feelings or hugging my/his loved ones in front of him. We've been taking turns to decide what our next outing will be, and try to do something new since both of us struggled with trying new things. After a couple of years, he started embracing my hugs, and even gave hugs in return every now and then, becoming more and more open about other aspects of his life, and they made me feel so special and touched, some of my best moments as a Big and most beautiful moments of my life."
Braga's mother, Ann, credits Xin with helping her son to regulate and name his emotions and getting him outside of his comfort zone, going to overnight camp for the first time and igniting in him a passion for photography. Over the past five years, the duo has enjoyed a variety of outings, ranging from walks and kayaking to hitting the movies and visiting museums and zoos. One of their favorite activities is cooking together, inspiring Braga to try new foods and even take independent cooking classes. Peng, who immigrated to the U.S. from China in 2014, even taught his mentee his family's dumpling recipe in celebration of the Chinese New Year.
"It's amazing to see the growth of such a wonderful youth and be part of it during a 5 year span. Every 6 months I feel like I'm hanging out with a different person, which can mean constant new challenges, and honestly sometimes it can feel like there's not much impact you are making, because it does take time to build a loving and trusting relationship, especially with a child that you were not there for them in the first 9 years. But every now and then, there's a joyful moment that brings me so much happiness, and helps me see the difference I am making by simply being there for him, everything is worth it. In addition, my two way mentorship with Alex mentorship has been serving as a reflection mirror for my own growth as well, especially when it comes to self-awareness and my relationship with other loved ones in my life. Any effort and time I put in to nourish this relationship, with the support of the whole ecosystem of family members, friends, BBBSEM, reflected back to help me to learn from my own past, enjoy my present, and be hopeful for future."
In 2019, Peng and Braga, along with Peng's husband and Braga's mother, proudly marched in the Boston Pride Parade for then Mayor Walsh. Peng has been featured in the agency's marketing materials, sharing his own experience to inspire other LGBTQ+ members to join our community. Additionally, he has been working with the recruitment team to ensure inclusivity through-out our information sessions and help market towards the LGBTQ+ community.
Mentoring is one protective measure that adults can take to minimize risk factors, such as lack of motivation, anxiety, stress, and isolation, that are threatening children's mental health and academic success. A national study of 950 youth from eight Big Brothers Big Sisters agencies showed that positive relationships between Littles and their Bigs have a direct and measurable impact on children's lives. Big Brothers Big Sisters' matches consistently spend more time together, and continue as a match for longer periods, than those in other mentoring programs. Results also showed Bigs help Littles learn right from wrong, make better life choices, do better in school and advance to the next grade level.
"Xin not only shows his commitment to our mission with his consistency within his mentoring relationship with Alex, he also has helped foster inclusivity within our organization through partnering with our Community Engagement team to inspire more members of the LGBTQ+ to join our organization," says Mark O'Donnell, President & CEO of BBBSEM. "Now, more than ever, youth and families need additional support. We need more caring adults, like Xin, to step up for our children to become mentors to ensure they reach their fullest potential."
Anyone can become a Big as the agency welcomes youth and adults of all races, ethnicities, cultures, socio-economic backgrounds, genders, sexual orientations, and physical abilities. Volunteers must be 18 years old or older and be able to commit a few hours a few times a month for at least a year and have a passion for positively impacting a young person's life.
In its 74th year, BBBSEM has created and served more than 20,000 matches. The nonprofit is now enrolling and matching Littles and Bigs. For more information, to register your children or to become a volunteer, visit: www.emassbigs.org.
About Big Brother Big Sisters of Eastern Massachusetts
Big Brothers Big Sisters of Eastern Massachusetts is an innovative, energetic organization that is making a real difference in the lives of nearly 4,000 youth annually by providing them with an invested, caring adult mentor in long-term, professionally supported relationships. With research and proven outcomes at its core, Big Brothers Big Sisters of Eastern Massachusetts is working to defend the potential of children facing adversity and ensure every child has the support from caring adults that they need for healthy development and success in life. The organization's vision is to inspire, engage and transform communities in Eastern Massachusetts by helping youth achieve their full potential, contributing to healthier families, better schools, more confident futures and stronger communities. Throughout its 74 years, the largest Big Brothers Big Sisters affiliate in New England has created and served more than 20,000 matches. For more information about the agency and its mission, visit www.emassbigs.org.