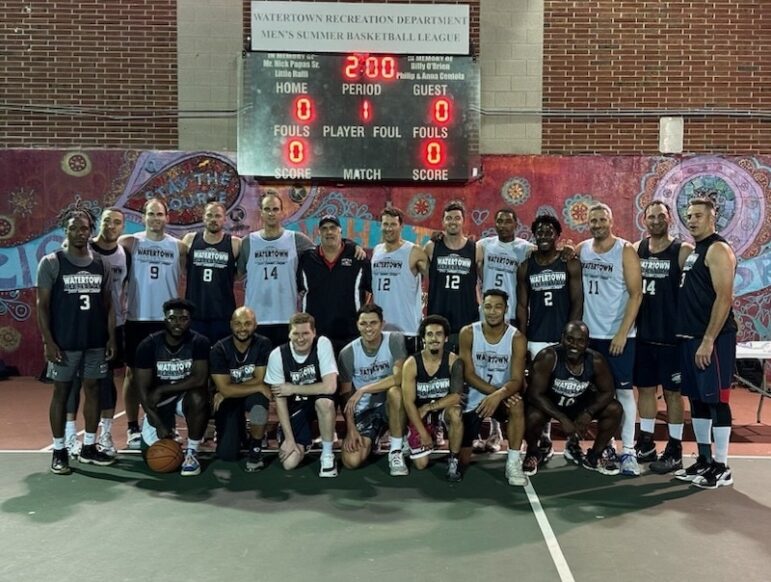 By Lindsay Graham
The top-seeded Donohue's Kaos Club proved why they were the number one seed, opening the 2023 Watertown Papas Elite Men's Basketball League Championship Finals with a 67-49 win over New Day. Donohue's carries the 1-0 series advantage into game two of the best of three Championship Finals.
Dartmouth College alum Miles Wright was red-hot from the perimeter, scoring 12 of his game-high 18 points in the first half to give Donohue's the 33-16 lead at half-time. Wright's former Dartmouth teammate, Guilien Smith also dropped 18 points on New Day, while Bo Brace rounded out the trio in double figures with 11.
Former Stonehill Skyhawk Andre Tongo led three in double digits for New Day, tallying 12 points along with teammate Mykel Derring. Fellow former Division II standout Ryan Romich notched 11 points.
New Day will look to even the series in game two on Thursday, Aug. 17 at 8:30 p.m. to force the deciding game three. Games are played on the court behind the Watertown Boys and Girls Club (next to Saltonstall Park).
Before Game 2 of the Papas Elite Finals, there will be a doubleheader of semifinals for the O'Brien-Jerahian Legends League: top-seeded Control Club vs. fourth-seeded Finnegan Club at 6:30 p.m., and co-second seed Kaos Club vs. co-second seed Johnson Club at 7:25 p.m. The games are the first of the best of three series.
The games are free to watch, and on Thursday night attendees can enjoy sausages, burgers and dogs.