Watertown Firefighters, Watertown Police officers, and public safety dispatchers who went above and beyond in three incidents received service awards from the Watertown Fire Department this week.
Fire Chief Ryan Nicholson presented the awards during Tuesday's ceremony where Nicholson and other members of the WFD who received promotions were sworn in. The awards were approved by votes of the Commendation Board of the Watertown Fire Department.
"These members acted with great distinction and heroism in the saving of a human life," Nicholson said. "Their bravery and professionalism are in keeping with the highest traditions of the fire services and is to be commended."
Nicholson noted that some of the awardees were unable to attend the ceremony held at the Commander's Mansion.
Man with Cardiac Arrest Saved
Seven Watertown Firefighters, two Watertown Police Officers, and a public safety dispatcher received awards for an event on April 28, 2022. That day, a call came in for a man who was in cardiac arrest.
"Ladder 2 was returning from another call and realized that they were the closest apparatus to the medical call," Nicholson said. "Ladder 2 responded and they were the first on scene."
Engine 2 and Medic 1 also responded to the call.
"Crews found that the patient was pulseless and not breathing," Nicholson said. "The Lucas (chest compression system) and defibrillator were deployed and oxygen was administered. The patient regained a pulse and began breathing."
The man regained consciousness and Fire personnel took him to Mount Auburn Hospital.
Nicholson presented Fire Capt. John Russo and Firefighters Anthony Marra, Jeffrey McNamara, Brian Martel, Cameron Walsh, Matthew Callahan, and James Maloney with the Company Citation Award. Watertown Police officers Sean Bowler and David Cobe received the Medal of Commendation, and Public Safety Dispatcher Jessica Scully was awarded a Letter of Commendation.
Baby Delivered
On Oct. 7, 2022, a call came in for a woman who was in active labor. Watertown Fire crews arrived and found the woman being assisted by Watertown Police Officer Michael Grzelcyk, Nicholson said.
"Engine 2 and Medic 1 crews found that the delivery was imminent, and the decision was made that they would perform the delivery on scene," Nicholson said. "The delivery was successful, and both the mother and baby were transported to Mount Auburn Hospital."
Watertown Fire Lt. Chad Wheaton and Firefighters Jonathan Mazzola, Ryan Hoey, Francis Hession, and Chase Sanford were awarded the Company Citation Award. Grzelcyk received the Medal of Commendation, and Public Safety Dispatchers Jane Grzelcyk, William Bellis and Natthia Petit-Frere received a Letter of Commendation.
Girl Saved from Duct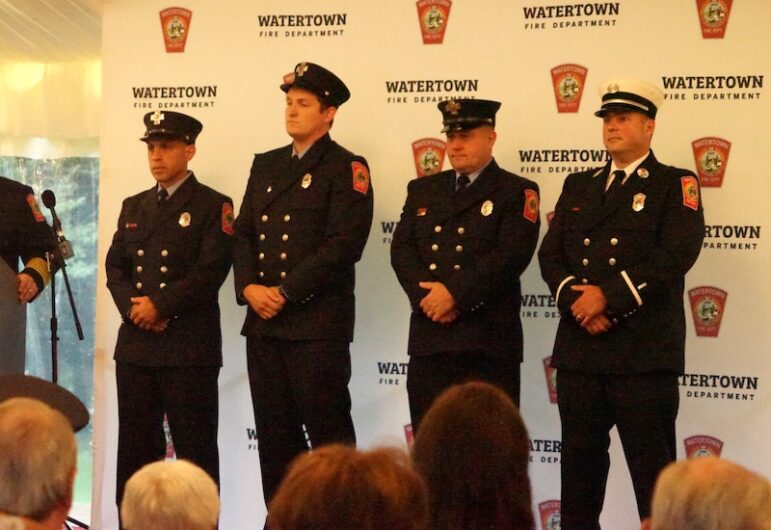 A call came in for a 5-year-old girl who had fallen into some duct work in an attic on Dec. 19, 2022.
"She was conscious, alert, but obviously terrified of the position she was trapped in," Nicholson said. "The duct work was narrow and deep, with the main issue being unable to reach the child as she was about 15 feet down into the duct."
Firefighters had to navigate sharp edges and nails in the duct, and found they could not lower a ladder because the rafters in the attic provided only about 4 feet of overhead space above the duct.
"To accomplish the task of removing the young girl from the duct, a quick 'hasty harness' made by Firefighters Sean Costigan and Anthony Caruso from webbing and rope with carabiner," Nicholson said. "(The rope) was used to lower Caruso, who then rigged a harness of webbing he brought down with him on to the child."
Crews used anchor points to lower Caruso and to raise the child, first, and then Caruso out of the duct.
"It should be noted that all the members worked in a team-like manner, rigging harnesses, establishing anchor points, retrieving needed equipment, uniformly followed lowering and raising commands and, most notable, were able to formulate ideas from past training, utilizing the basic resources on scene."
Deputy Fire Chief Thomas McManus, Fire Lt. Scott Trombly, and Firefighters Kevin MacDonald, Costigan, Timothy Donovan, Daniel Russo, Mark Fidler, Caruso, and Patrick McManus were awarded a Company Citation Award.