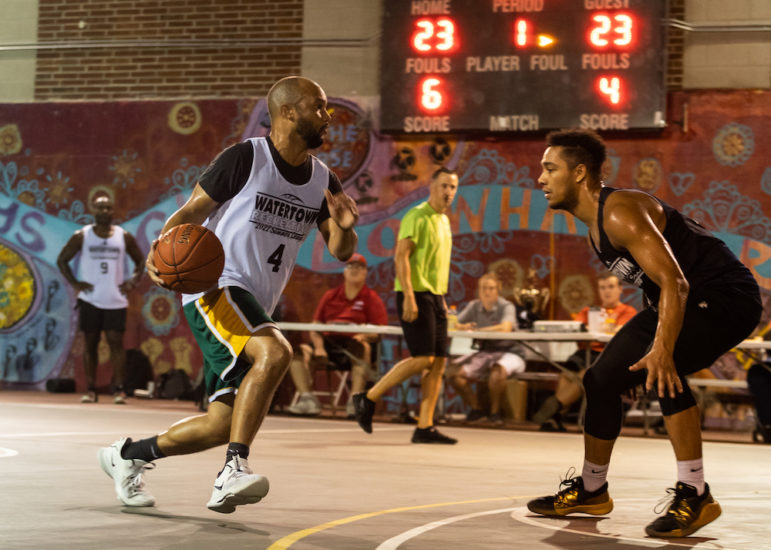 by Lindsay Graham
Number 2 seed and defending champion New Day forced a deciding Game 3 to even the 2023 Watertown Recreation Summer Basketball League Championship series following a 62-54 comeback, victory in overtime over top seed Donohue's Kaos Club.
Trailing by six, 27-21, at halftime, New Day went on an extended run midway through the second half. Stonehill graduate Andre Tongo was the spark in New Day's comeback, dropping 13 of his team-high 15 points in the second half. Amherst's Johnny McCarthy followed up with 12 points, while Akeem Williams rounded out the trio in double figures with 10 points.
In the first half, Donohue's looked poised to walk away with the belt. Yale University alum Greg Kelley was hot from beyond the arc in the first half, tallying 10 of his 12 points. But the steam started to fade in the second half when they were unable to tame New Day's long run. Guilien Smith led Donohue's with 16 points.
The third and final deciding game will be Monday evening Aug. 21 at 7 p.m. at Saltonstall Park in Watertown (behind the Watertown Boys & Girls Club). Games are free to attend.
Please check out our Twitter feed @watsummerhoop for game 2 highlights
Also on Thursday, in the O'Brien-Jerahian Legends League, fourth seed Finnegan Club upset top-seed Control Club 37-30 in Game 1 of the semifinals. Then, Kaos Club defeated Johnson Club 44-40 in the other semifinal.
The O'Brien-Jeherian semifinals continue Tuesday at 6:30 p.m. and 7:25 p.m. If Game 3 is needed, they will be played Thursday night.