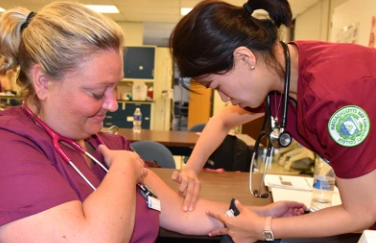 The following information was provided by MassBay Community College:
This fall, MassBay Community College is offering free workforce training courses for eligible Massachusetts residents in Emergency Medical Technician (EMT), Behavioral Health Technician, Microsoft Training, Medical Interpreting, and ASE Diesel Test Preparation. These courses are one-semester and paid for through the Massachusetts Education & Training Fund (ETF) initiative and provide students with in-demand skills that will strengthen gaps in workforce needs.
"We are thrilled to offer students these classes, free of charge, to gain skills that will make them employable in industries that are growing and need trained professionals," said MassBay Director of Corporate Partnerships and Workforce Development Phara Boyer. "In just a few short months, students can retool themselves into in-demand fields, and many of our students are offered jobs at the conclusion of their clinical placements."
Admissions applications for MassBay's fall 2023 semester are due by Tuesday, August 29; and classes begin Tuesday, September 5. For questions about these classes and how to apply, please contact Therisa McKeon at 508-270-4104 or tmckeon@massbay.edu.
To learn more about MassBay, visit massbay.edu