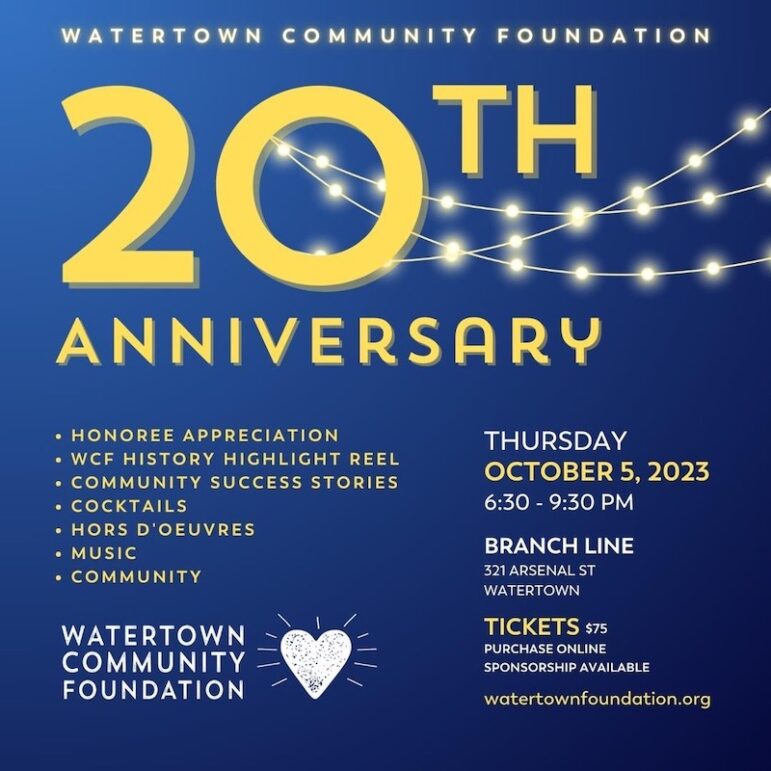 The following announcement was provided by the Watertown Community Foundation:
Since 2003 The Watertown Community Foundation has put funds to work in Watertown to address local needs to make positive change. Started with funds from the sale of the Arsenal property and grown by local giving and grants, a small group of Founders envisioned a community fund dedicated to sustaining a vibrant community. Twenty years later, the Foundation has given more than $3,000,000 in grants to improve the lives of the people who live and work in Watertown.
"During 20 years of grant giving, the Foundation has built on a practice of giving to meet need at the street level. We started with Block Party grants to bring neighbors and neighborhoods
together. Early on we gave to protect the environmental health and stewardship of the Charles River because we recognized it as a keystone resource for Watertown's health and economy. When people in Watertown needed more access to social services, we partnered with other charitable funders to provide seed funding for the city's first Social Services Resource Specialist," said Tia Tilson, Executive Director of the Watertown Community Foundation.
"We've responded with emergency financial resources during times of crisis, building a Fund for the Most Vulnerable during the Great Recession and a Community Resilience Fund to meet need during the COVID-19 pandemic. Today, our grants help people get the food they need and stay housed, educate kids, lift up the arts, keep people healthy, help people learn English, and celebrate the rich diversity of Watertown by continuing to bring people together. We are proud that these grants make positive change in people's lives and invite the community to celebrate with us."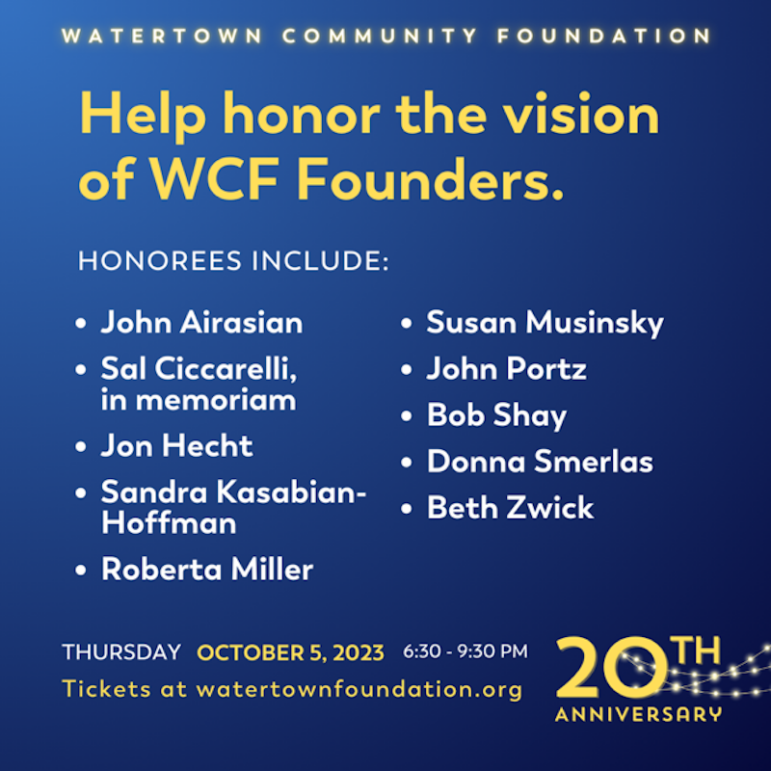 The Watertown Community Foundation will celebrate 20 years of life-changing grants to the Watertown community on Oct. 5, 2023, at 6:30 p.m. at Branchline Restaurant in Watertown. During a festive evening with cocktails, hors d'oeuvres and music, the Foundation will honor the Founders including, John Airasian, Sal Ciccarelli (in memoriam), Jon Hecht, Sandra Kasabian- Hoffman, Roberta Miler, Susan Musinsky, John Portz, Bob Shay, Donna Smerlas, and Beth Zwick. Sponsorship and ticket information can be found online at watertownfoundation.org.
About Watertown Community Foundation
The Watertown Community Foundation works to build and sustain a vibrant, close-knit community in Watertown – now, and for future generations. To accomplish this, WCF connects networks of non-profits, grantees, program participants, and stakeholders; builds financial resources from people and partner institutions; grants funding opportunities to non-profits and community projects. Since its inception in 2003, WCF has awarded more than $3 million in grants to programs and organizations serving Watertown. 
WCF Board of Directors: Lauren Coughlin Unsworth and Mary Ann Mulligan; Co-Presidents; Albrik Avanessian; Emily Barclay; Jennifer Davis; Ninos Hanna; Eileen Hsu-Balzer; Heather Leary; Anthony Paolillo; Lora Sabin; Robert Shay; David Siegel; Felicia Sullivan; and Donna Tuccinardi