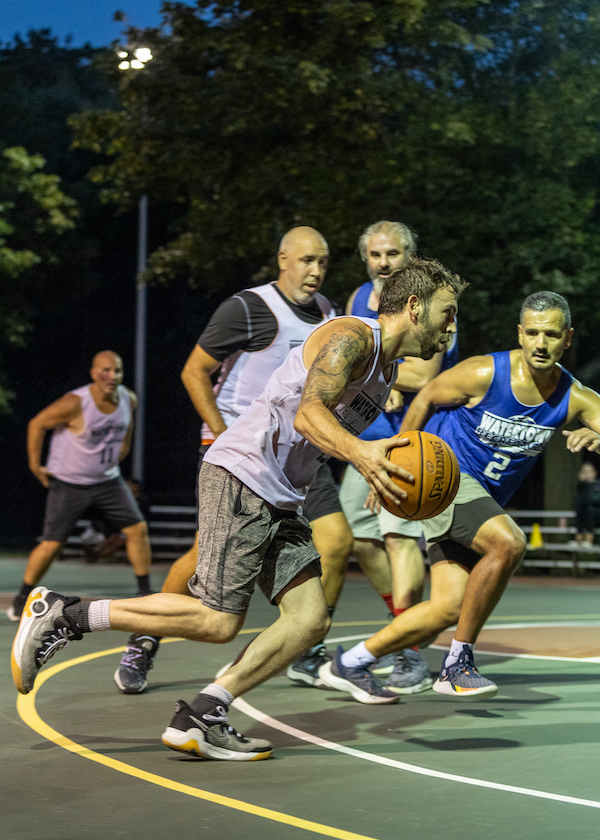 Kaos Club clinched the O'Brien-Jerahian Legends League championship with an overtime victory over Finnegan Club on Monday night. See the accounts from both games in the best-of-three series.
by Lindsay Graham
Kaos Club dispatches Finnegan Club in Game 1 of O'Brien-Jerahian Finals
The second seed Kaos Club jumped out to a 1-0 lead in the 2023 O'Brien-Jerahian Legends League Championship Series defeating fourth seed Finnegan Club, 44-35 on Thursday evening.
Despite a tight, back-and-forth first half which saw Kaos Club holding a slim, three-point, 21-18 lead, Kaos came alive offensively in the second half. Watertown High School alum and sharpshooter Marco Coppola dropped 11 of his game-high 21 points in the second half. Kaos big man Steve O'Donnell followed up with 15 points.
At the other end of the court, Mike Simoni led Finnegan Club with 12 points. Greg Halloran rounded out Finnegan in double figures, tallying 11 points on the evening.  
Special thanks to Dan Brothers who stepped in to certainly provide an announcer upgrade and music selection for game 1 of the O'Brien-Jerahian finals.
Kaos Club nips Finnegan Club, wins O'Brien-Jerahian Club Championship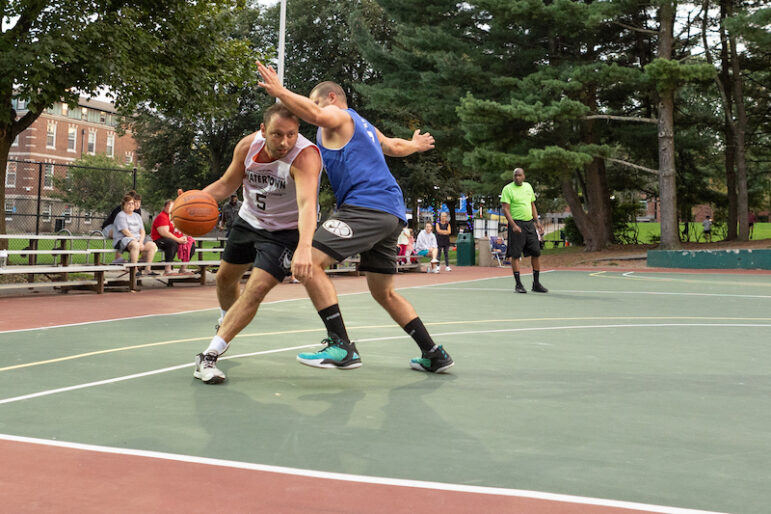 The No. 2 Kaos Club is your 2023 O'Brien-Jerahian Legends League Champions as they knocked off No. 4 Finnegan Club in two games in a best of three series on Monday night. Kaos Club overcame a six-point deficit at the break to defeat Finnegan Club, 56-54, in overtime.
Entering the second game of the series, Finnegan Club made it their objective to force a deciding game three. Greg Halloran dropped all 14 of his points in the first half to help Finnegan Club take a 26-20 lead into halftime.
However, the second half was a different story. After only netting nine points combined in the first half, the Coppola Brothers scored a total of 18 points in the second half – sparked by 12 from Marco Coppola. But Finnegan Club did not go away, they continued to be a thorn in the side of Kaos Club and made them work for the trophy, by forcing a five-minute overtime period.
Finnegan's Mike Simoni put them on top by two to begin overtime, ripping the tip out of the air and driving hard to the basket. It did not last for very long. Marco Coppola answered a bucket of his own then sealed it with a clutch three-pointer to secure the victory.