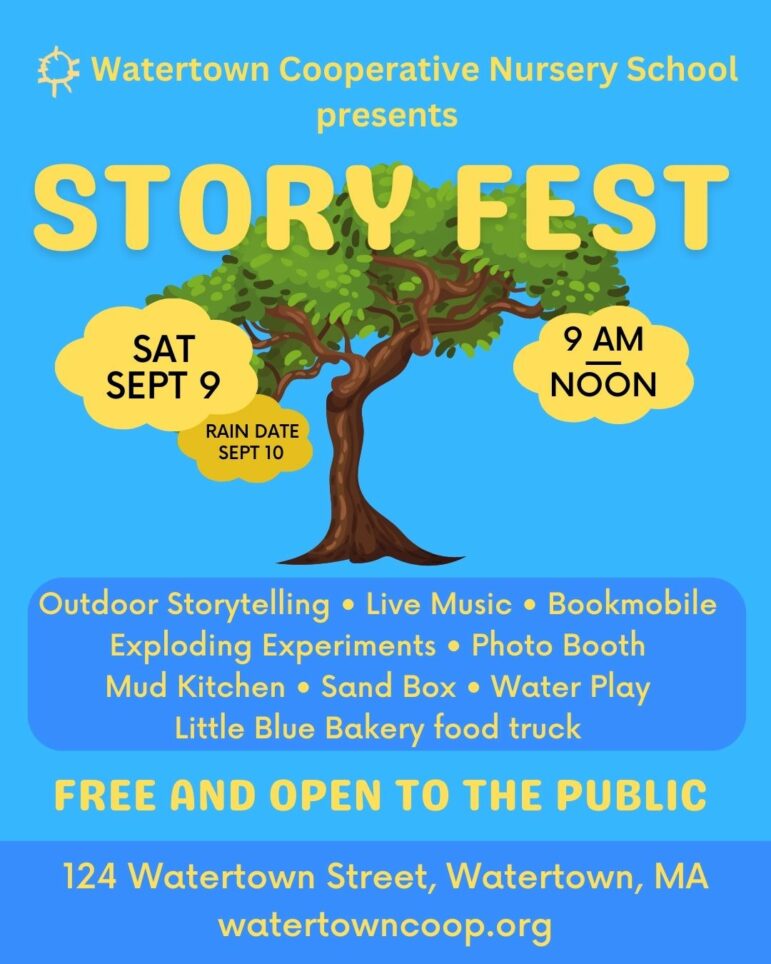 The following information was provided by Watertown Cooperative Nursery School:
Watertown Cooperative Nursery School is celebrating its 70th anniversary with a free event that is open to the public. StoryFest will take place on Saturday, Sept. 9 from 9 a.m. to noon.
Founded in 1952 by a group of parents affiliated with MIT, Watertown Cooperative Nursery School (WCNS) remains dedicated to making families an integral part of their children's preschool experience. Parents volunteer as classroom helpers and board members. For generations, the school has fostered a cohesive community of families. "WCNS connects my family to a caring, supportive community at this important time in my children's lives," says Emily Avery-Miller, co-president of the Board of Directors. "We're all growing and learning together."
StoryFest will be the school's first large-scale event at their new location, the Parker Building (124 Watertown St.). The property was recently purchased by the City of Watertown and is located next to Casey Park. Outdoor activities will include storytelling with live musical accompaniment, songs and games for kids, and water play. Breakfast will be for sale from The Little Blue Bakery food truck, and the Watertown Library Bookmobile will be on site. Inside the school, activities will include a story-themed photo booth and exploding experiments.
Current and former directors will participate in storytelling. Margaret Clermont, who served as the school's director for nearly 30 years, will join retired director Abby Cohen to tell a story together at 11 a.m. The school's newly appointed director, Special Grubb, will also be a story reader.
StoryFest will take place at Watertown Cooperative Nursery School, 124 Watertown St., Watertown. In case of inclement weather, the event will be held on September 10.