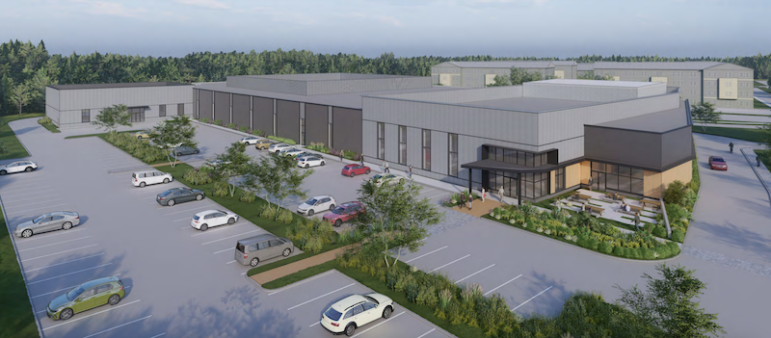 The developers of 10-30 Manley Way, off Pleasant Street, announced a community meeting about plans to redevelop the former trampoline park into space for lab/R&D/non-nuisance manufacturing.
The following announcement came from The Seyon Group:
PROJECT DEVELOPMENT NOTICE
Notice is hereby given that the Petitioner will be holding a Public Information Meeting related to the 10-30 Manley Way Redevelopment Project on September 5, 2023.
PROJECT DESCRIPTION and LOCATION:
The project proposal entails the redevelopment and adaptive reuse of an existing vacant, 95,000 SF light industrial building. The existing building was previously part of the Raytheon campus, then converted to a warehouse for multiple retailers and most recently housed a trampoline park and gymnastics school, along with a Saks 5th Avenue warehouse. The trampoline park and warehouse use terminated during the pandemic and the gymnastics school has decided to lease alternative space in Waltham.
The proposal is to repurpose the building for lab/R&D/non-nuisance manufacturing use; as part of the project, the building façade will be significantly upgraded. Numerous improvements to the site are also proposed, including new landscaping, the installation of a new stormwater retention system, and fostering connectivity through the site from Pleasant Street to the City's recently acquired land (on Walker Pond) to the rear of the site.
The meeting is presented by the project team, sharing existing site context, conditions and the redevelopment plans. The meeting also provides time for the community to ask questions and learn more about the project and development process.
The Project is located at 10-30 Manley Way (off Pleasant Street). Additional project information may be found on the City's website at:
https://www.mapsonline.net/watertownma/forms/standalone.html.php?&id=970826649&jump=a4332b400ed6b2cb44dfd4f983428c26#
MEETING LOCATION AND TIME:
Meeting Date: Tuesday, September 5, 2023 (Zoom)
Meeting Time: 6:30 PM to 8:00 PM
URL: https://bit.ly/manley-way-redev-mtg
[note: if typing, use all lowercase]
Meeting ID: 810 4153 2567
Passcode: 02472
Telephone Dial-in (646) 931-3860
First-time Zoom help: https://support.zoom.us/hc/en-us/articles/360034967471-Quick-start-guide-for-new-users
PROJECT TEAM AND CONTACT:
Proponent: The Seyon Group
Architect: RODE
Civil Engineer: R.J. O'Connell & Associates
Landscape: Michael D'Angelo Landscape Architects LLC
Legal: Hemenway & Barnes
CONTACT: For more information contact Joe DiRienzo at jdirienzo@seyonmanagement.com, or (508) 414-6462