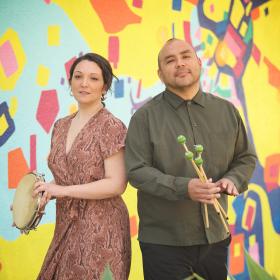 The following information was provided by the Mosesian Center for the Arts:
The Mosesian Center for the Arts in Watertown has announced September events that include classic and new theater, a cutting edge interdisciplinary and accessible performance, Boston's best drag variety, and a bicoastal Latin duo to begin National Hispanic Heritage Month.The
The season of events will continue with much more theater, comedy, dance, music, film, exhibitions and arts education, and a Holiday Makers Market! From returning favorites to new partnerships, there's plenty of variety ahead in this season's programming.
PERFORMANCES
New Repertory Theatre presents A Raisin in the Sun | September 6-October 1
Lorraine Hansberry's groundbreaking drama is a searing and timeless portrait of a family on Chicago's South Side, and an American classic. A Raisin in the Sun is an answer to the poem from which the title is derived – Langston Hughes' Harlem. When the Youngers see an opportunity to move to a new neighborhood, each member of the family must answer: What happens to a dream deferred?
Mosesian Arts Live and Guerilla Opera present Ululations and Gurgles of the Invisible | September 10
Composed by Elisabet Curbelo and inspired by the poetry of Federico García Lorca, this profound new interdisciplinary created with San Francisco-based Urban Jazz Dance Company, led by Antoine Hunter, is a surrealist work-in-progress. This profound new work centers artists from the deaf community as the main narrative voice through American Sign Language (ASL), Spanish Sign Language (LSE), movement, and technology.
New Repertory Theatre presents Diaspora! | September 13-October 15
Sunny, a writer tracing her lineage to find a long-lost grandparent, searches for answers in history. Time begins to cross over to Boston during the rise of the civil rights movement and a certain young minister making waves at the Twelfth Baptist Church and Boston University. Sunny discovers the mystery of her grandparents and decides to confront her past in order to put the spirits in her life to rest.  Diaspora! was a SpeakEasy Stage commission as part of the Boston Project, developed and workshopped in Boston from 2017-2019.
Latin Duo Bahué | September 16
Celebrate National Hispanic Heritage Month with Bahué! This dynamic new voice and percussion duo performs a concert of new music by Latin American composers, Tania León, Isabel Crespo Pardo, Jimena Maldonado Álvarez, composers of the Latinx Composer Miniature Challenge, and arrangements of popular Mexican "rancheras" by Ariel Campos. Seating will be at cabaret tables on the Charles Mosesian Main Stage.
Annual Meeting and Season Preview | September 19
The Annual Members Meeting and Season Preview is open to the public, and the evening will begin with light hors d'oeuvres and a cash bar. A brief membership meeting and vote for members of the Board of Directors will be held. An announcement of 2023-24 season events will follow, as well as a short live performance to preview the Black Box Jazz series with Berklee College of Music faculty artists.
The Briar & Rusty Show: Briar and Rusty Go to the Movies | September 23-24
Boston's hottest drag couple, Briar Blush and Rusty Hammer, return with a two-night spectacular, filled with hilarious, campy, and sexy tributes to some of the most iconic films of the last century. Combining glamorous drag, steamy burlesque, spellbinding circus, comedy sketches, live music, audience contests, and more, this time-traveling journey into a queer past will have you saying "Play it again, Sam!"
SETU presents Andha Yug (The Age of Darkness) | September 29-October 1
Bharati's epic is perhaps one of India's greatest plays. Written in the aftermath of World War II, and set against a threat of nuclear holocaust, this anti-war play begins on the eighteenth and last day of the Mahabharata war and ends with the "death" of Lord Krishna. SETU's bold undertaking to stage an English translation of this original Hindi play celebrates the company's 20th anniversary of bringing Indian dramas in English to audiences in Greater Boston.
EXHIBITIONS & VISUAL ARTS
In Depth: Life in Photographs | September 15-November 5, Opening Reception September 21
Photography, from its early beginnings, has captured fascinating glimpses of humanity. From formal portraits to snapshots of daily life to photographs of humans at work or just being, In Depth: Life in Photographs is inspired by the depth and complexities of being human. Documentary photography, portraiture, work that details humans' interactions with the environment and work that captures life and its many aspects from joy to sorrow to isolation and friendships are all included.
40 Seasons of Love: Photography Exhibition | September 15-November 5, Opening Reception September 21
In our second floor Watertown Savings Bank Gallery, follow the four-decade history of Watertown Children's Theatre as part of the 40th anniversary celebration of this outstanding youth program.
ARTS EDUCATION
Fall Classes | Registration Open
Registration has begun for a fall term of arts education programs with over thirty offerings in performing and visual arts classes for children, teens, and adults.
For further information and details on all performances, exhibitions, and arts education programming at the Mosesian Center for the Arts, visit www.mosesianarts.org.