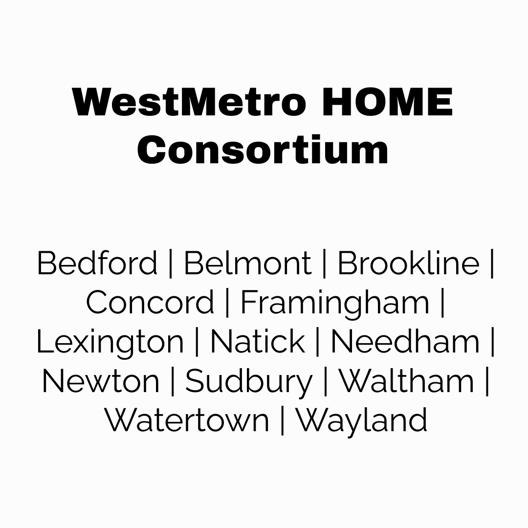 The following information was provided by WestMetro HOME Consortium:
Since 1992, the City of Newton has received over $35 million from the U.S. Department of Housing and Urban Development's HOME Program through the WestMetro HOME Consortium for the development of affordable housing in Newton. Because Newton is not individually eligible to participate in the HOME Program, in 1991, the City spearheaded an effort to form a consortium under the newly enacted Program. Brookline, Waltham and Watertown joined Newton in this effort. Since that time, the Consortium, through Newton as the lead member, has received and distributed over $35 million in HOME funds to its members.
The Consortium has provided grants and loans of HOME funds to for-and non-profit developers and directly to low-income households to create over 550 units of affordable housing. The developers have used these HOME funds to leverage over $12.5 million in other funds to produce this housing.  
Public Hearing
There is a Virtual Public Hearing for WestMetro HOME Consortium's Annual Performance & Evaluation Report (Watertown is one of 13 consortium members) on Thursday, September 14, 2023 at 7 PM. Zoom link: https://newtonma-gov.zoom.us/j/87174039752
For a draft of the proposed FY23 Consolidated Annual Performance and Evaluation Report, please visit http://www.newtonma.gov/cdbg. A printed copy of the plan will be available in the Newton Housing & Community Development Office, Newton City Hall, Second Floor. Comments on the proposed plan will be accepted at the public hearing and in writing to Lara Kritzer, Director of Housing and Community Development, Planning and Development Department, 1000 Commonwealth Avenue, Newton, MA 02459 or via email to Nika Sandal at nsandal@newtonma.gov. The deadline for submitting comments is September 28, 2023 by 5:00 PM.