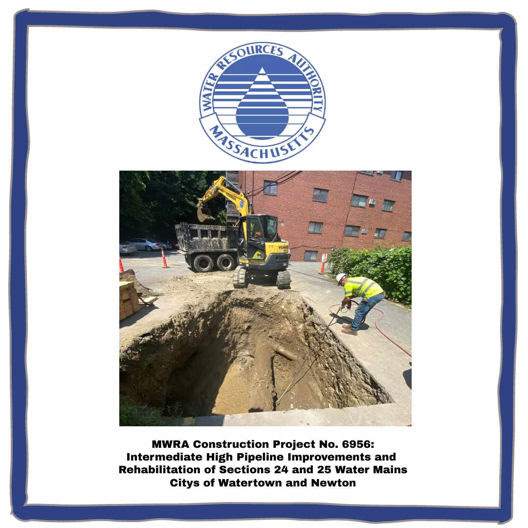 The following information was provided by the MWRS:
A Massachusetts Water Resources Authority (MWRA) project will be commencing in your neighborhood starting on Monday, September 11, 2023, or shortly thereafter. This project will provide critical water system redundancy and operational flexibility in the event of water main pipe failures in your area. The project will clean and rehabilitate or replace 120+ year old water main pipes and replace two water meters.
The majority of this work is located within the City of Watertown with minor work in the City of Newton at St. James Terrace and the crossing of the Charles River. The construction work route in Watertown will start at Irving Street and Mt. Auburn Street, and then move along to Russell Avenue, Bellevue Road, and Common Street in upcoming phases. This upcoming phase of work is expected to last approximately two to three months, weather and other circumstances permitting.
In order to conduct the water main pipeline rehabilitation and replacement work, pits and trenches will be dug along the roadways; however, residential access to properties will be available at all times. Detours along Irving Street will be in place while work is actively underway, which is from 7AM-4PM Monday-Friday.
Additionally, local services, including emergency vehicles, refuse vehicles, and school buses will have access. Mt. Auburn Street will experience a single lane closure for northbound traffic (no detour in place). During off hours (nights and weekends), the roadways will operate as normal with steel plates covering the work areas.
Local police details and detour signage will be in place during work hours to safely move pedestrians and vehicular traffic through the work areas. All work will be performed by the Authority's contractor, Albanese D&S.
Should you have any questions, please visit the Authority's website at mwra.com or contact us directly at 857-523-8255, Construction Coordinator Ali Kowsari or Alireza.Kowsari@mwra.com