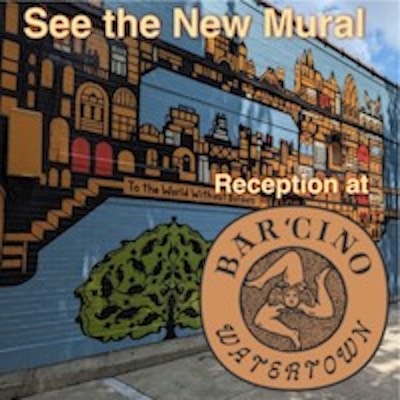 The following announcement was provided by the Watertown Business Coalition:
Come see Watertown's newest piece of public art — the mural at Merchants Row (the side of CVS in Watertown Square).
Meet the artists, Amir Tabatabaei and Niloufar Keyhani, and then join us at 6 p.m on Bar 'Cino's back patio to mingle, chat with the artists and enjoy some appetizers compliments of Watertown Square's newest restaurant. There will also be a cash bar.
Schedule
5:30pm to 6:00pm – Mural Celebration & Meet The Artists @ Merchants Row
6:00pm to 8:00pm – Back Patio @ BAR'CINO
Rain date: Sept. 20 at 5:30 pm
The event is free. REGISTER HERE!
Special thanks to:
Watermain Realty Associates
Watertown Savings Bank
John Hall and HallKeen Management
Watertown Community Foundation
Watertown Helps Out volunteers
Sherwin Williams of Watertown
Watertown Business Coalition
Watertown Department of Community Development & Planning
Elodia Thomas & Bruce Coltin