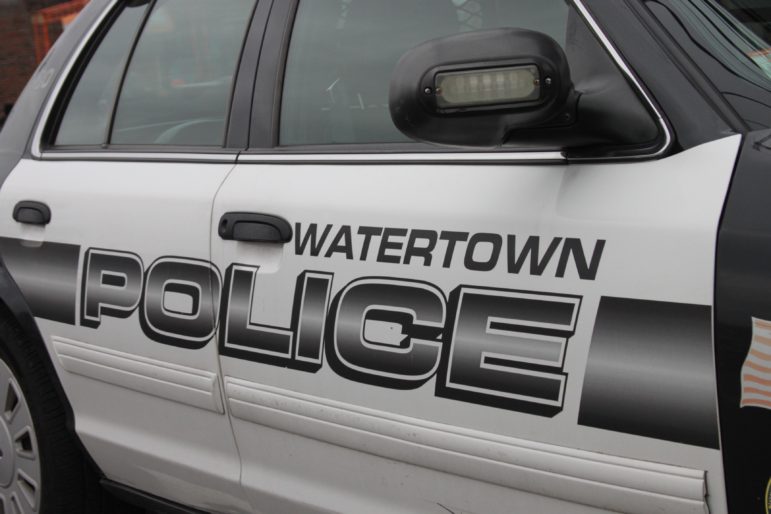 The following information was provided by the Watertown Police Department.
Arrests
(For Aug. 7-27)
Aug 8, 12:30 a.m.: An officer patrolling in Watertown Square ran the plates of a grey BMW and discovered the vehicle had a revoked registration. The vehicle was pulled over and the officer confirmed the owner was driving. The man said he had purchased the vehicle from a friend. Police found that the license plate belonged to a different car. The driver was unable to provide documentation that he had purchased the vehicle, and Police found that the man's license had been suspended. Joshua Rivers, 32, of Watertown, was arrested on a charge of driving with a suspended license, driving with a suspended registration, driving an uninsured motor vehicle, and attaching plates.
Aug. 13, 2:40 a.m.: An officer on Galen Street ran a query of the plates of a Chevy Suburban and found the registered owner had a suspended license. The vehicle was pulled over on Main Street and the officer confirmed that the owner was driving the vehicle. The driver said that he knew his license had been suspended for 10 years, but he was trying to restore it. Rory Linn, 37, of Andover, was arrested on a charge of driving with a suspended license.
Arrests for Aug. 28-Sept. 3
(Week of Sept. 4-10)
None
Incidents
(Week of Sept. 4-10)
Sept 4, 10 a.m.: A man parked in the garage of an Arsenal Street apartment buildig and came back and found minor scratches on the hood, that there were marks on the right passenger side bumper, and the vehicle charger had been ripped off. It is not clear how much the damage will cost to fix. Police are investigating.
Sept. 4, 6:45 p.m.: A resident reported a scam. She had purchased a remote control car on Amazon worth $450 for her son, but it took so long to arrive that she decided to cancel it. She called a number that her son found while Googling Amazon customer service. The woman spoke who she though were a representative and a supervisor. She was told to download two apps: AnyDesk and Bitcoin. She was also asked for her driver's license number and bank information. After she got off the phone she checked her Citizens Bank account and saw three charges for a total of $1,497. The phone number was not a valid one for Amazon. Police are investigating.
Sept. 5, 6:30 a.m.: A woman parked her vehicle on Cuba Street at 9:30 a.m. on Sept. 4, and when she came out the next morning at 6 a.m. she found her rear windshield and driver side window had been smashed out. Police are investigating.
Sept. 5, 2 p.m.: Police received a report of a sign that had been knocked down on School Street. They got a video showing a light blue Toyota Camry traveling southbound which went up on the curb and struck a town-owned sign. The Department of Public Works came out and picked up the sign.
Sept. 7, 12:40 p.m.: A Beechwood Avenue resident received a text message which she thought was from her bank. It asked for her to approve transactions, and provided a link. She got in touch with a person who identified himself as Rick Bowser from Bank of America. He provided two badge numbers, and asked her some questions. The man said she would be contacted by a member of the U.S. Marshals about stopping a transaction, and if she did not talk with them a warrant for her arrest would be issued. She got a call that came up as the U.S. Marshall's Office on her phone. The person asked her for personal information and bank information. She got uncomfortable and stopped the call. She did not lose any money.
Sept. 9, 12 p.m.: A woman received a call from what she believed to be Bank of America. She was told someone was trying to access her savings account, and that she should transfer her money out to protect it. She was told to send it to a Zelle account in her name. She transferred $9,998 to the account. She realized her money was missing, and contacted police. She was told to contact her bank. It appears she has lost $6,000.
Sept. 9, 2:40 p.m.: A woman came into Ulta Beauty and walked around the fragrance section. An employee became suspicious and asked if she needed any help. The woman said no, and then walked away quickly. The manager realized the woman had taken four fragrances worth $112. The suspect is described as a white female with dark hair up in a bun, who was wearing a blue floral dress and white sneakers. Police are trying to identify her.
Sept 10, 10:15 a.m.: A package went missing from a home on Harrington Street. It was delivered by the U.S. Postal Service on Sept. 6 while the residents were out. When they returned the package was missing. It contained $50 worth of beauty products.
Sept. 10, 4 p.m.: A man walked into Best Buy and took a Theragun worth $200, put it in a backpack and tried to walk out without paying. Security stopped him. He gave back the item, but left before police arrived. The suspect is described as a Black male wearing a green sweatshirt and grey pants.