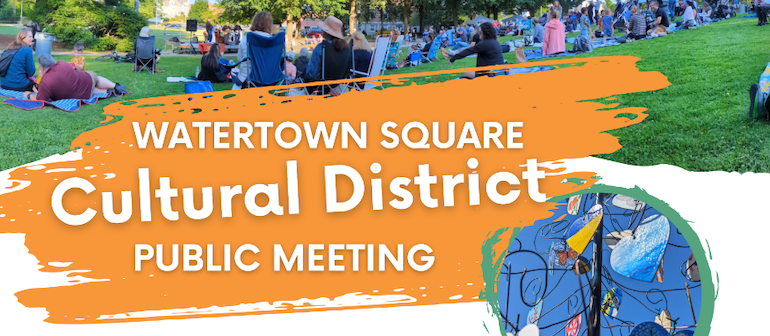 The following announcement was provided by the City of Watertown:
Your feedback is vital to the success of the Watertown Square Cultural District!
A public meeting will be held on Oct. 3, 7-8:30 p.m. in the Watertown Savings Bank Room at the Watertown Free Public Library, 123 Main St.
Starting in 2022, Watertown began pursuing a Cultural District designation from the state. A Cultural District is an important civic tool designed to support the economy, the arts, and culture bearers on a local level. Learn more about what a Cultural District designation means on the Mass Cultural Council website. The Cultural District planning process has involved numerous stakeholders to get to this point and welcomes your feedback before submitting the final application. On this webpage you will find links to information about the benefits of Massachusetts Cultural District designation, the Watertown Square Cultural District proposal (draft), an online survey, key dates for the project, and who's working on this project.
If you are unable to attend the public meeting, please consider sharing your feedback in our online survey.
Questions? Contact the Department of Community Development & Planning: 617-971-6417 Ext: 12167 or pac@watertown-ma.gov
Find out more by clicking here.