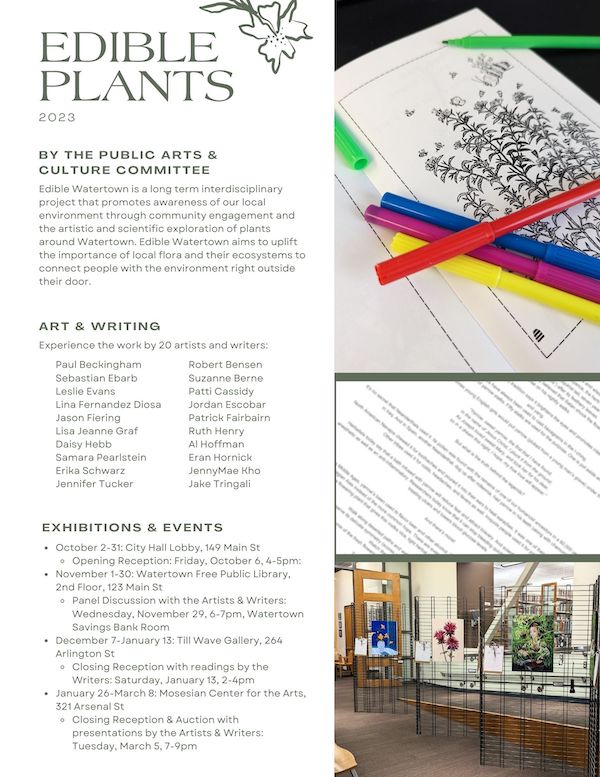 The Public Arts & Culture Committee announced the exhibition and events related to the 2023 Edible Watertown project.
Edible Watertown is a long term interdisciplinary project that promotes awareness of our local environment through community engagement and the artistic and scientific exploration of plants around Watertown. Edible Watertown aims to uplift the importance of local flora and their ecosystems to connect people with the environment right outside their door.
Experience the work by 20 artists and writers:
Paul Beckingham
Sebastian Ebarb
Leslie Evans
Lina Fernandez Diosa
Jason Fiering
Lisa Jeanne Graf
Daisy Hebb
Samara Pearlstein
Erika Schwarz
Jennifer Tucker
Robert Bensen
Suzanne Berne
Patti Cassidy
Jordan Escobar
Patrick Fairbairn
Ruth Henry
Al Hoffman
Eran Hornick
JennyMae Kho
Jake Tringali
Exhibition and Events
October 2-31: City Hall Lobby, 149 Main St. – Opening Reception: Friday, October 6, 4-5 p.m.
November 1-30: Watertown Free Public Library, 2nd Floor, 123 Main St. – Panel Discussion with the Artists & Writers: Wednesday, November 29, 6-7 p.m., Watertown Savings Bank Room
December 7-January 13: Till Wave Gallery, 264 Arlington St. – Closing Reception with readings by the Writers: Saturday, January 13, 2-4 p.m.
January 26-March 8: Mosesian Center for the Arts, 321 Arsenal St. – Closing Reception & Auction with presentations by the Artists & Writers: Tuesday, March 5, 7-9 p.m.