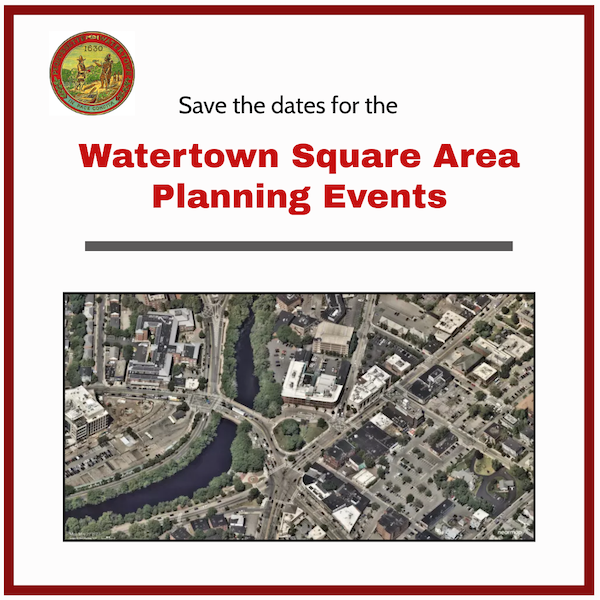 The following announcement was provided by the City of Watertown:
Save These Dates for the Watertown Square Area Planning Events.
The City will hold a public launch event for the Watertown Square Area Plan on Tuesday, October 17, 2023. On November 28 through 30, 2023 the City will hold a Design Charrette for the planning effort. Please save these dates so you can participate in this exciting initiative to reimagine Watertown Square!
The Watertown Square Area Plan will address all aspects of how the City's "downtown" works—including transportation, housing, public spaces and sustainability. The planning effort will be led by Utile, a noted urban design firm, and include walkability expert Jeff Speck, the urban mobility team at Stantec, and real estate consulting firm Landwise Advisors.
The public launch event on October 17, 2023 will be from 6 to 8 p.m. and will provide an overview of the planning process and the City's aspirations for robust public engagement and fresh thinking about Watertown Square. The event will be at 64 Pleasant Street, the former Sasaki building now being adapted for research & development uses by Berkeley Investments.
November's Design Charrette will be a key part of the planning process—an opportunity for intense, collaborative work by the consultant team, City staff and the public. All three days will be at 64 Pleasant Street.
• Day 1 (November 28, 2023 from 5 to 8:30 p.m.) will lay out the existing conditions in Watertown Square and what the team has heard about community aspirations and ideas for the Square.
• Day 2 (November 29, 2023 from 9 AM to 8:30 p.m.) will be a time for ideas to flow and options to be sketched and explored.
• Day 3 (November 30, 2023 from 9 AM to 8:30 p.m.) will continue the process, with an emphasis on developing ideas into concrete scenarios and urban design strategies. During the evening session, the consultant team and city staff will present what has emerged and discuss next steps for testing and refining this work product.
Stay tuned for more about these events and how you can contribute to the planning process. Meanwhile, you have the opportunity to comment on a related proposal to create a cultural district in Watertown Square. The public meeting on this proposal will be October 3, 2023 from 7 to 8:30 p.m. at the Watertown Savings Bank Room at the Watertown Free Public Library.