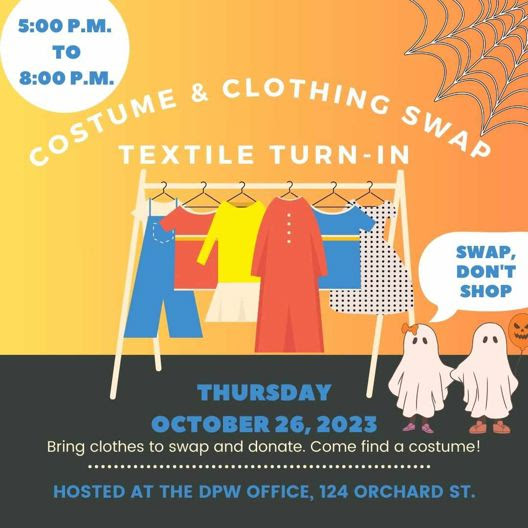 The following announcement was provided by the City of Watertown:
Save the date for the Halloween Costume and Clothing Swap, and General Clothing/Textile Recycling Turn-in Event.
The Department of Public Works (DPW) is hosting a spooky-themed costume swap, and general clothing and textile recycling event.
This is an EVENING event on Thursday, October 26, 2023 from 5 p.m. to 8 p.m. at the DPW parking lot, located at 124 Orchard St.
Bring your old Halloween costumes to swap and give them a new life! Come look for this year's costume.
This is also a textile collection event, so bring your old clothes and other textiles for collection. See the complete list of accepted items.
Clean out your closet!
Costumes being brought to swap must be in good condition, clean, and dry.

All textiles for turn-in must be clean and dry. Stains and holes are okay.