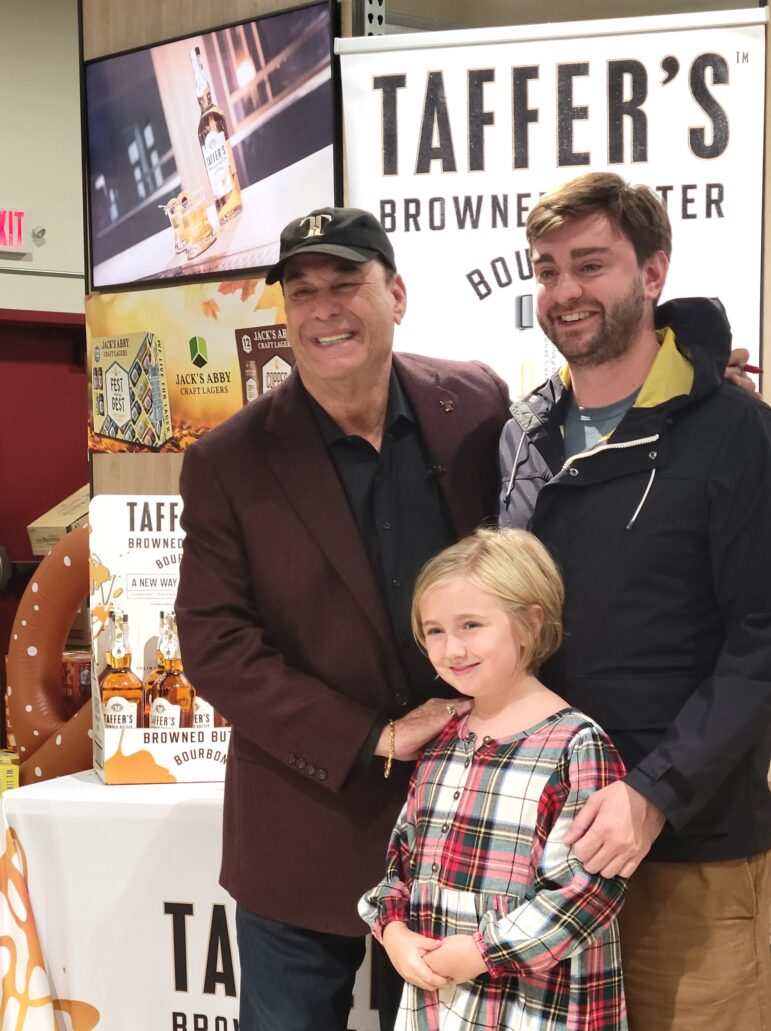 Last week, a line of people snaked around the aisles of Gordon's Fine Wine and Liquor in Watertown. They eagerly awaited the entrance of the man after whom the drink they were purchasing was named.
Jon Taffer arrived shortly after 6 p.m, and was greeted by a fellow TV personality, Jason Santos, when he stepped through the doors of the store inside Arsenal Yards. Santos also owns Buttermilk & Bourbon in Arsenal Yards.
One of the first people in line to get his bottle of Taffer's Browned Butter Bourbon was Josh Appell, who came from Arlington to see the Paramount Network show host.
"I'm a huge fan, I watch Bar Rescue so I was super excited," Appell said. "I told him, 'Listen, I'm not a bourbon guy, but that is really good.' I liked it."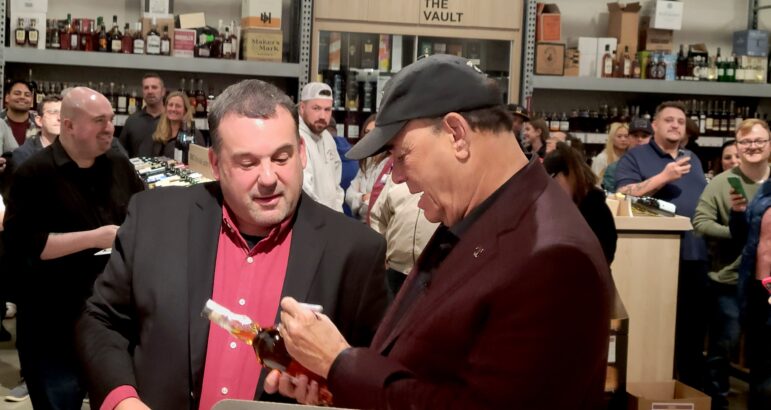 The trip to Gordon's was much shorter for Arber Pellumbi.
"I got here around 5:30, only half an hour early. I live in the plaza (Arsenal Yards) and I thought I'd just wander around for half an hour but there was already a little bit of a line forming," Pellumbi said.
He also enjoys Taffer's other contribution to the complex, Taffer's Tavern, which he and his girlfriend frequent about twice a month.
"I knew about Bar Rescue, I am not a binge watcher of it but its still a good show. Honestly, I was curious to find about the restaurant, and we kind of fell in love with it because the food is actually really good and we do like the drinks," said Pellumbi, who added that he was disappointed to see the seasonal drink, White Peach Negroni, was no longer on the menu because he really enjoyed it.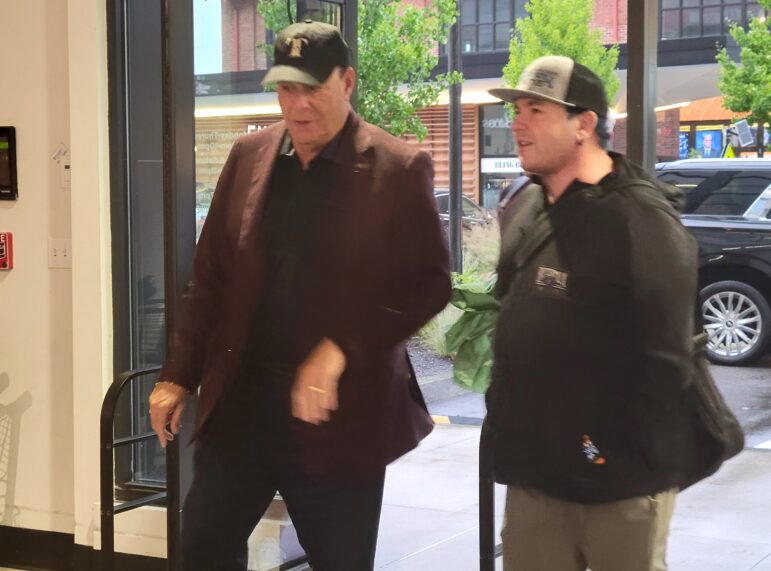 After signing dozens of bottles, Taffer said that he was excited to see a healthy turnout.
"There were about twice as many people as I thought. I'm really pleased," Taffer said. "This city has always been really good to me, so it's not a surprise. This is a really special thing, this bourbon. This is my baby."
The idea for the Browned Butter Bourbon came from an inspiration Taffer had one day at one of his restaurants.
"The cook was making browned butter, and I took the brown butter and put it in a sous vide cooking bag and took the whiskey and boiled it for a while," he recalled. "Then I put it in the fridge and it coagulated on top. I skimmed it, poured it through a coffee filter and browned butter bourbon was born. And I didn't even know what I was doing — I was just following a hunch!"
Taffer said he enjoys just sipping his creation, or sometimes has it in an espresso martini.
The process of making Taffer's Browned Butter Bourbon starts with the traditional bourbon making method of being stored in a charred oak barrel, left on its side for four years. Then the proprietary natural flavorings are added, said James Verrier, Executive Brand Manager for Taffer's Browned Butter.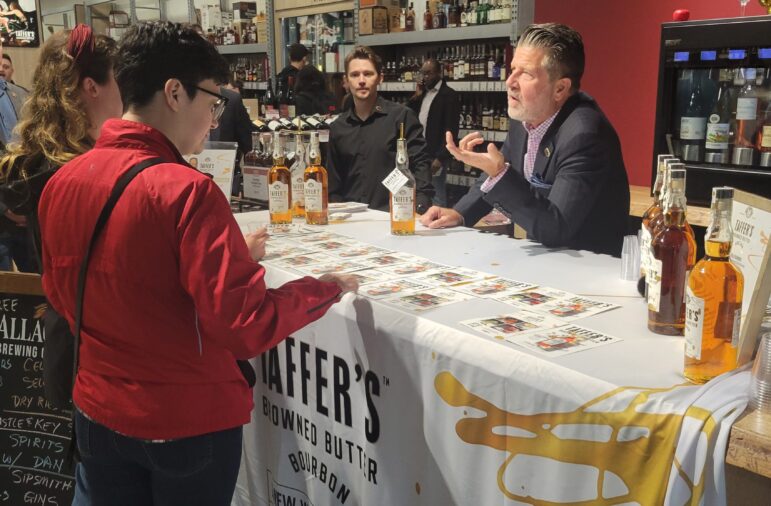 Because the flavorings are added, the drink is technically a flavored whiskey, not a bourbon, Verrier said, but it has a complex flavor.
"The full notion of the design of it was a whiskey-forward drink, so you get the whiskey followed by the lingering flavor," said Verrier, who said he likes to make an Old Fashioned with it, drink it on the rocks, or even neat.
The drink was released in March in the Northeast and in the Las Vegas area, and is now in about 1,300 liquor stores, bars, and restaurants, Verrier said. Taffer said his bourbon can be found in about 500 locations around the Boston area.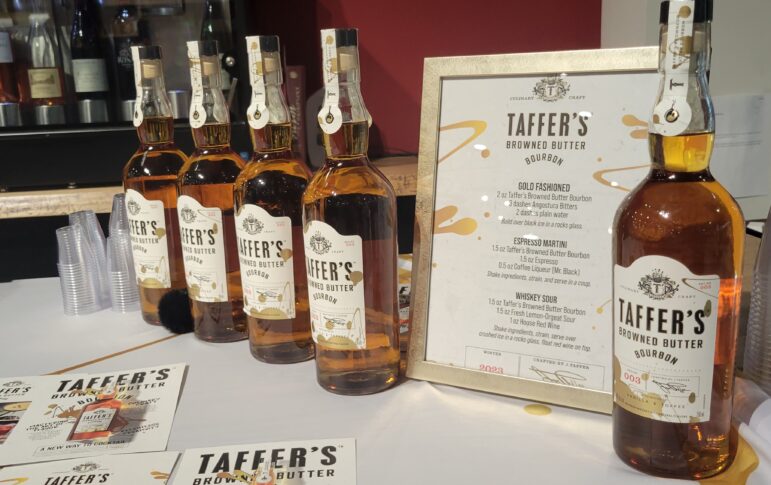 Two places where it is available are right in Arsenal Yards: Taffer's Tavern and Gordon's. Nicholas Haegeli, the wine manager at Gordon's, said it has been popular.
"We've had this for six weeks, maybe even two months, and it has been selling pretty well," Haegeli said. "And with this event it is a good opportunity for people to come out to A: learn about us, and B get to meet Jon Taffer."
After the bottle signing, Taffer went over to his namesake restaurant for a special event that night.