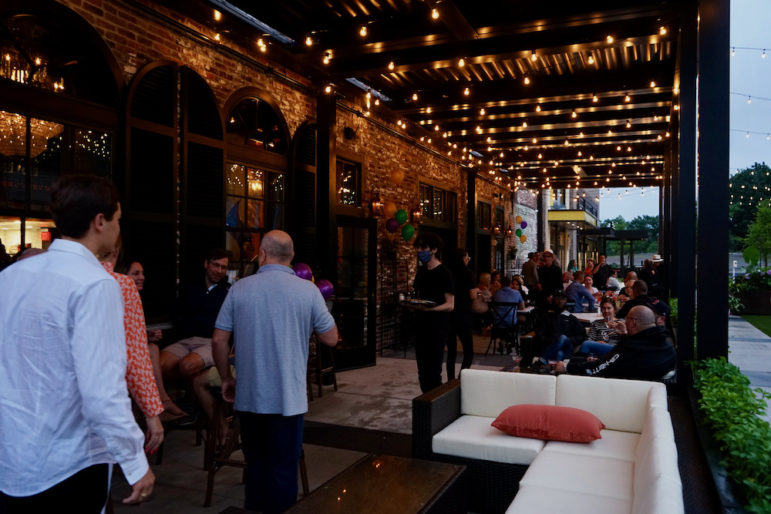 One of Boston's celebrity chefs brought his New Orleans inspired cuisine to Watertown, where he had his first opportunity to build a restaurant from scratch.
Buttermilk & Bourbon officially opens on Monday, Aug. 9, but chef and owner Jason Santos hosted an opening night celebration on Aug. 5 at his newest location at Arsenal Yards.
Santos opened the original Buttermilk & Bourbon in the Back Bay to make his concept a reality. He also owns Citrus & Salt in the Back Bay and B&B Fish in Marblehead. He worked as the executive chef at Gargoyles on the Square in Somerville when he appeared on season 7 of Gordon Ramsey's Hell's Kitchen in 2010. He finished runner up and then returned to Boston and started his first restaurant, Blue Inc., in the Financial District. Now Santos makes regular appearances on two TV shows: Hell's Kitchen and Bar Rescue.
With most of his restaurants located in Boston, Santos said his newest location is a nice change.
"It's nice to be in Watertown. I used to come to the mall as a child. It's a great area," Santos said. "I am really about all the ecosystems they are building everywhere and the landlords are great. The area is great. The community is great. And the fact that I can just park is great."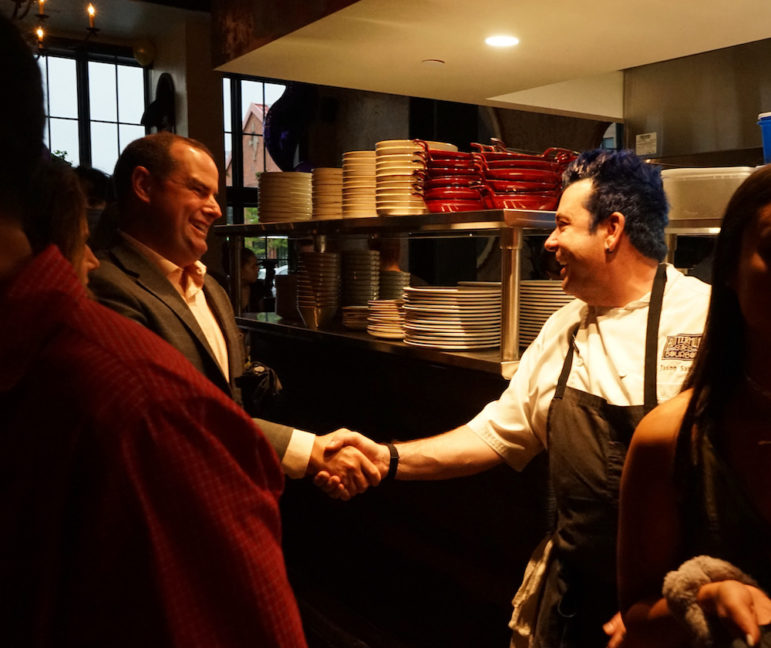 The Watertown location will be open for dinner and Sunday brunch. Along with New Orleans inspired dishes, the restaurant will also have other Southern-style and Nashville-style dishes, an oyster bar, and a variety of cocktails, including hurricanes, frozen drinks and bourbon based beverages.
The B&B website describes the cuisine as follows: "Guests can enjoy pork belly cracklings; BBQ Shrimp; house-made biscuits; oyster chowder; crispy boudin; and house-fried chicken served either Southern-style, Nashville-style, or with sweet and spicy or white BBQ sauce. An oyster bar will also serve up a variety of local oysters as well as peel & eat shrimp. Buttermilk and Bourbon serve up hurricanes-on-tap, large-batch cocktails, and a selection of bourbon-based drinks."
Surrounded by 21st century buildings at Arsenal Yards, visiting Buttermilk & Bourbon is like taking a trip to another place and time. The Big Easy vibe is what Santos is now known for, but he had never been to the Crescent City until a few years ago.
"My wife took me there about seven years ago, and I fell in love — like in the airport before I even got into the city," Santos said. "I just ate for three days and I just loved everything about it, from the music to the culture to the decor, and I said at some point I'm going to do this in Boston."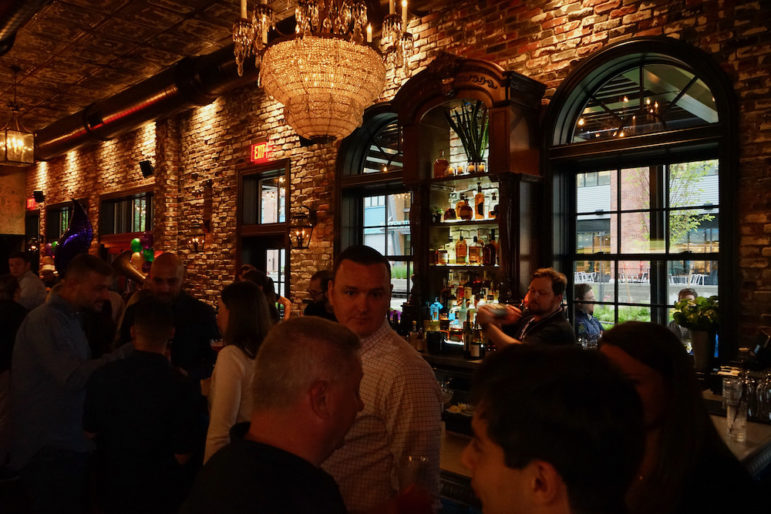 Santos was one of the first to lease space at Arsenal Yards, and he said he thinks he got one of the best spaces in the complex.
Tom Wilder, principal of The Wilder Cos., said the restaurant fits perfectly into the concept that the designers of Arsenal Yards came up with.
"This is a dream come true," Wilder said at the opening night celebration. "We wanted to build a neighborhood and what better addition to the neighborhood than Jason Santos and Buttermilk & Bourbon."
Santos said he envisions his new place to become a regular hangout for diners.
"I want people to come to a cool neighborhood joint. It's kind of cool and funky and fun," Santos said. "I want people to come here a few nights a week and not break the bank and just enjoy what we have."
While he has owned several restaurants, the Watertown project provided a new challenge.
"I had never built a rest from scratch. I had always taken failed restaurants and flipped a concept," Santos said. "This was sand when I got here. I've learned a ton. I've been happy a ton. I just can't believe how much I've learned, and it's been fantastic."
The interior of the restaurant is meant to evoke the classic architecture of New Orleans, said designer Erica Diskin, owner of Assembly Design Studio.
"We were really trying to recreate the whole vibe you get when you go to New Orleans and the French Quarter, but also kind of make it feel more organic and real, and fit into the setting," Diskin said.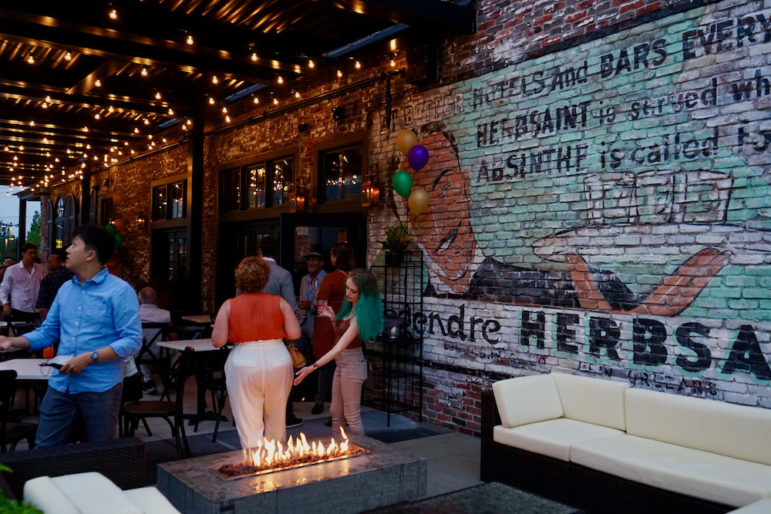 Buttermilk & Bourbons has a large outdoor patio area under a roof, which opens onto the River Green space between that building and the one with Shake Shack. Strings of lights and arched windows add to the ambiance, along with a mural that looks like it has been there for decades.
"We put in the arch windows, and we wanted the indoor/outdoor bar to keep the activity outdoors and draw people in," Diskin said. "And, we thought the faded mural, which is a really iconic look in New Orleans, would fit here, as well, and speak to the vibe."
The goal, Diskin said, was to make the space feel like a New Orleans mansion that had been there for hundreds of years. To give the restaurant the old timey feel Diskin used materials both new and old. The wrought iron is actually faux, printed out to look like the ones seen in New Orleans. The bricks on the outside were reclaimed and installed imperfectly to make it look old, with wash applied to mimic the buildings in the French Quarter. The ceiling tiles too were new and distressed by a painter.
"We worked with (Santos) with his first location (of Buttermilk & Bourbon) and we were able to develop what worked and, kind of, have a second chance at reinventing it, as well, and improve upon the first one," Diskin said. "It was a challenge. We started with a blank slate. I had a really great painter and really talented artisans."