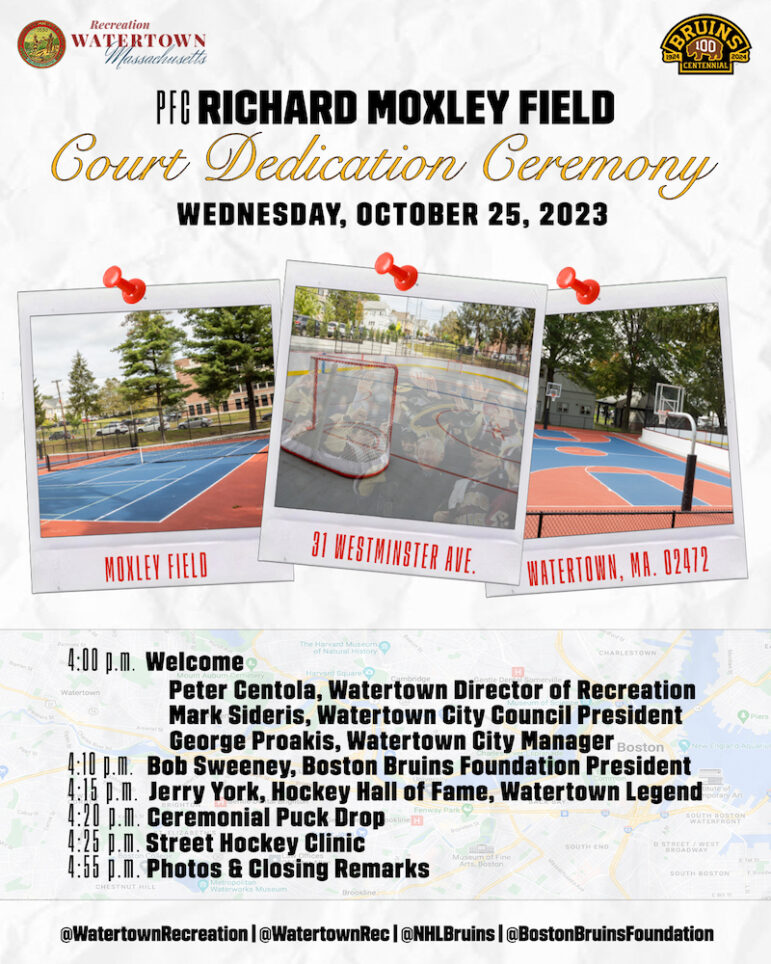 Watertown Recreation Director Peter Centola announced that young hockey players can enter to be part of a hockey clinic put on by the Boston Bruins Foundation.
The following announcement was provided by the Watertown Recreation Department:
On behalf of the City of Watertown, the Watertown Department of Recreation, and the Boston Bruins Foundation, it is my privilege to formally invite you to our Court Dedication Ceremony at PFC Richard Moxley Field. This event will take place on Wednesday, October 25 at 4 p.m. at 31 Westminster Ave in Watertown. As part of this Dedication and Celebration, there will be a hockey clinic offered by the Boston Bruins Foundation.
The Watertown Recreation Department are looking for 30 participants who love hockey, ages 8, 9, 10 and 11 and will be able to make a commitment on October 25 from 3:30 to 5:30. If you are able and interested in potentially participating, please follow the directions below.
Unfortunately, this does not guarantee you will be selected based on the number of requests.
Either way, we would like you to attend and participate in some form of the event.
If interested in being considered:
1. Go to our website at recreation.watertown-ma.gov
2. Select Online Registration
3. Select Special Events
4. Select PFC Moxley Court Dedication – Bruins Foundation Clinic
5. Complete by Wednesday, October 18 at 4:00pm.
6. Please remember this opportunity is for Watertown Residents, who will be age 8, 9, 10 or 11 on October 25, 2023: More information will follow at the end of registration!
Please understand this registration does not confirm your participation in this clinic but indicates to us that you are interested and able to participate.