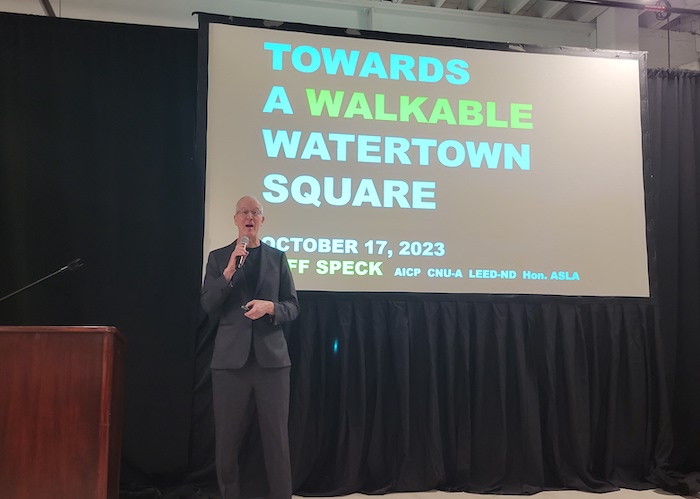 Hundreds of people packed a room to find out about plans for the future of Watertown Square. They saw a lot of transformations of downtowns around the United States and in other countries, but both City officials and members of the planning team gave a message that it is up to you, the public, to decide what Watertown's center looks and feels like.
Many have been looking forward to the chance to improve how the Watertown Square intersection operates traffic-wise, and make it a destination for shoppers, diners and others, said City Council President Mark Sideris.
"This is an important time for us. This is an exciting time for us, as well, because we are talking about the transformation of Watertown Square," he said. "It is a very busy place, as you all know, and these are the opportunities for everybody to weigh in as to what we are going to do."
Improving Watertown Square was a high priority for people participating in the recent Comprehensive Plan update, said City Manager George Proakis. He has heard similar sentiments since arriving in August 2022 when he met with community members and the City Council.
Proakis listed some of the common feelings expressed to him: "It should be a better downtown for Watertown. It should be more of a destination. It's a transportation mess. Businesses here, some of them are struggling. Why can't we be more vibrant? Why can't we be more like (fill in the blank) — it is always a different neighborhood. We should preserve history. We should have more housing."
After the announcement of the Watertown Square planning effort, people have had new questions for Proakis.
"People ask me, what are the aspirations? What is the plan going to say? What are we going to do?" Proakis said.
He responds, "Basically, that is up to you."
Tim Love, principal of Utile, reiterated that the designers are coming in with a blank slate.
"We have no idea what we are doing here," Love said. "That is both a commitment to the kind of transparency and our open mindedness we have, but it is also a really hard problem, too."
The picture will begin to take place over the next several weeks. The planning process began Tuesday with the public launch of the Watertown Square Area Plan. The event took place at the former Sasaki building on Pleasant Street, just outside the Square. Proakis stressed that the new plan will include areas well beyond the traffic intersection called Watertown Square, and reach down the major streets for several blocks (see the map below)
The process will continue with a series of Kitchen Table Conversations where residents will host several neighbors to provide input to the project planners about what they would like to see done in the Square. The conversations will be led by Watertown Community Conversations. (Sign up as a Kitchen Table Conversation (KTC) host by filling out this form by this Friday Oct. 20). Then there will be an intense, three-day planning charrette on Nov. 28-30, which will involve an interactive exercise between the consultant team and the public to "imagine alternative urban design scenarios for Watertown Square," said Loren Rapport, the project manager from Utile.
While many focus on the traffic congestion in Watertown Square, the plan also includes making the area more inviting, a better place for businesses to operate, a place for public art, a place to just hang out. It also looks at housing for the area. Proakis said the timing of the Watertown Square Plan is designed so that the new vision can be captured in the City's Zoning before the projects come forward to the Planning and Zoning Boards. The plan will also be designed to meet the requirements of the MBTA Communities Law, which calls for zoning areas in Watertown that will allow for 1,700 housing units to be built by-right, and therefore won't have to go through a lengthy approval process. Watertown's deadline for meeting the MBTA Law requirement is the end of 2024.
Utile has experience working with the MBTA Communities Law, having worked on the plans for the City of Newton, which has a deadline of the end of 2023.
A Walkable Square
Much of the evening's presentation was given by Jeff Speck, a "walkability guru" hired to work with the design consultants from Utile. Proakis said that he has learned some key things from Speck, with whom he teaches an urban planning workshop at Harvard each year, called The Walkable City.
"I was once told by a highly regarded walkability expert (Speck) when it comes to walkability, if you have one place to start it is best to start in your downtown because the square is the one area of the city which is meant to belong to everybody. If you live in the Square, in the East End, West End or Southside, it's the defining heart of the city which all of us say we have some belonging to regardless of where else in Watertown we are."
There are four areas that Speck said are key to making a place more walkable.
"The general theory of walkability asks the question here in America, in which driving is so cheap and so easy — it is heavily subsidized, under those circumstances when will people make the decision to walk and not drive," Speck said. "And the answer is the walk needs to be as good as the drive, or better. And to do that it needs to do four things simultaneously: it needs to be useful, it needs to be safe, it needs to be comfortable, and it needs to be interesting."
Many places in the U.S. have roads much wider than necessary, Speck said, including Watertown. Lanes of traffic only need to be 10 feet wide, but many in Watertown are 12 feet or more, including the major roadways such as Mt. Auburn Street and Arsenal Street. And more width leads to more speed, Speck said.
A key to making walks safer is to calm traffic. During the event, Speck showed the audience a video of the transformation of a traffic choked intersection in the small town of Poynton, England, into a calm, pedestrian friendly area by cutting lanes to one each direction, narrowing them and making the major intersection a "shared space." The intersection, which looks like two circles pushed together, has no traffic lights, but with slower speeds drivers find their way across in an orderly fashion. See the video about the project below:
Adding protected bike lanes, either up at sidewalk level or behind a row of parked cars, would increase the number of cyclists, Speck said. In Brooklyn, a three lane road near Prospect Park was cut down to two, and a two-way bike way was added. Parking was moved off the curb on the other side of the bikeway.
"The number of cyclists tripled, sidewalk biking disappeared, speeding dropped precipitously, injury crashes were down 63 percent, and just as many cars are using this street as before," Speck said.
Higher speeds can cut the number of cars moving through an intersection, Speck said, because cars travel farther apart at higher speeds. He added that backups are caused by not being able to get through an intersection, not because of the width of a lane, or number of lanes. He looked for ways to keep traffic flowing.
(A shorter version of Speck's Walkability talk can be seen in this TED Talk (click here).)
Dan Driscoll, a Watertown resident and Director of Facilities at the Department of Conservation and Recreation (DCR), noted that Watertown has already seen reduction of lanes on Charles River Road, Nonantum Road and Greenough Boulevard. The projects, which he oversaw, led to increased park and recreation space.
Speck created the drawing of the "double roundabouts" in Watertown Square, which he presented during a Charles River Regional Chamber meeting in October 2022. The drawing, which he said he put together when he had "a spare hour," shows roundabouts at the main intersection in Watertown Square, as well as where Pleasant Street hits Main Street. It also doubles the amount of green space on the Delta.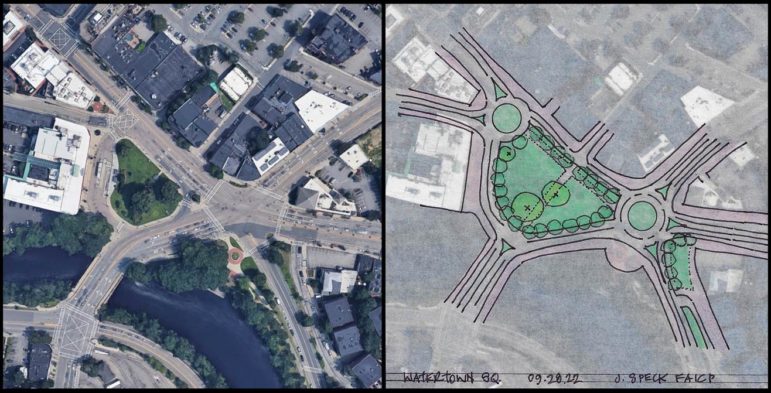 Some worried that such a plan would turn Watertown Square into the Fresh Pond area, with its large rotaries. Speck said that roundabouts are smaller and have a tighter turn than most rotaries seen in Massachusetts. They also have only one lane.
Others were reminded of the era when Watertown Square operated as a rotary, with traffic circling a smaller delta. Some recalled that as a traffic nightmare, while others liked it because it was more pedestrian friendly.
"When we had a rotary it was walkable," said Marilyn Petitto Devaney. "You could cross the street."
Speck added that the roundabouts would remove the complex system of lanes leading into the square, which often confuses drivers new to the area or who rarely drive through the intersection, including Speck, who lives in Brookline and grew up in Belmont.
Mohammad Tahmili, the owner of Tabrizi Bakery on Mt. Auburn Street (one of several eateries providing food for the event) said that he worries that cutting down lanes and adding bike lanes would remove much needed street parking. Most of his customers pull up for a few minutes to grab something and go. Also, deliveries are made by trucks stopping on Mt. Auburn Street.
That can be one of the biggest challenges, Speck said.
"The toughest nut to crack is the deliveries or pull over and grab something," Speck said. "You can dedicate room for cars to stop and grab something and leave. A standing area, not parking."
Speck told the audience not to get to focus on the double roundabout drawing, or the Poynton redesign.
"That's not the plan. It is one of about 20 configurations we are contemplating," Speck said. "I wouldn't design anything like Fresh Pond."
Find out more about the Watertown Square Plan at the project website (click here). Sign up for email updates on the project by clicking here.
See the Watertown Cable video of the Watertown Square Plan event by clicking here.