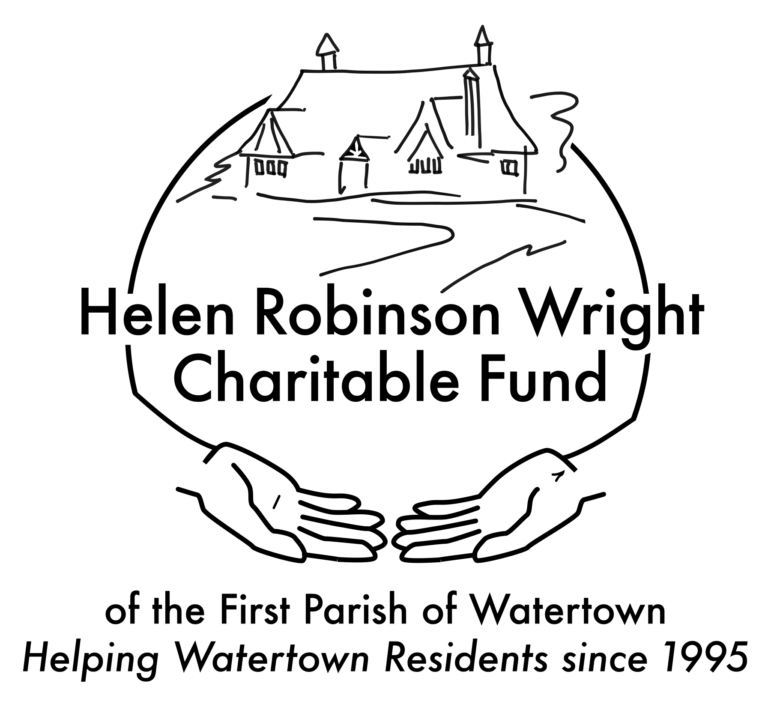 The following announcement was provided by the Helen Robinson Wright Fund:
Have Fun and Support Your Neighbors in Need! The Helen Robinson Wright Fund, one of Watertown's most well-established charities, invites all Watertown residents to participate in it's annual fall Fun(d)raising event going on right now. Walk, run, or bike (or all three) to raise money to assist our neighbors in dire need of basic necessities. OR, simply make a donation that will help to sponsor other participants.
Why is this important?
Begun over thirty years ago, the Wright Fund, based at the First Parish of Watertown, is one of the very few sources of emergency financial assistance available to all Watertown residents. Year 'round, we assist those who are in extreme need of short-term financial help to pull them through a crisis. Families unable to pay their rent, utility, or medical bills, those facing food insecurity, single parents needing help with childcare expenses, families experiencing the unexpected death of a parent, and many more with equally compelling stories have benefitted from the Fund.
How big is the need?
Distributing more than $20,000 annually, we work closely with Watertown's Social Services Resource Specialists, based at the Wayside Multi-Service Center ((617-744-9585), to ensure that
Fund applicants find services that will lead to brighter futures.
Recently, the Wright Fund has seen a tremendous increase in requests for help, as the cost of living in our community has skyrocketed. While the Fund has received generous support from the Watertown Community Foundation, it now takes more money than ever to provide meaningful assistance as the cost of living rises.
We need your help now!
As members of the committee overseeing the Wright Fund we are concerned that we will not have sufficient resources to meet the many urgent requests we expect throughout the coming winter months. We are asking you for help.
This year's Fun(d)raiser is simple, fun, and open to all ages. There are two ways to participate:
Make a tax-deductible donation online at https://fpwatertown.breezechms.com/form/a70d58
or by writing a check in any amount made out to:
First Parish of Watertown, with HRW Fund in the memo line. Checks may be mailed to
First Parish of Watertown, 35 Church St., Watertown, MA 02472.
Walk, run or bike to help us. Become an active participant! Just follow these easy steps:
Register online at: https://fpwatertown.breezechms.com/form/a70d58 .
• The registration fee is $10.00 for an individual, $15.00 for a family. Families are encouraged
to participate together.
• Ask your friends and family members to sponsor you, AND sponsor yourself as well. Fill out
the pledge sheet (online). Even $1.00/mile will add up fast.
• Between Oct. 15 and Nov. 5 walk, run, or bike (or a combination of all three) as many miles as
you would like; keeping a record of your progress.
• When you're finished, collect your pledges and send them to the HRW Charitable Fund, c/o
First Parish of Watertown, 35 Church St., Watertown, MA 02472.
• Pledges should be sent in no later than November 12. Checks should be made out to First Parish of Watertown, with HRW Fund on the memo line.
Beam with pride, knowing you've done your part to help those who are struggling during these hard times. All funds raised will go directly to help Watertown residents in need. Contributions to the Helen Robinson Wright Fund are tax deductible. Thank you for your generosity!
Helen Robinson Wright Fund Committee, First Parish Church
Roberta Brown, Chair
Charlyn Bethel
Chuck Dickinson
Missy Shay
Will Twombly
Allison Hewitt, Administrator