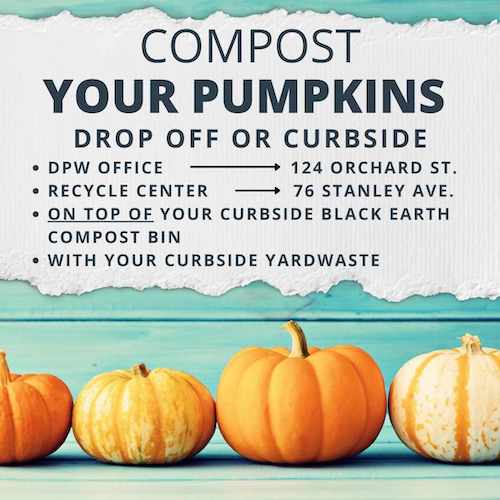 The City of Watertown sent out the following announcement:
Nearly 1.3 billion pounds of pumpkins end up in landfills each year, so we need your help diverting them. 
Pumpkins should go in compost or in yard waste collection. For curbside compost bins: please place pumpkin on top of your bin. For yard waste: put pumpkin in yard waste bin or lawn bag. Please no candles or paint.
New community pumpkin drop-off bins will be available outside the Department of Public Works (DPW) office building, 124 Orchard St., Monday-Friday 7 a.m.-3:30 p.m. from Oct. 30 – Nov. 17, 2023. 
Pumpkins can also be dropped off at the Watertown Recycle Center at 76 Stanley Ave.