The following announcement was provided by the Mosesian Center for the Arts:
The Mosesian Center for the Arts is excited to showcase a diverse body of art works from our current members. The upcoming exhibition gives our artist members the opportunity to demonstrate many and various ways to create work. In addition, artists explore a variety of themes.
Several of the artists have turned to nature for inspiration, for comfort, and reflection. Others have chosen to look at urban cityscapes, organic forms, abstract shapes, and different cultures. From painting, drawing, printmaking, photography, mixed media, and sculptural installation, the work illuminates the talent and dedication of each artist participating in this year's exhibition.
Ann Forbush's Time Signature, a large painting executed on cotton panels that gather on the floor, depicts a fragmented and mysterious landscape. It is a fragile ecosystem known as "dune lakes" on the Florida panhandle where the artist has been going to since childhood. This kind of ecosystem, the artist writes, occurs only in seven or eight places on earth and combines freshwater and sometimes brackish water because they are located near a coast (among the dunes) and channels. The sheets of painted cotton fabric are very much like water, inviting the viewer to step into the enigmatic landscape.
Corey Dziadzio's Closed Eyes Hallucination Series (Tide print), mixed media giclee print captures fleeing moments perfectly. The artist writes: "In this series, a blend of digital and film photography, hand-drawn sketches, and image manipulation actively explores the interplay between objective reality and subjective perception. The series extends an invitation to contemplate the influence of individual shaping of environments and the reciprocal impact of doing so. Each individual piece serves as an exploration of perspective, actively capturing life's unpredictability through film photography, simultaneously challenging conventional boundaries of actuality and illusion through digital techniques. Hand-drawn sketches within the series effectively preserve raw moments, while image manipulation disrupts established perceptions. The overarching goal of this series lies in the exploration of nuance within each fleeting moment and encouraging reflection upon the slightest of actions that individually, and collectively, that continually mold subjective reality."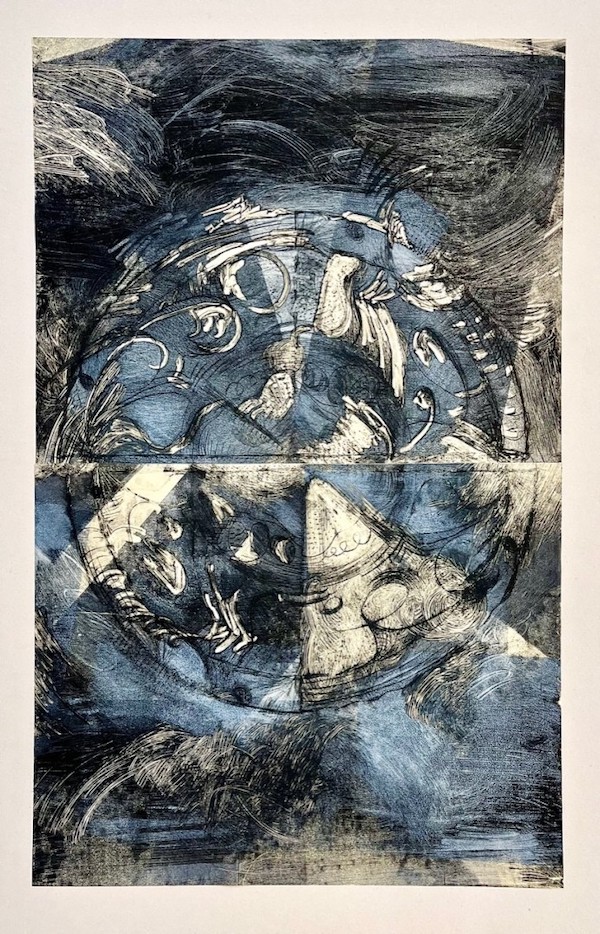 Cycles of Thought a dry point monotype by Erin Palazzolo-Loparo is an extension of the artist's mandala practice: "In fusing two prints together (different versions of the same plate), I imagen the sensation of cycling in, out, and around conscious and unconscious states of mind in my relationships as I strive for wholeness. With roots in abstract expressionism, my spontaneous mark-making and printmaking is dialectical. I aim to move viewers into a reflective interior space that is both conversational and cathartic. This sensitivity to dialectic is also born out of my identity and experience as an art therapist".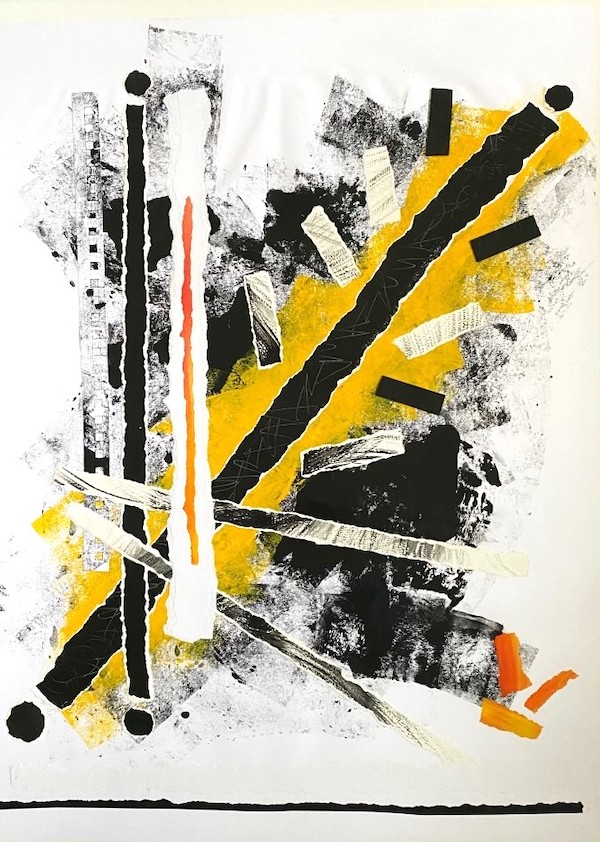 Julie Osherson's Fire combines drawing, painting and collage in a delightful mixed media work that shows a real love for the artistic process. A strong diagonal black line over a bright, yellow painterly field creates a strong composition. Orange pieces of collaged paper glow like embers surrounded by open space.
Members Exhibit 2023 is on display at the Mosesian Center for the Arts from November 17 – January 12, 2024. The opening reception will be held on November 30, 5:30 – 7:30 PM. The mission of The Mosesian Center for the Arts is to enrich the lives of diverse audiences and participants by providing exceptional experiences in theater, visual, and literary art.
Find out more about the Mosesian Center for the Arts at www.mosesianarts.org