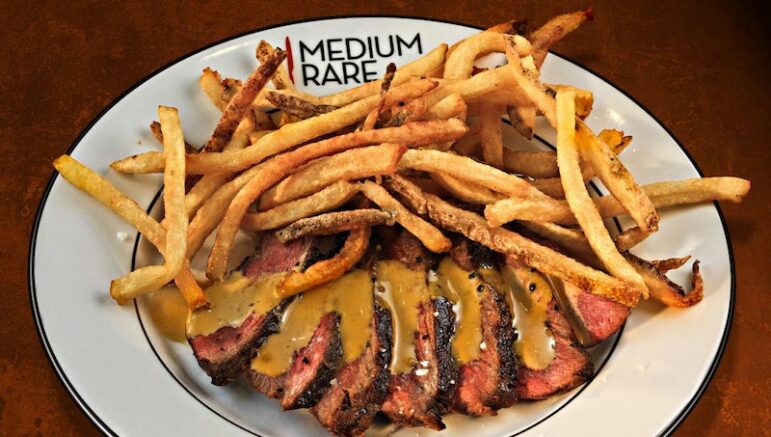 The following announcement was provided by Medium Rare:
Medium Rare, the award-winning, iconic, full-service restaurant famous for its French-influenced steak and frites (fries), is coming to the Boston area. The lease is signed. The location is set: 130 Arsenal Yards, Watertown, MA. The hammers are in motion (on the build-out, not the already-tender steak). The opening is estimated to be LATE SPRING 2024.
Why Boston? Medium Rare co-owner Mark Bucher is a huge fan of the Patriots and the NFL. In fact, Bucher's already warming up to perform gridiron culinary magic at the Taste of NFL 2024 — his third year at the event that helps raise awareness and funds to tackle hunger.
Oh-My-Goodness: At Medium Rare, simplicity and consistency are the key ingredients. The dinner menu is deliciously uncomplicated and an incredible value: just under $30 for a three-course prix fixe meal, featuring a flavorful fresh mixed green salad, artisan rustic bread, hand-cut fries and the main course — scrumptious Coulotte steak topped with a secret sauce.
Veggie lovers need not fear, as there's an equally savory vegetarian option: Grilled portobello with fire-roasted red pepper sauce and hand-cut fries.
A-and … you get seconds! Yes, seconds … at no extra charge. Midway through your meal, your server arrives at the table with more fries, more steak, and more of Medium Rare's "secret sauce" (see more about that below*).
Dessert Decadence: While simplicity is Medium Rare's mantra, there are plenty of choices when it comes to their over-the-top, decadent desserts — like the 7-layer chocolate cake, the 7-layer carrot cake or their legendary hot fudge sundae.
Bring on the Brunch: Medium Rare sizzles on weekends, too, with brunches featuring their bottomless mimosas, bloody marys and screwdrivers, along with plenty of delicious menu choices (you gotta try their life-changing French toast). All for about $40 a person.
*Sauce Secrets: With hints of mustard and cracked pepper, Medium Rare's sauce is one of the closest guarded recipes. Only 2 people know the full recipe but the chefs know what ingredients to add to the already-made base and how to heat it — but NOT what's in it. It's gluten-free but not dairy-free. (Fun fact: Medium Rare employees sign a confidentiality agreement to keep its secret sauce ingredients secret!)
Smashing Success: Medium Rare calls the Washington, D.C., metro area home, where it's been named Best Steakhouse and OpenTable's Diners' Choice. But co-owner Mark Bucher believes the people of Boston and Watertown will love a memorably fresh dining experience, so he's taking his steak-and-frites to the Arsenal Yards neighborhood to create a mouthwatering new scene.
A Little More About Mark: Mark Bucher is a Washington, D.C.-area restaurateur, a 2022 Washingtonian of the Year, and World Burger Champion, who has not only been wowing Medium Rare diners with wonderful food since 2011, but has also been combating food insecurity. Ever since the first days of the pandemic, Bucher has introduced multiple charitable efforts to fight hunger.
His signature nonprofit program — Feed the Fridge — is a series of community refrigerators filled daily with restaurant-quality food. Anyone can help themselves to as many meals as they need, for free, no questions asked. Feed the Fridge has increased community food supply chains by:
Placing dozens of refrigerators at recreation centers, schools and other locations.
Providing millions of free meals to anyone who needs them.
Paying participating restaurants to provide meals, which in turn helps those restaurants stay open and pay employees. (Restaurant payments are funded through donations.)
Stay tuned for Bucher's charitable plans to bring more meal security to Boston.