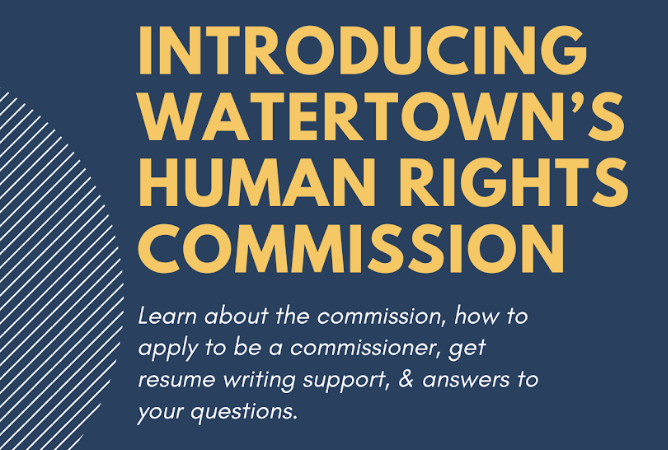 The following announcement was provided by World in Watertown:
The City of Watertown is currently seeking applicants to serve on its newly formed Human Rights Commission. The Human Rights Commission will educate the community about human rights, build connections across the City to prevent and address discrimination, and provide support and resources to people who have a human rights complaint. The Human Rights Commission will have nine Commissioners plus liaisons from the Policy Department, the School Department, and the student body. Applications are due on December 8th.
Human Rights Commissioners should have experience advocating or working to promote human rights. This experience could be from advocacy activities, professional roles, education, and it could also be lived experience of experiencing the effects of discrimination. To fulfill its purpose, it is essential that the the Human Rights Commission membership reflects the diversity of the community. "Diversity" refers to the many different aspects of a person's identity such as race, age, gender identity and expression, sexual orientation, disability, and national origin.
On Tuesday November 21 at 6:30 p.m., World in Watertown is hosting a workshop to share information and provide support for people who would like to apply to be a Human Rights Commissioner. Xin Peng, Chair of the World in Watertown board, will guide a discussion with current and former Human Rights Commissioners who will share their experiences. The group will provide tips on how to prepare an application and will answer questions from the community. The workshop will be at the First Parish of Watertown Unitarian Universalist Church (24 Church St.). Childcare and light refreshments will be available. The workshop will be filmed and posted on Watertown Cable Access Television's website and broadcast on its Comcast and RCN channels for people who cannot attend. If you have any questions about the event, would like to request childcare, or if you would like to be added to our mailing list to receive a recording, email worldinwatertowncity@gmail.com.
About World in Watertown
World in Watertown is a civic organization founded in 1999 to protect and promote non-discriminatory practices in Watertown, Massachusetts. World in Watertown creates and supports local educational programs and other initiatives to honor our city's diversity, brings together members of the community to celebrate our cultural differences, and advocates for fair and equal treatment for all.