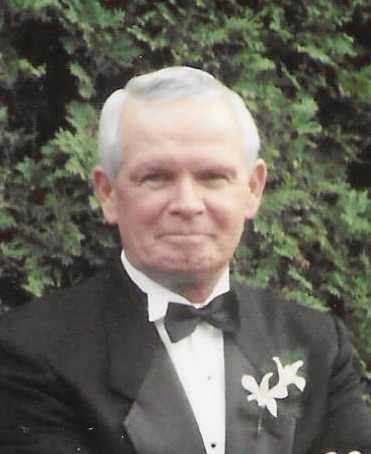 Captain Richard 'Riche' Kelly, days short of his 85th birthday, of Watertown and his treasured home on Baker Road in West Yarmouth, passed peacefully on November 15 atNorth Hill in Needham, MA.
Riche was the son of the late Michael and Katherine (Cannon) Kelly who immigrated from Ireland in the early 20th century. Riche was the youngest of 5 brothers: the late Watertown Police Chief Joseph P. Kelly (the late Kathleen), Francis Kelly, Vincent Kelly, and James (the late Priscilla). Riche is survived by his devoted wife of 52 years, Mary Agnes (Fitzgerald). Riche's enduring legacy is in his love and devotion for his wife and family. He leaves his daughters and sons-in-law Maura and Gene Fredey (Winchester, MA) and Kate Kelly and Tony Macaluso (Arlington, MA) and three most-cherished grandchildren, Caroline and Julia Fredey and Harrison Macaluso.
Riche also leaves his adored in-laws Paul and Dorothy Fitzgerald (Foxboro) and David Fitzgerald (Jamaica Plain) and his beloved Fitzgerald nephews John, Michael, and godson Stephen, and niece Mary Ann. Riche's Kelly nieces and nephews and their children were like his own children and grandchildren, a gift which enriched his life and capacity to love beyond words. He cherished them all–Kathy, Ron, Claire Rose, Joseph, godson Jimmy, Debbie, Katharyn, Sarah, Joe, Natalie, Joe, godson Michael, Kathleen, Patrick, and Brendan, Michael and Steven, and all Kellys–no matter location or situation–were always in his heart and remain in his soul.
In recent years, he was blessed with the best care team at North Hill in Needham and his trusted CNA (and honorary Kelly) Vernick. Riche was humbled by and proud of his 28 years of service as a Watertown Police Officer (1964-1992), ultimately retiring at the rank of Captain. He cherished serving the WPD and the people of Watertown, including a tenure under his eldest brother and best friend Joe, while Joe was Chief. Riche was also a proud graduate of Northeastern University for his criminal justice degree and of the F.B.I. National Academy program for law enforcement in Quantico, VA in 1985.
After he retired, Riche moved to another beloved assignment for another 25 years in security at Boston College. He became a friendly fixture in the grand foyer of B.C.'s Burns Library ('a place for rare books and rare people,' he liked to say.) There, he adored his colleagues and the coming and going of BC students, faculty, and trustees (and one particular day, a former president of Ireland, who corresponded with him afterwards having connected over discussion of Riche's father and the coal mines of Arigna, County Roscommon).
Riche's heart also belonged to Wimbledon Shores on Lewis Bay, and Baker Road, where he enjoyed the very best neighbors, the easygoing vibe of his front porch and outdoor shower, late-afternoon at the beach, a walk to 'the creek,' or a 'quick dip.' Sharing this place with his family and friends was a great joy. Riche and Mary were proud champions of the American Cancer Society's Relay for Life, launching the Watertown-Waltham annual event to foster survivor solidarity and raise funds to fight cancer.
Riche had conquered breast cancer in the early 1990s. Riche loved to tell how, in the late 60's, happenstance brought him and Mary together as he was on duty outside a travel agency in East Watertown when Mary arrived from Jamaica Pain ("J.P.") to plan a trip. Mary traveled the world, while Riche stuck close by Watertown Square. She returned to him, and the rest is history. Their legacy is hope for the future in the next generations of Kellys, of whom he was proud beyond measure. His was a full life, well-lived, in all the ways that matter most.
Funeral from the MacDonald Rockwell & MacDonald Funeral Home at 270 Main St. Watertown Monday Nov. 20 th , at 9 AM followed by Funeral Mass in the Church of St. Patrick 212 Main St., Watertown at 10 AM. Relatives and friends kindly invited. Visiting hours Sunday 3 to 6 PM. Interment Ridgelawn Cemetery.
To honor Riche, have a good laugh, forgive someone, swim in the ocean, or be mindful of listening more and talking less, and always, always find the humor and cherish your faith. Donations to Watertown Boys and Girls Club, where Riche served on the board for several years, 25 Whites Ave. Watertown MA 02472 www.watertownbgc.org or the "North Hill Needham Team Appreciation Fund" (contribute to this fund via 'snail mail' ℅ North Hill 865 Central Avenue, Needham MA 02492) are also welcome.