The following announcement was provided by Mount Auburn Cemetery:
Mount Auburn Cemetery announced the return of SOLSTICE: Reflections on Winter Light, created by artistic partner, MASARY Studios. After a full & meaningful inaugural year, the SOLSTICE celebration is now positioned to be an annual Mount Auburn tradition, just a stone's throw from Boston in Cambridge and Watertown.
Designed to be a positive place of reflection, Mount Auburn's historic landscape and architecture offers a unique backdrop to the drama of MASARY's kaleidoscopic and elegant light and sound installations, drawing guests through a transformative outdoor journey. The unparalleled outdoor winter scenery of the illuminated landscape transitions into a warm, welcoming experience inside Mount Auburn's two non-denominational chapels. Bigelow Chapel will be awash with a glow of candlelight and live string music, while Story Chapel offers contemplative video poems capturing artists' personal reflections on change and transition. Tickets are now on sale for all ages and abilities to join this evening experience running from December 9 through December 21, 2023.  
SOLSTICE: reflections on winter light from MASARY Studios on Vimeo.
The evolution of the event from Mount Auburn Cemetery's decades-long indoor candle lighting service into acres of light is intended to evoke awe and contemplation while creating a unique gathering space for the solstice moment. This year, the immersive exhibit invites guests to walk through the light-filled landscape and chapels to reflect on moments of change as the calendar year ends and a new cycle begins. SOLSTICE represents coming out of the darkness of the longest night of winter and moving towards the warmth, light and new life of springtime. Eclipse, Phase Garden and the Solstice Canvas all continue the tradition this year with evolved and new artistic expressions. The addition of the Hortus Gateway brings an inviting new experience—four towers imprinted with local flora will welcome visitors to enter the landscape through symmetrical illumination. There is also an extended pathway that has been added on Central Ave, which will give guests the opportunity to slow down, contemplate and walk deeper into the landscape to enjoy the serenity of the night sky.
Since Mount Auburn's inception in 1831, their mission has always been to inspire, comfort, and commemorate in a landscape of exceptional beauty and this event pays homage to that mission by celebrating the seasons of life and nature. There is something that transcends the human experience and shows us how interconnected we all are by viewing the beauty of people's reactions and their stories that emerge from their interactions with the art. The connections that both first time guests, and lifelong members of the community make during SOLSTICE are palpable and drive individuals to a deeper connection with nature and the landscape where they find a place to seek a sense of solace, renewal and commemoration year 'round.
"SOLSTICE is the largest event Mount Auburn has ever produced," remarked Public Events Producer, Julie-Anne Whitney. "It takes a year to plan and coordinate thousands of details with many valuable event partners and dozens of Mount Auburn staff. We work closely with fellow Mount Auburn team members from Cemetery Services, Horticulture, Facilities, Historical Collections and more. It truly is a group effort. It gives us a sense of pride to work together like this to create such a meaningful event for the community." 
"Mount Auburn's centuries-long vision is grounded in the idea of fostering an extraordinary place for experimentation, solace and inspiration – a vision that continues to evolve to meet the times and reach people across the region and beyond, and SOLSTICE sheds light on just that," said Matthew Stephens, President and CEO of Mount Auburn Cemetery. "We're excited to welcome people back for this annual tradition at this National Historic Landmark to inspire reflection on moments of change as the year ends and a new cycle begins. And ultimately, to show our community how Mount Auburn is more than an active cemetery but a resource for all."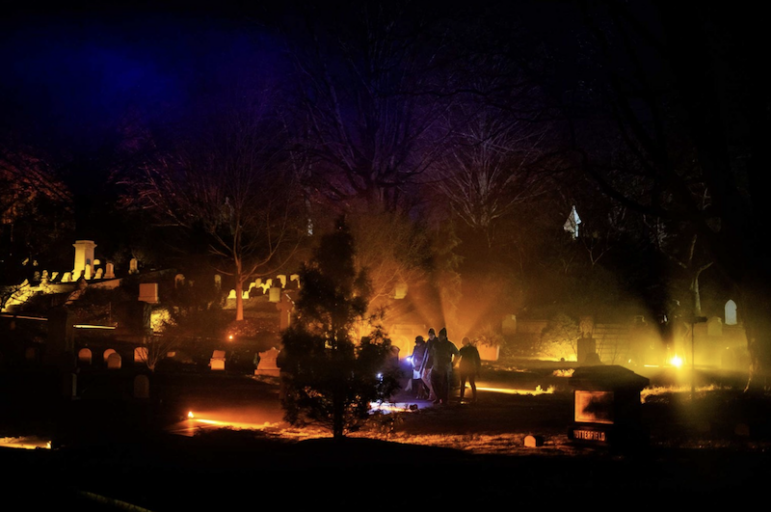 The creative force behind the project, MASARY Studios, are a team of artists who create original works in natural and urban environments through site-specific installations using sound, light,interactivity and performance. Commissioned by Mount Auburn Cemetery, the event will immerse people in a poetic and cosmic experience that will instill a deep connection with the self and the natural world in a historic and sacred place.
"As a team that uses light as an art form, we're always considering the relationship between darkness and illumination – in all their meanings," said Sam Okerstrom-Lang, Co-Founder and Principal of MASARY Studios. "SOLSTICE is our invitation to craft with these mediums and ideas to invite the community to be inspired, have a thought-filled experience, reflect on the year past, and respect the cyclical nature of time. It's our hope that the artworks and experience brings visitors more layers of beauty, meaning, solace, connection to their lives or resonance at Mount Auburn Cemetery."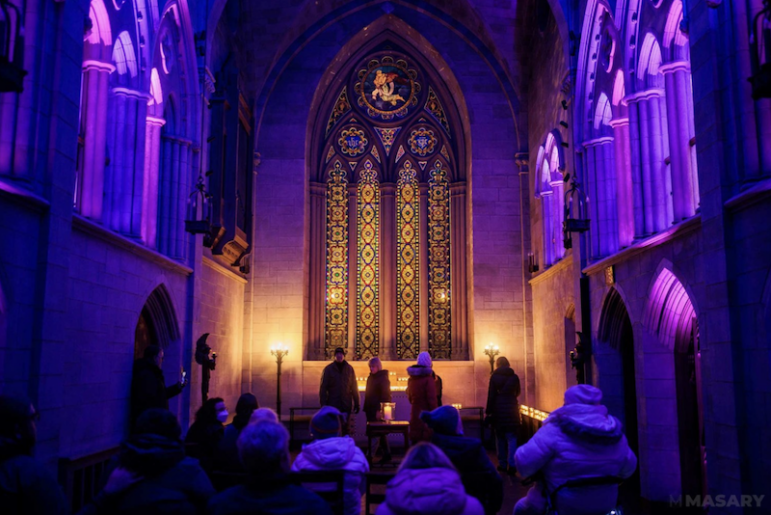 Whether alone or in a group, visitors of all ages can now purchase tickets to experience this unique event at the active cemetery and urban oasis. The event features three large light and sound installations illuminated walking paths, a candle-lighting ceremony and live musicians, as well as food, drinks, and merchandise for sale. 
Mount Auburn Cemetery will host "SOLSTICE: Reflections on Winter Light" from Saturday, December 9, through Saturday, December 21, from 5:00 p.m. to 8:30 p.m each night. Entries will be timed. There will be two Pay-What-You-Want nights to be held on December 12th & December 19th to ensure as many people as possible get to experience the event. We are also instituting a "Quiet Hour" from 5:30-6:30pm on December 13 and December 20 to offer a space for those who may be actively grieving, have sensory sensitivities, and/or are looking for a more tranquil, reflective SOLSTICE experience. Tickets are $30 for adults ($15 for Friends of Mount Auburn Cemetery members), $5 for youth (ages 6-12), and free for children (ages 5 and under). For tickets and more information, visit www.mountauburnsolstice.org
About Mount Auburn Cemetery
Mount Auburn Cemetery was established in 1831 with a most ambitious vision. Within a forested landscape nestled between Cambridge and Watertown, our founders created an extraordinary place, one where the living mourner would come to find solace and the public would come to find inspiration.
The founders envisioned the Cemetery as the place where the great and the good of Boston — without restrictions on religion or race — would be remembered and celebrated for all of time in a setting of exceptional beauty. Nearly 190 years and more than 100,000 burials later, we continue to honor that founding vision, offering burial space and end-of-life services to families in their time of need and preserving this landscape of memory for 200,000 annual visitors. For more information, visit www.mountauburn.org
About MASARY Studios
MASARY Studios is a Boston-based transdisciplinary media arts studio creating artworks through research, inquiry and expression. MASARY artists take inspiration from places and environments, embedding concepts and fresh techniques into intentional awe-inducing artwork.masarystudios.com / @masary_studios