During the Charles River Regional Chamber's annual Fall Business Breakfast, the Chamber laid out the areas of focus for the next five years, and housing came to the forefront.
During the event, held at the Boston Marriott Newton, John Rufo, Chair of the Chamber's Board of Directors, said that much has changed since the organization last put together a strategic plan in 2019. The latest plan has five areas of focus: transportation; childcare for the workforce; climate change; diversity, equity and inclusion; and housing.
Creating more housing in the area is key, Rufo said.
"I think about people who don't have security in housing, and don't have safety in housing," Rufo said. "It's so important to continue to work toward this. The MBTA Communities Act is an incredible mechanism, and I think all the work that our communities have done and will be doing is going to be an important piece of this."
The MBTA Act requires communities to zone areas near transportation hubs where multifamily housing would be allowed to be built by right, and therefore would not require special approvals from the Planning or Zoning boards.
Newton Mayor Ruthanne Fuller added: "Housing is the greatest challenge to the economic health of the Commonwealth and to our quality of life here in Newton and in all four of our communities here."
The chamber serves Watertown, Newton, Wellesley and Needham.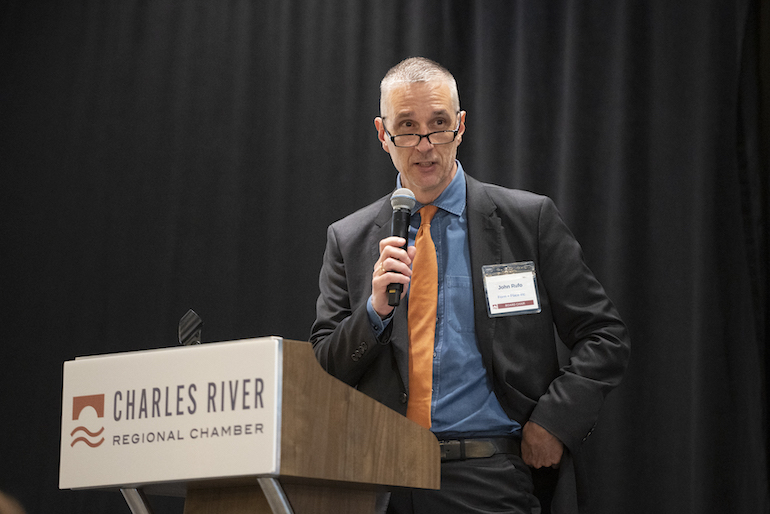 The City of Newton has to meet the goals of the MBTA Communities Act by the end of 2023, while Watertown and the two other communities in the Chamber have until the end of 2024. Newton's has a plan that has met resistance from a large number of residents. The week after the Chamber Breakfast, Newton residents voted out some City Councilors who supported the plan, according to Fig City News.
Charles River Chamber President & CEO Greg Reibman added his support for the goals of the MBTA Communities Act, including the plan to rezone some of Newton's villages.
"It's going to bring more vitality to our villages, more housing that we need for our residents, for our seniors to age into, for our young people to actually be able to live in our community, and for our workers to work in the community where they live and live it the community where they work," Reibman said. "We are going to be doing the same kind of zoning ordinances next year in Needham, in Watertown, and in Wellesley and is also very important that we get behind supporting this and creating these sort of opportunities."
In Watertown, the MBTA Communities Act zone is proposed to be created in and around Watertown Square. The state's mandate for Watertown is to designate at least 24 acres where at least 1,701 housing units can be built by right. The MBTA zoning will be part of the discussion during the Watertown Square Plan redesign.
The first major public discussion for the redesign is a Design Charrette, which will take place from Nov. 28-30. During those days, residents and others can give input about what they want to see in a transformed Watertown Square. The Watertown Square Plan goes well beyond the major intersection, and includes sections of Mount Auburn, Main, Galen, Arsenal and North Beacon Streets. The MBTA Communities Act zoning will be discussed on Nov. 30 at 11:30 a.m., according to the Charrette schedule released by the City of Watertown.
Another part of the housing issue is those people who have been left homeless. Some are the immigrant families moving into the Bay State, but many due to the rising cost of housing, said Larry Seamans, President and CEO of FamilyAid.
"There are 21,000 children and parents living in shelters right now," Seamans said. "Fifty percent are our neighbors and our friends who have fallen into homelessness because of challenges with the economy, and 50 percent are new arrivals."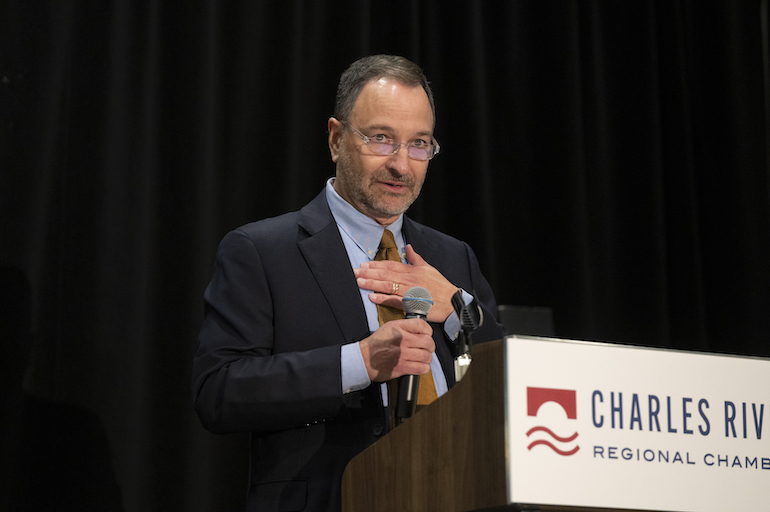 FamilyAid's mission is to empower parents and caregivers facing homelessness to secure and sustain housing and build strong foundations for their children's futures. One way of accomplishing this goal is a new emergency shelter being created in Newton, Fuller said.
"They are transforming a vacant nursing home on Washington Street in Newton into 42 apartments of desperately needed emergency shelter for, as (Seamans) described, Massachusetts and newly arriving families every single one of them will have children," she said.
The family navigation center will also be providing education, job training, along with temporary housing for up to 100 children and parents. Seamans credited members of the Chamber for coming together to make the shelter a reality.
"Newton-Wellesley Hospital, William James College, Lasell University have all begun to work with us to ready our families with job training and support while they wait for the work visas and while they are training," Seamans said. "Organizations like the John Barry Boys and Girls Club, the (West Suburban) YMCA are opening their doors so children in our care, people will enjoy their life while their families are struggling through this."
Seamans added that TD Bank and Eastern Bank are among the Chamber members that stepped up to support family incentive programs, "to make sure we can deliver our promises to the families."
Other Goals
Rufo also addressed the other goals of the Charles River Chamber's strategic plan.
Transportation
"Transportation, whether it is the big picture with the MBTA and the sort of whack-a-mole environment we are living in right now or whether it is micro transportation and everything in between, is a really critical aspect of our businesses and our communities," Rufo said.
Workforce Support Childcare
"I was talking with Ellen Moloney (president and CEO) with Newton-Wellesley Hospital about what are the biggest challenges they are seeing in just developing a nursing staff, and developing a workforce, and doing things like getting transportation and housing for our workforce and providing childcare is really critical and we intend to focus on this for years to come," Rufo said.
Climate Change
"I was really happy to see in Town Meeting (this fall), Needham has joined the other three communities in the adoption of the optional stretch code," Rufo said. "It is so important. It is very important for us all to be involved. Also, the sort of thing that makes me think this is going to impact business owners. This is going to impact residents, this is going to impact contractors, so we have to have a very broad view of how these things get implemented in this new opt-in stretch code."
Diversity, Equity & Inclusion
"We've done a lot of work over the past few years with the Business Leaders of Color List, and other efforts," Rufo said. "It's great, it's important, but it's not enough and we are going to continue to do more."
Award and Other Guests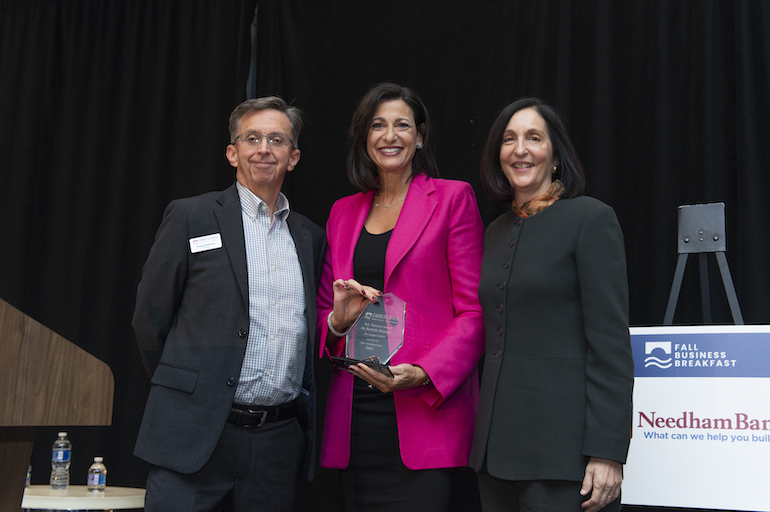 During the Fall Business Breakfast, the Charles River Regional Chamber also honored Dr. Rochelle Walensky, of Newton, for her work heading the Centers for Disease Control during the COVID-19 Pandemic. She received the R.L. Tennant Award.
After some serious discussions, the attendees of the breakfast got to hear a fireside chat between Boston Celtics President Rich Gotham and NBC Sports Boston's Michael Holley.