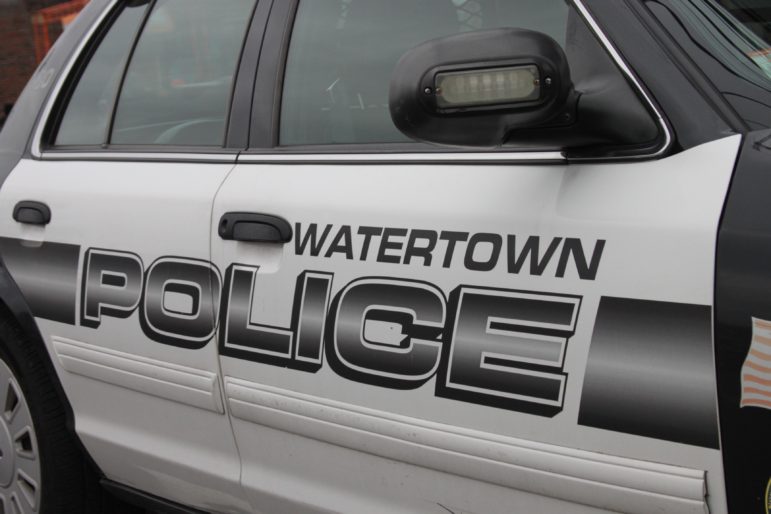 The following information was provided by the Watertown Police Department.
Arrests
Sept. 3, 10:25 p.m.: Target security spotted a man take several items off the shelf and put them into a duffle bag. When he was stopped, the man had headphones, a utility knife and other items. He also took the bag from the store. In total, the merchandise was worth $251.96. The 34-year-old Charlestown resident was arrested on a charge of shoplifting over $250.
Sept. 5, 11:17 a.m.: Watertown detectives obtained a warrant for a man who had firearms without a license. Working with the State Police Violent Fugitive Apprehension Squad, the Watertown Police located and arrested the suspect in Brighton. The 48-year-old Brighton man was arrested on charges of possession of a firearm without a license — a fourth offense, possession of a firearm without a license, and furnishing a false name.
Sept. 5, 3:23 p.m.: An officer was working a detail shift on Watertown Street near Morse Street when he saw a man driving by who was known to the officer to have a revoked license. The vehicle was stopped and the 28-year-old Watertown man was arrested for driving with a suspended license. Police also spoke to the female passenger, and discovered she was wanted on a warrant. The 35-year-old Brookline woman was arrested on the warrant from Waltham District Court for breaking into a depository and receiving stolen property.
Sept. 5, 5:26 p.m.: A white Chevy van which was in a left only lane went straight across Watertown Square intersection in front of a police officer. The driver was stopped and when checking the driver's record police found that he was not licensed to drive. The 28-year-old Woburn man was arrested on a charge of unlicensed driving and marked lanes violation.
Sept. 6, 5:39 a.m.: Police went to Summer Street on an unrelated matter, and when they were speaking to the people in the home they found one had warrants for her arrest. The 66-year-old Watertown woman was arrested on two warrants out of Newbury District Court for probation violations.
Sept. 6, 4:28 p.m.: A vehicle ran into the back of a parked car on Sparkill Street. Police arrived and spoke to the driver who showed signs of impairment, including a strong odor of alcohol on her breath. She admitted to consuming alcohol before driving, and failed two field sobriety tests. Police found she had a prior OUI charge. The 40-year-old Winthrop woman was arrested on a charge of driving under the influence of alcohol, a second offense.
Sept. 6, 10:43 p.m.: An officer patrolling on Spring Street saw a Honda Accord with aftermarket headlights and appeared to have excessively tinted windows. The car was stopped and the driver allowed police to search his vehicle. Inside the center console, officers located two baggies of white powder — suspected to be cocaine — wrapped in a tissue. The 30-year-old Lynn man was arrested for possession of a Class B drug.
Sept. 7, 5:24 a.m.: An officer in the municipal parking lot in Watertown Square spotted a woman in a bank ATM vestibule who was known to be wanted on warrants. The 31-year-old homeless woman was arrested on three warrants: one from Boston District Court for trespassing, a second from Quincy District Court for shoplifting, and a third from Waltham District Court for larceny under $1,200.
Sept. 8, 2:26 a.m.: A red Ford pickup truck stopped at the intersection of Mt. Auburn and Irving streets and when the light turned green the vehicle did not move. Multiple vehicles behind it beeped their horns and went around the truck. An officer stopped to check on the driver and found that he was not asleep, and he admitted he was intoxicated. He failed four field sobriety tests. The 50-year-old Watertown man was arrested on a charge of driving under the influence of alcohol and was cited for obstructing traffic.
Incidents
Sept. 2, 6:22 p.m.: A man was spotted putting items into a a carriage at Home Depot and then went to the back of the store where two women put the items into a large black bag. The items included a Diablo sawzall and five packages of sawzall blades. The women exited the store without paying. When security caught up with them the women ran away with the items and got into a green Subaru station wagon and drove away. Security believe that the man driving the car was the one who took the items off the shelf. The total price of the items was $329.84. Police are investigating.
Sept. 4, 8:48 p.m.: A woman who parked behind the Watertown Mall reported that her tire had been slashed. An officer observed a four-inch long slash mark on the front driver-side tire. The victim did not know who would have damaged the tire.
Sept. 7, 8:14 a.m.: A Highland Avenue resident reported that her stroller had been stolen. The UPPAbaby Vista stroller had been left in front of her home, and sometime between 3 p.m. and 7 p.m. it was taken. The stroller is worth $1,500.
Sept. 7, 3:31 p.m.: A Watertown resident sent a check for $960. The person to whom the check was written called to say it never arrived. The resident found that the check had been deposited into a Chase Manhattan bank account in New York. The bank is investigating.