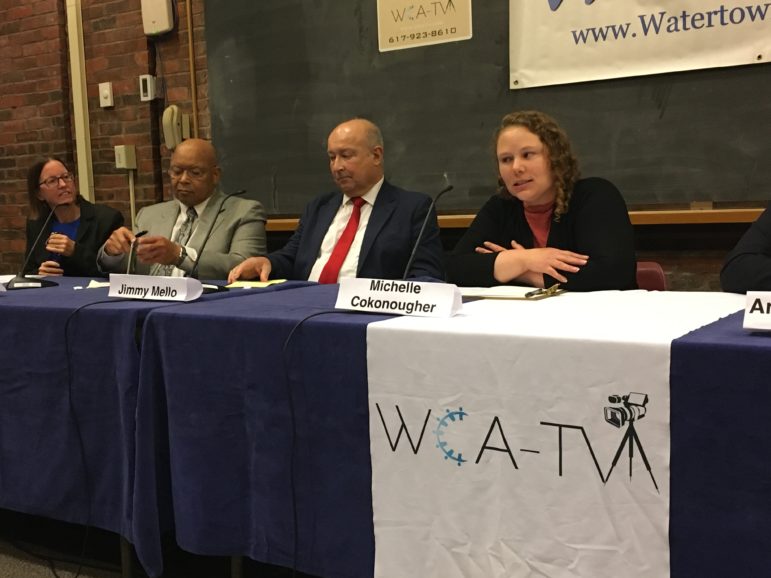 On Nov. 5, Watertown voters have a choice of seven candidates running for the four Town Councilor At-Large seats, which are elected by the entire town. To find out more about the candidates, former Town Councilor At-Large Aaron Dushku asked each a series of questions about what they would if elected, with the answers to be published by Watertown News.
This is the second in a series of five pieces featuring the answers from the Watertown Councilor At-Large candidates. (Note that Michelle Cokonougher declined to submit answers).
The candidate answers are posted in reverse order from the previous post, then reversed for the second. Click here to see the first post
What are some long-term legislative actions you will be working towards during the two years of your term? Why?How do you propose to see these through?
Jimmy Mello: The Shuttle Bus Program and other issues that may come up. Why? This program has just never really gotten off the ground and I believe this program could help alleviate the traffic congestion throughout the town. How do you propose to see these through? Work with fellow councilors and the staff to finally bring this on board.
John Gannon: By way of background, I grew up in a proud, blue-collar family, and I am a graduate of Watertown public schools at every level before achieving further success in college and graduate school. Quality public education in effective learning environments is essential to preparing students from all backgrounds for a productive and healthy future. I support current Town Council efforts to provide full funding for our children's future and to educate them in first-class learning environments. Watertown in the near future will be rebuilding its three elementary schools. I support full funding to ensure that our students are educated in facilities that maximize innovative learning approaches, provide open space and playing fields and that are built with a net-zero carbon footprint – such legislative actions will greatly prepare our children for the future. With regard to the construction of a new Watertown High School, there will be important legislative options to consider. As your Town Councilor, I will advocate for building a brand new high school in a different location that will ensure we prepare our high school students with great educational opportunities and provide them with healthful environments that facilitate open space and collaborative environments. We will also need to work as a community to ensure we receive our fair share of state funding, as well as to achieve full funding for our students' futures. It will be the Town Council's job to provide effective communication on how vital our schools are to our future as a community. I will utilize my background as a municipal attorney who has overseen the legal efforts on constructing quality schools in many Massachusetts communities to make sure we build the first-class schools our own students deserve. Other long-term legislative actions I will be supporting include the implementation of the Community Preservation Act ("CPA"). Under the CPA, Town voters previously approved of extra funding that will be spent on three sources: creation of community housing, open space and historic preservation initiatives. The CPA created a Community Preservation Committee to make recommendations for projects to approve for those three purposes. As a Town Councilor, not only will I be voting to approve the Committee's funding recommendations, I want to be an active participant before the Committee to recommend quality projects that benefit Watertown. As I stated in my answer to Question 1, I will be working with my colleagues on the Town Council to ensure that our Zoning Ordinance is amended to encourage good quality, neighborhood-friendly development projects that address future impacts before they are permitted.
Caroline Bays:Affordable Housing solutionsWhy? We are experiencing a housing crisis and we must do what we can to mitigate the rising prices for potential homeowners and create affordable units for renters.How do you propose to see these through? I believe we need to create a Massachusetts Affordable Housing Trust. Most cities and towns with Community Preservation funds create these Trusts for the revenue committed to housing because it is the only way a municipality can move quickly enough to spend our capital when properties become available for purchase. Once we obtain a parcel, I have seen many joint ventures that have produced wonderful neighborhoods in nearby areas. These units not only provide much needed housing for our residents, they benefit the entire metro-Boston area. In addition when we build more units, the state then rewards us with the opportunity to apply for grants to benefit Watertown residents.
Anthony Donato: The development and implementation of a robust commuter shuttle program and the acquisition of land for open, recreational and green space will be priorities for me for the reasons stated above. I think the first step in achieving these goals will be the above-referenced requests for information to get a better understanding of where things currently stand so that we can identify what steps need to be taken to accomplish those goals.
Clyde Younger: The 2020 Charter Review will have a long term affect on issues facing the city long term. There is also the need to improve the Council's oversight responsibilities.
Tony Palomba: I will continue to focus on increasing the stock of affordable housing in Watertown and the creation of a communication/engagement plan. Why? I have spent this term addressing these two issues through my role as Chair of the Committee on Human Services and the Committee on Media and Public Outreach. While we have made progress in laying the foundation about these issues, we have not seen the implementation of specific policies or programs. How? Continue to hold Committee meetings of both Committees with the intention of bring specific action items to the full Town Council for consideration and a vote.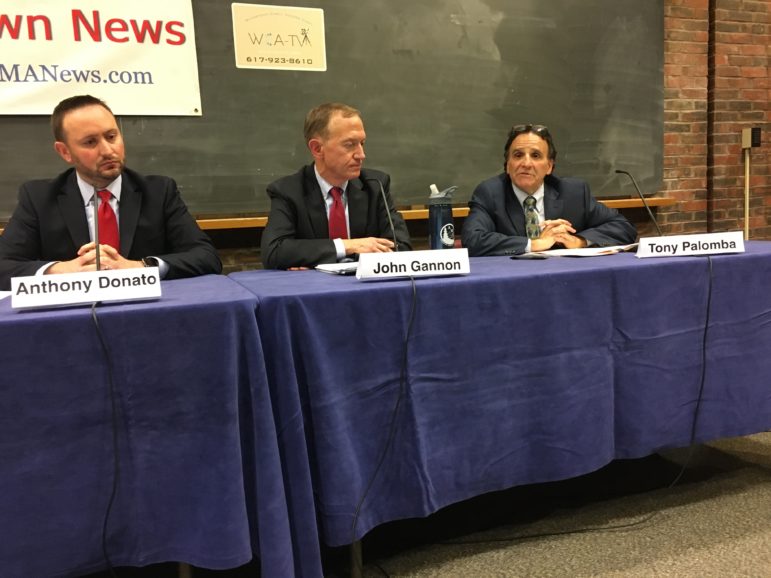 Maybe not your own initiatives but big votes will be coming in 2020 and 2021. Which ones are on your radar and how will you vote?
Tony Palomba: It is a little hard to predict what big votes will be coming in 2020 and 2021. However, there is good chance that in 2021 we will be voting on the first set of recommendations from the Community Preservation Committee. In addition, we will be voting on funding for the construction of the two new elementary schools and the renovation of the third. We have approved funds for the design consultant and the project owner's managers, but the big vote will be for borrowing close to $170 million for construction. I will be supporting this funding request. There is the possibility we will be voting to place a debt exclusion question on the 2021 ballot that would allow for increasing taxes for a time-limited period to pay for our portion of the renovation or construction of a new high school. I will vote in favor of putting the question on the ballot. We may also be voting on 75% design for the renovation of Mt. Auburn Street, which I will support. Finally, 2020 is the year our Charter will be reviewed and the members of the TC along with six community members will comprise the Charter Review Committee. We will vote on all recommendations that are initiated by any member of the Committee.
Clyde Younger: We know the schools are a major issue.I possess experience in working effectively with the School Committee, Superintendent, the city's administration and educators. In addition, I have extensive experience in working effectively with all of the city's departments and employees.
Anthony Donato: I think the Charter Review and a potential Debt Exclusion Vote to fund the construction of a new high school will be two of the biggest issues the Town will face during the next Town Council term. I expect a comprehensive review of the Town Charter to take place and believe it would be imprudent to comment on how I would vote before such a review can take place and before I have all the information necessary to make an informed decision. I am very excited about the current Three Elementary Schools Project that will result in the construction of brand-new buildings at the Hosmer and Cunniff Schools as well as a significantly renovated building at the Lowell School. I am proud of the work done by the current and previous Town Councils that will allow this project to be completed within the confines of Proposition 2 ½ and the Town's annual operating budget. However, the construction of a new high school can not be financed through the Town's annual operating budget, so I would be supportive of a Debt Exclusion Vote to fund the same.
Caroline Bays: There will be big votes on the budget, especially those for the new schools. This might particularly be an issue if we receive a larger estimate for the schools than predicted in the budget. Then we will have to decide where we will spend that money. I remain committed to building schools with a zero carbon footprint that will provide the learning environment needed for 21st Century schools. I think the upcoming charter review is also on the horizon. I propose that we extend the term of town councilors from two years to four years and then stagger who is running. It prevents the chance of losing our institutional knowledge in the case of a large turnover. It also gives new councilors the time they need to implement their priorities.
John Gannon: As a Town Councilor, I pledge that every single issue that will come before the Town Council will, without doubt and equivocation, be on my radar. During the next two years, we will have two elementary schools built from scratch and one completely renovated. We will have the high school rebuilt for today's students. In my work as a municipal lawyer, I've had to help steer the process to protect both the future needs of the community and its current budget. One issue that I will certainly fight for is the notion that schools should be carbon-neutral so we can do all we can to conserve resources. We must also ensure full funding for high quality schools. Also on the radar for 2020 will be a review of the Town's Charter that is required every ten years. The major questions to consider will be to retain the Town Council-Town Manager form of government, or amend it or replace it. It will be my goal to ensure during this process that all meetings contain full opportunities for input from all members of the community, that public notice for such meetings be posted not only on the website but also through low-tech methods such as visible signs in every precinct in town. I would also support the use of government consultants to facilitate and encourage a robust discussion, so that persons of all opinions feel they have been heard. Having served as legal counsel for a number of city and town charter review committees across the state, I know this is a very deliberative process, and we need to work to make sure all voices are respected. Another issue that I believe requires local action for 2020 is the full counting of Watertown for the 2020 United States Census, mandated by the United States Constitution. The importance of ensuring a full count of all Watertown residents cannot be overstated. The Census count impacts the amount of federal funds Watertown receives, its state and federal government representation and decisions by businesses to locate to Watertown. Recent efforts by federal officials to use the Census for other objectives has left confusion in both the process and the federal commitment to notify all residents about the Census. We must appropriate funds to ensure that all sectors of Watertown are counted, notify local residents of jobs with the U.S. Census and to provide publicity about the need to complete the census forms to ensure that all residents are counted, and that Watertown receives all benefits to which it is entitled.
Jimmy Mello: The debt exclusion vote for the high school is probably the single largest issue that the town will face in a very long time. The charter review will also be coming up for it 10 year review.