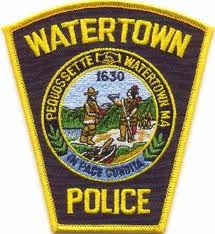 The day after a Federal Appeals Court overturned the death sentence for convicted Boston Marathon Bomber Dzhokhar Tsarnaev, the Watertown Police Department released a statement saying its members are "disheartened" by the ruling.
The Watertown Police statement reads:
"The members of the Watertown Police Department are disheartened by the decision of the United States Federal Appeals Court to overturn the death penalty sentence of the Boston Marathon bomber. His unconscionable acts of terrorism during the 2013 Boston Marathon and subsequent days, has forever altered the lives of so many. We continue to mourn the loss of those
who died; our hearts are always with their families and the hundreds of survivors impacted by this tragic event. #watertownstrong #bostonstrong"
The First Circuit Court of Appeals overturned the sentence, and said that Judge George O'Toole didn't do enough to make sure jurors were not tainted by pretrial publicity, according to a WBUR report. A new penalty phase will be held with a new set of jurors to decide Tsarnaev's sentence.
Tsarnaev and his brother Tamerlan were suspects in planting two bombs near the finish line of the 2013 Boston Marathon, which killed three people — Martin Richard, Krystle Campbell and Lu Lingzi — and injured hundreds more. Three days later, on April 18, they killed MIT Police Officer Sean Collier.
Shortly after midnight on April 19, 2013, Watertown Police stopped the Tsarnaev's car and a firefight ensured. Officer Joseph Reynolds stopped the car, and Sgt. John MacLellan was the second officer on the scene. Sgt. Jeff Pugliese arrived minutes later to help his colleagues. Tarmelan was fatally wounded and Dzhokhar fled in a car. Dzhokhar was caught on the evening of April 19 after he was found hiding in a boat parked next to a Franklin Street home.
Tsarnaev went to trial and in 2015 a jury convicted Dzhokhar Tsarnaev of all 30 counts against him. He received six death sentences.