The pandemic has altered plans for many. While most of those changes fall in the negative column, there was a positive one for the Watertown High School boys basketball team, as it led to the return of a star player who's looking to take his game to the Division I college level.
Gabe Spinelli spent his first two years playing for the Raiders, and got some quality playing time on Watertown's 2018 State Championship team his freshman year. For his junior year, the guard bid the Raiders farewell and transferred to Beaver Country Day.
Due to COVID-19, he changed schools again for his final high school season, and he wound up winning the Middlesex League Freedom Division regular season title, and the Middlesex Tournament championship.
"I was at prep school last year. They weren't going to have a season and I thought I had a better shot at having a season at Watertown, so ultimately that made my decision," Spinelli said. "Also, I'm just happy I could finish what I started freshman year with all my brothers, Coach Harry (Steve Harrington) and the coaching staff."
For Harrington, it meant getting another year with one of the best players he has coached during his 27 years as Watertown's head coach.
"He's right up there, that's for sure," Harrington said.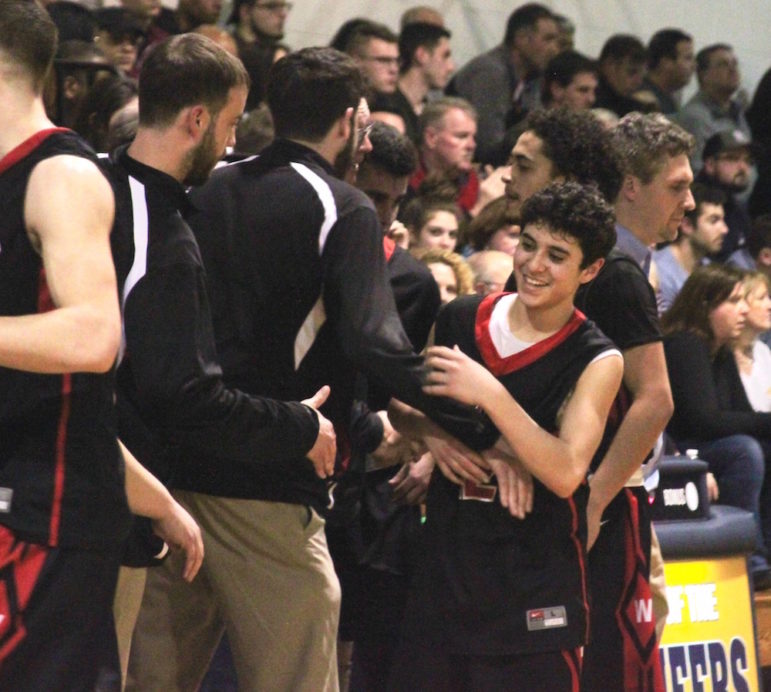 Spinelli's ball handling ability, speed and his ability to score close to the hoop make him special, Harrington.
"He is different from some of the others. Some of the other guys may have played off the ball," Harrington said. "The ball's in his hands the majority of the time."
His ability to both score and run the offense as a point guard meant that the Raiders rarely had a possession without a shot, and assured them that the ball was in safe hands, Harrington said.
"When we get a lead it is hard for teams to pressure us with him out there. So it's hard for them to get back in the game," Harrington said.
Spinelli's plans for next year have not been settled, but he has his eye on playing at a NCAA Div. I program.
"Right now everything is in the air because of COVID," he said.
The Spinelli family has a basketball tradition. His father, Scott, is a longtime college assistant coach, who currently serves as interim-head coach for Boston College. Spinelli said he has heard from some colleges, but is still looking for the right opportunity.
"I have a a lot interest right now — schools calling my dad," Spinelli said. "Ultimately, I'm probably going to end up going to prep school. If I were to get the right (college) offer in the spring or fall I could just go. If not, I'm planning on prep school."