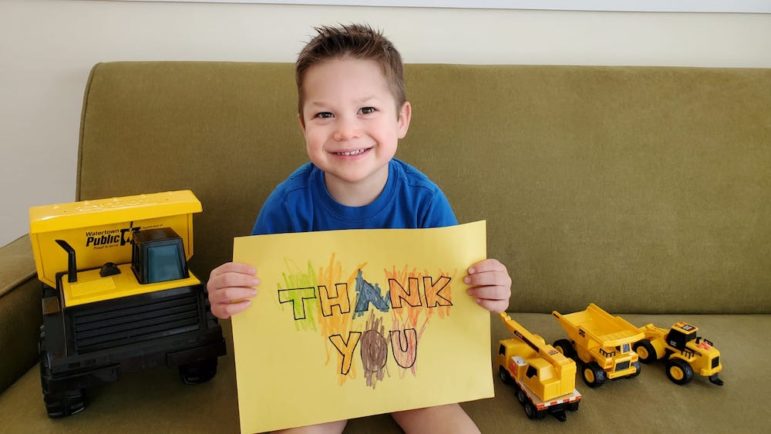 A Watertown boy who beat cancer will be featured by Make-A-Wish during an online event. Noah McManus recently received a drive-by parade with vehicles from the Watertown Police, Fire Department and Department of Public Works to celebrate his bill of good health (see details here).
Make-A-Wish provided the following announcement about the gala:
Make-A-Wish® Massachusetts and Rhode Island will feature the story of Noah McManus, 3, from Watertown, MA, during the Make-A-Wish® Gala: Heroes for Hope, a live virtual event taking place at 7:00 p.m. on Saturday, April 10, 2021.
Noah, who has undergone chemotherapy for Langerhans cell histiocytosis, wished for a superhero playhouse and his wish was granted through generous community support. Noah's wish will be one of several highlighted during the Gala program, hosted by emcee Liz Brunner of Brunner Communications. The evening features powerful wish stories, celebrity appearances, awards, entertainment, and auctions. Annually, the Make-A-Wish Gala provides vital funding to support the Make-A-Wish Massachusetts and Rhode Island mission of creating life-changing wishes for children with critical illnesses.
To join in the celebration of Noah's wish and the Make-A-Wish mission, visit massri.wish.org/gala to purchase tickets (through April 8) for the virtual Make-A-Wish Gala. For event details and sponsorship opportunities, please contact Ashley Goncalves at 617.367.9474 or agoncalves@massri.wish.org.
A wish can be a spark that helps a child believe anything is possible. In the face of life-threatening medical conditions, wishes help children experience profound joy, renewed strength and resiliency, and lasting hope to keep striving and dreaming for the future. Since granting its first wish in 1987, Make-A-Wish Massachusetts and Rhode Island has fulfilled over 8,500 wishes for children in Massachusetts and Rhode Island. Visit www.massri.wish.org for more information and ways to get involved.